There aren't enough pages in a magazine to showcase all the amazing artisan tile projects by seasoned veterans and newbies alike. But we figured we'd take a crack at it by including a project gallery in each issue, so we can at least touch on the kind of work that is taking place all over the country – or the world. 
This issue focuses primarily on residential projects, from simple mosaics or projects that include artisan touches for customization to projects with stunning detail or from artists who actually create the tile themselves. Enjoy this sampling of a vast variety of work, and if you have projects you'd like to share – email me at [email protected]. Keep in mind, the Fall issue will focus on commercial projects, but it's never too early to start amassing a file full of residential projects for Spring 2022, if that's your jam. 
---
Royal treatment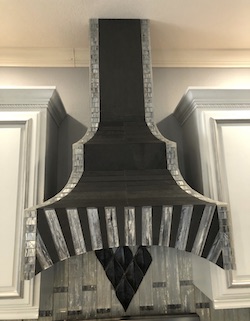 Damon Kell, CastleLux Designs LLC of Wausau, Wis., created a regal look for a project that included a hood, backsplash and a fireplace. Kell designed and built the hood and backsplash, with OSB, 1x lumber, and 2″ KERDI-BOARD, setting the black slate tile and glass tile accents with Schluter ALL-SET and Custom Building Products' OmniGrip. Kell built the fireplace from scratch, using common framing techniques. He finished it with stack stone, glass tile and slate, using granite countertop material for the horizontal pieces and hardwood for the niches.
Here comes the sunflower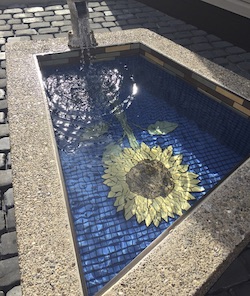 This mosaic by Wyatt Schultheis of Schultheis
Creations Custom Tile, Zanesville, Ohio, was designed for an outside garden fountain. Working for two days on fabricating the sunflower, Schultheis drew it, transferred it to the 6″x6″ porcelain tile, and mounted the finished sunflower – along with its false grout joints – on waterproofing fabric for an easier install. He then scribed the shape of the design into the blue glass field tile. Waterproofing was TEC HydraFlex; thinset was LATICRETE 254 Platinum. Sunflower was grouted with LATICRETE PERMACOLOR Select, and glass was grouted with custom-supplied Grout 360. 
Made to order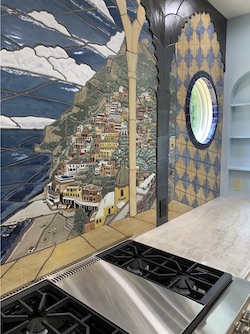 Julie Bond, of Julie Bond Archival Designs, LLC, Kansas City, Mo., created this stunning kitchen backsplash in a suburban Kansas City residence. She explained that her backsplashes are custom made to fit the space. Using a high-fire stoneware clay, she cuts and hand-carves the tiles, then fires them to cone 10 (2350o F) in a gas kiln, using a reduction atmosphere to achieve the unique color palette. She and her crew install their own work with a standard thin set and almost always use a natural grey, sanded grout; this project received black grout on the black archways and grey on the rest.
Mountaintop experience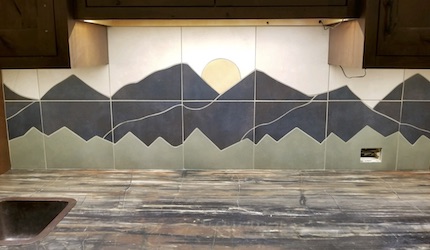 This mountain scene and backsplash design was by Mandy Stairs, with installation done by NTCA member Wayne Olivier Tile & Remodeling, LLC, Hendersonville, N.C. Michael Hardwood transferred Stairs' 8″x11″ drawing to the wall, and Olivier and crew made paper templates to create the tile shapes. All time consuming fabrication and cuts on Crossville 12″x12″ porcelain tiles were done by hand with a grinder and polisher on site by Matthew Hughes and Michael Hardwood. Olivier adhered the tile to the wall using MAPEI Ultralite Mortar Pro, and grouted with MAPEI Flexcolor CQ. 
A shower of pearls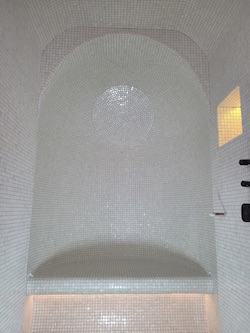 Looking for a luxurious shower? Sharon Taylor of London's Viva Tiling crafted a shower with walls, ceiling, and seat all tiled with the luster that could only come from Mother of Pearl mosaics: 20mm x 20mm and 1.5mm thick, and a pebble floor. Taylor said, "The room was built from scratch in wedi board in an awkward space against the roof, hence the circle in the ceiling. I did a skim coat of white adhesive first to give a uniform finish and fine tune any bits that needed it. I added curve at the back of the seat. I had to use a 3mm 'V' notched trowel and take care when troweling. The seam of the domed ceiling flowing up from the walls gave me a line to follow, which I framed with full tesserae to give a nice line which I cut into. I made a feature of the circle and the dome flowed round with single strips of mosaics until it met the line of the frame. I just went with the flow." She used Kerakoll Bio Gel No Limits white adhesive and grouted with Kerakoll Fugalite Eco in Pergamon.
Inde-scribable!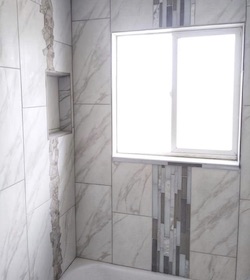 Simon Beames, of All By Design, Inc., Colorado Springs, Colo., created this shower install in a local guest bathroom, as part of a larger project. The vertical bricklay was 12″x24″ MSI porcelain in Hillside Gray, embellished with a vertical deco strip on the exterior wall made of gray porcelain, glass and metal. The scribe on the niche wall – the very first Beames ever did – was a natural stone and porcelain sheet deco from Home Depot that coordinated with the darker tones in the MSI porcelain, tying it together beautifully. 
Creating a buzz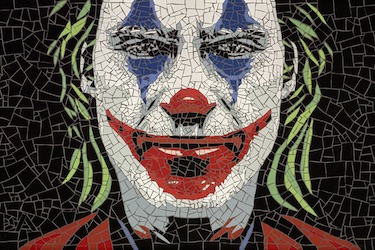 British artist David Arnott uses the age old practice of mosaics to celebrate celebrity, royalty and subjects he is passionate about. Many of his works reference subjects from the Rolling Stones' lips logo to Her Majesty the Queen, all beautifully and meticulously constructed from thousands of mosaic fragments – each one hand cut with Montolit Mosaic Nippers out of Johnson Tiles – and some no bigger than a millimeter long. Arnott invests hours of research into his subject, then skillfully wields this ancient artisan technique to pay homage to some of our world's most loved and powerful icons. He is still very much present in each piece; his initials are always hidden somewhere within the tiles. He chooses LATICRETE UK and Palace Chemicals to set his works, which share space with art by Picasso, Warhol, Dali, Lowry and Haring at Clarendon Fine Art and Whitewall Galleries, and in private collections all over the world. Shown are the Heath Ledger Joker, and the Versace-inspired Manchester Bee, which was made with Versace plates, Johnson tiles, diamond dust added to SPECTRALOCK PRO grout, and Swarovski crystals.
Marvelous medallion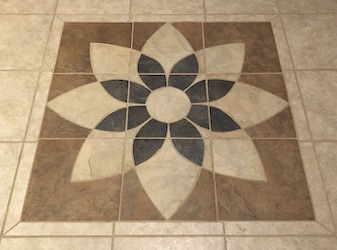 This 3'x3′ medallion is at a Cape Carteret, N.C. residence by Juan Sauceda, CTI #64, Bison Tile, Inc., Knightdale, N.C. This CTI and ACT certified installer created this kitchen floor medallion from 12″x12″ porcelain tile over backer board.
My octopus teacher
Inspiration can come from anywhere. Nadine Edelstein of Tile Design by Edelstein, Vashon, Wash., had a profound experience while SCUBA diving in Puget Sound 25 years ago, that inspired a tile and stone art installation. Edelstein said, "I came across two GPOs (giant pacific octopuses) mating in open water. They were a living Ferris Wheel suspended in front of me, tentacles extended radially and intertwined. Their structure was HUGE – maybe 20 feet across – truly astonishing!"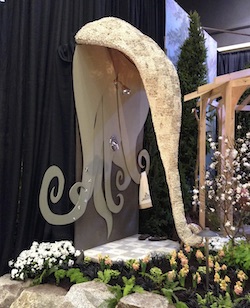 But it wasn't until she was watching the show Spartacus a few years later that elements came together for her octopus creation. "Being a true [tile] geek, I couldn't help noticing the really cool pattern in the stone floor tile in the grotto and spa that were the background for all the kinky sex scenes," she said. "I decided to use that pattern as the inspiration for the 'environment' that my octopus would use as camouflage." In the wild, octopi disguise themselves to blend into the surroundings by changing the color and texture of their skin, or sometimes by using shells and other materials as cover. Edelstein and her team members Kate Guinee and Georgia
Coupland worked on the process, which included building the carcass and applying a concrete skimcoat, then applying pebbles for the outer camouflaged skin that reflected the Spartacus floor pattern and the porcelain mirrored tiles on the underside.
"All of the pebbles on the outer surface were originally one blend," Edelstein explained. "I had to sort them to light and dark. I originally didn't grout the outer pebble surface but eventually epoxy grouted it to make it easier to transport. I named it October Monopus in honor of the month of its 'birth,' Happy Birthday Octo!"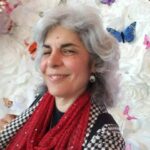 Editorial Director and Senior Writer for TileLetter and TileLetter ARTISAN
Lesley Goddin has been writing and journaling since her first diary at age 11. Her journey has taken her through a career in publishing and publicity, landing her the editor position of TileLetter and its special publications in 2006. Her goal is to educate, inspire, recognize and encourage those in the tile industry -- especially the tile and stone contractor. Other interests include the soft, purring marvels known as cats, labyrinth walking, drumming and percussion, and a range of spiritual, musical and artistic pursuits.