Three tile artisans proposed the addition of a new chapter into the upcoming issue of the NTCA Reference Manual during the recent NTCA Technical Committee Meeting that took place on October 23 during the Total Solutions Plus all-industry conference in Jacksonville, Fla.
Lee Callewaert of Dragonfly Tile and Stone Works in Grafton, Wis., Joshua Nordstrom of Tierra Tile in Homer, Ak., and Angie Ré of Unique Mosaics LLC in South Salt Lake, Utah presented three techniques for  pre-mounting hand-shaped mosaics for durability, ease of transportation and to speed and facilitate the installation of finished works. The guidelines included: the Fabric Sheet Membrane technique, presented by Callewaert; the Mesh/Liquid Membrane technique presented by Nordstrom; and the Foam/Cement Backer technique, presented by Ré.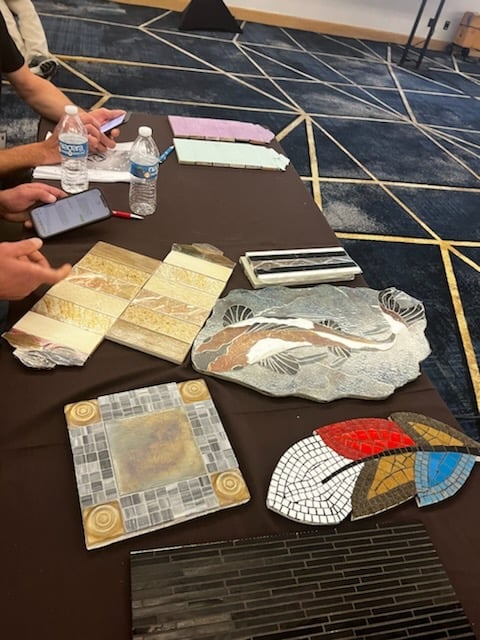 James Woelfel, NTCA Technical Committee Chairperson addressed the Committee, saying, "There has been an explosion in artisan work. It is important we put this in the NTCA Reference Manual to protect good work and educate people going forward to give them a lot of information so we don't ruin something that is exploding into tile and stone."
In addition to a PowerPoint presentation that detailed each guideline, each tile artisan also brought mock-ups of mosaics mounted with their preferred approach to illustrate the benefits of pre-mounting to the group.
Callewaert noted that making the process of installing mosaics easier will promote more tile artwork and attract more people to the trade. "The trade is an artisan trade after all," he said. "It's important that we energize our heritage. We can now utilize the many newer products from manufacturers that make artisan tile installations easier and long lasting for generations to come. Artisan tile work should be appreciated as historical craftsmanship well into the future. Let's shed the 'tile-guy' preconceived image and adopt the tile artisan identity," he said.
Nordstrom observed that these best practices are "very practical for everyday installation. Tiles are different thicknesses now, and it's hard to flush those out. [These techniques] take off a lot of time and speed the process up; you wind up with a better result when all is said and done."
Ré explained that pre-mounting mosaics before installation means, "the installer only has to put in one or four pieces," and not hundreds or thousands of mosaic pieces at the jobsite. "One thing that is very important in this field of work to all of us tradespeople is keeping our bodies in healthy working order," she added. "We can save our backs, necks, and knees by pre-making this super-detailed work in a comfortable place, such as an inclined work table offsite, then take it to the jobsite and install it fairly quickly. This may open up options for installers to say yes to that next ceiling medallion job or other creative projects that can be installed as an inlay."
Woelfel emphasized "We want to be on the front end of getting younger people involved, and trying to guide them in the right direction."  Ré added that it's "important to have some sort of [guideline] in the manual; when I started out, there was nothing for me to refer to. A lot of people who want to get more creative with tile work may not know how to install it properly. It's nice to have the information so they don't have to guess their way through."
Response was overwhelmingly positive, and the Committee accepted the proposal. A group was formed to assist in the next steps of formulating and formatting the information for inclusion in the 2022-2023 edition of the NTCA Reference Manual.
"This is a major step forward as our industry embraces the importance of artisanship in tile," said Dragonfly's Jane Callewaert, a member of the artisan team. Details about the pre-mounting techniques will also be published in the Spring issue of TileLetter ARTISAN magazine.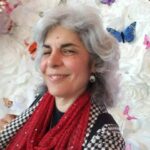 Editorial Director and Senior Writer for TileLetter and TileLetter ARTISAN
Lesley Goddin has been writing and journaling since her first diary at age 11. Her journey has taken her through a career in publishing and publicity, landing her the editor position of TileLetter and its special publications in 2006. Her goal is to educate, inspire, recognize and encourage those in the tile industry -- especially the tile and stone contractor. Other interests include the soft, purring marvels known as cats, labyrinth walking, drumming and percussion, and a range of spiritual, musical and artistic pursuits.