As mentioned in the Tile Throwback section in the initial issue of TileLetter ARTISAN last spring, the emergence of handcrafted, decorative tiles in the United States, beginning in the late 1890s, represented a rebellion from the conventional aesthetics of the Victorian era. In the Victorian era, tiles were viewed as mere ornaments – symbols of refined taste. The Victorian commercialization of both product and process – as well as the impersonal workplace – left little room for free expression by the artist or craftsperson. Although tiles had become less expensive and more widespread in use, most were mass-produced and lacked personal appeal.
By the turn of the century, American appreciation for individual craftsmanship had developed significantly. This growth was inspired in part by the Arts and Crafts movement in England, in reaction to the deprivation brought on by the Industrial Revolution. Artisans asserted their creativity through their crafts, rejuvenating the work place, and – in theory – society as well. Individual tiles in America, previously ornamental objects that would also serve a useful purpose once installed, became an artistic medium, a means of self-expression for the craftsperson. Subject matter was simplified; glossy translucent glazes were replaced with matte finishes. The way a tile was produced had become an essential part of the way it looked; its handcrafted qualities were quite deliberately made visible.
Grueby Faience Co.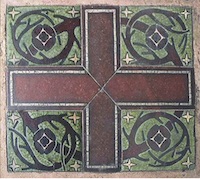 Among the earliest of the respected craftsmen was William Henry Grueby (1867-1925), whose tiles rank among the most collectible today. As a young man, he apprenticed for 10 years at the Low Art Tile Works in Chelsea, Mass., before venturing out on his own to form Grueby Faience Company in South Boston in 1894. Subsequently, he received numerous prestigious awards for both his pottery and tiles in both the United States and Europe. His matte green glaze, emulated by many, became known as "Grueby green," a symbol of the Arts and Crafts movement.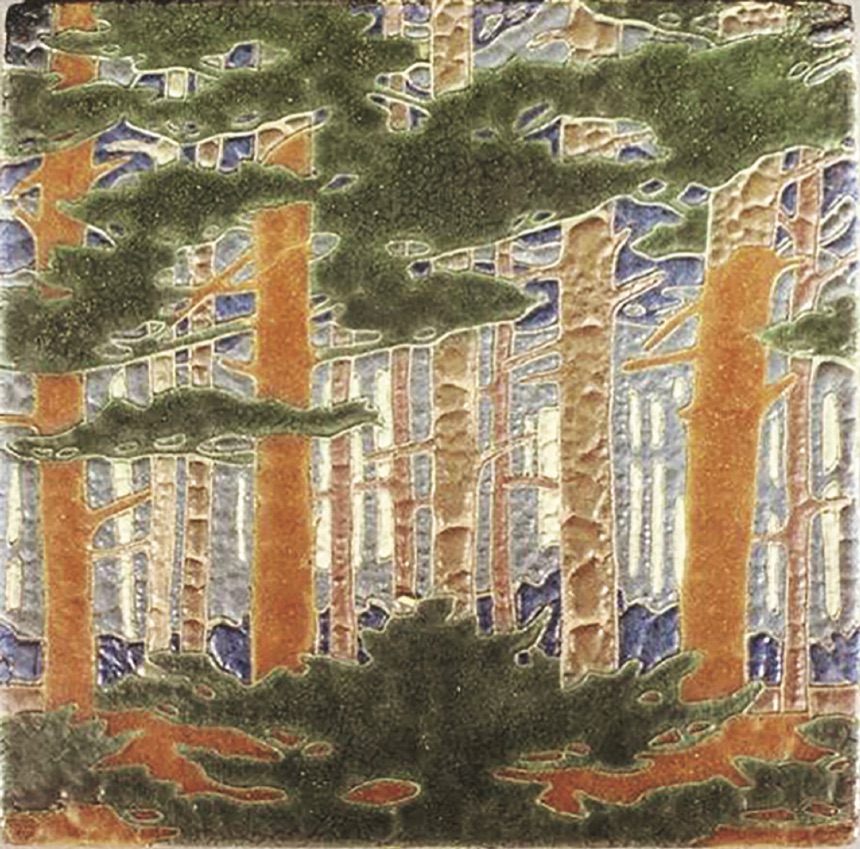 Moravian Pottery and Tile Works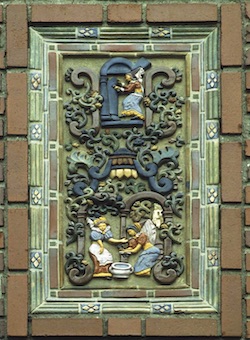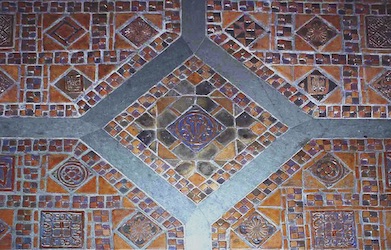 Instrumental in bringing about these substantive changes was Henry Chapman Mercer (1856-1930), who redirected what had been a primarily functional focus on tiles to an artistic one. Abandoning his active career as an archaeologist, he took up tile making in 1898 working in small outbuildings on his family's estate in Doylestown, Pa. He named his enterprise the Moravian Pottery and Tile Works after the local German-born stove plate makers. Early on Mercer was commissioned to produce 16,000 sq. ft. of his handmade tiles for the floor of the new Pennsylvania State Capitol.
Pewabic Pottery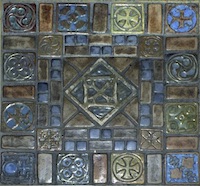 In 1896, Horace Caulkins – who owned a dental supply company in Detroit – hired Mary Chase Perry (1867-1961) to promote his new Revelation Kiln to the ceramic community. She traveled to potteries throughout the northeast – including to Doylestown – demonstrating the kiln's key features. Her success resulted in a partnership with Caulkins, creating Pewabic Pottery in 1903, where both pots and tiles were made by hand, clearly and intentionally demonstrating the creativity of the artist herself. Perry became most well known for her glazes, specifically her iridescent blues and purples. Preferred by many noted architects, her tiles remain accessible at numerous public sites.
Rookwood Pottery
Shortly after forming her Rookwood Pottery in Cincinnati in 1880, Maria Longworth Nichols hired William Watts Taylor (1847-1913) as her business manager, along with numerous talented decorators. Under Taylor's supervision, the pottery developed its matte glazes and in 1900 won the Grand Prix at the International Exposition in Paris. Recognizing the growing interest in architectural faience, Rookwood established a separate department specifically for the full-scale production of faience tiles featuring its award-winning matte finishes; success was at their doorstep. As early as 1903 the company was providing tiles for the New York City subways as well as for upscale hotels in Cincinnati, Louisville, Pittsburgh and New York.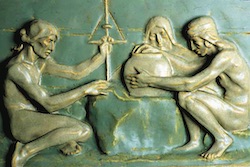 Handmade art tiles rule
The popularity of machine-made art tiles had diminished by the turn of the century and all but disappeared by 1910. By this time hand-crafted tiles–or those made by machine to appear handmade–dominated the market. Throughout the 1910s and 1920s tiles were used with increasing imagination to decorate the walls and floors of various rooms in the home, as well as patios, walkways and gardens. Tiles in contrasting colors and in varying shapes and sizes were used in the same installation, often with striking results. In the more exclusive homes, decorative liners and mural work became more commonplace. Bright colors and geometric patterns were particularly popular throughout the southern and western states. By the mid-1920s ceramic tiles in many areas were more than a symbol of good taste; they had become an integral part of most new homes.
California lagged behind the rest of the country in the production of decorative tiles primarily because eastern manufactories produced adequate quantities to meet California's demand. After the turn of the century, however, the state's population began to mushroom in major urban areas. Although some tiles were made in California as early as 1900, it would be ten years later before a unique tile-making tradition was established there.
More about that next spring.
---
Unless otherwise noted, all photographs were taken by Joseph Taylor for the Tile Heritage Digital Library.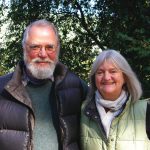 Sheila A. Menzies and Joseph A. Taylor
Joseph Taylor and Sheila Menzies founded the Tile Heritage Foundation in 1987 in Healdsburg, Ca. This archival library and resource center is dedicated to the preservation of ceramic surfacing materials in the United States. The archives catalog information about historic and contemporary tile companies in the United States, and maintains a collection of over 4,000 historic and contemporary tiles, all of them donated. The non-profit Foundation is maintained by sponsorship, grants, gifts and membership, as well as contemporary tile sales. Visit http://www.tileheritage.org for more information.