The Coverings Installation and Design (CID) Awards, presented live in Orlando at Coverings in July, provided a panoply of projects to ogle for those interested in all things artisan. We are expanding the project gallery in this issue to give these Special Recognition projects the extra love they deserve. We hope it inspires artisans around the world to submit their projects for the 2022 CID Awards, and help get the word out that artisan tile and stone projects can be stunningly beautiful, creative, enduring — and epic. To submit your projects to the CID Awards, visit www.coverings.com/cid-awards/.
---
Special Recognition: Mosaics
Living Wholeheartedly: LMF Group
Shorewood, Wis.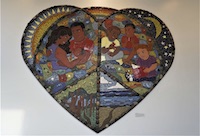 The LMF Group chose mosaics to evoke a spirit of community, diversity, love, children and parenthood for an art piece in the vestibule of Casa de Corazón®, a Spanish immersion daycare and preschool. Materials included half-inch glass mosaics, handmade and hand-painted tile, and hand-picked stones from the shores of Lake Michigan. Pieces were assembled offsite and then shipped to Casa de Corazón for the final installation. Materials were sourced from Mosaic Art Supply.
City Tree Mural: New York Tilemakers
Brownsville, Brooklyn, N.Y.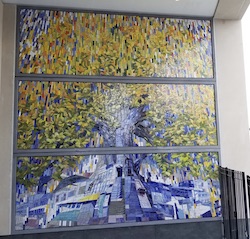 Artist Adam Cvijanovic won a design competition for a new public school in Brownsville, Brooklyn. New York Tilemakers translated his paintings and drawings into a permanent exterior mosaic installation: a 21'x21′ mural with more than 1,500 hand-fabricated subway tiles in 40 colors, plus leaf and architectural tiles, on which the artist applied glazes in his own painterly style.
All tiles were made from Sheffield moist clay (T6B stoneware), with lead-free glazes and underglazes from Duncan, Amaco, and other manufacturers. More than 100 Hardibacker backer boards were cut to size. Thinset and grout were from Custom Building Products.
Tualatin Lifeblood: JK Mosaic
Tigard, Ore.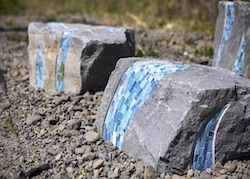 This heritage trail in the City of Tigard provides structure and seating through seven basalt boulders adorned with inlaid mosaic tile designs that suggest flowing water, local flora and fauna. Mosaics are made from scrap tile, salvaged sheet glass and from a variety of manufacturers plus Eco-Accents glass tile from Maryland Mosaics, including some glow-in-the-dark pieces. Ed Salerno carved recesses into the boulders for the mosaic. Setting materials included LATICRETE Hydro Ban, Platinum 254 thinset and PERMACOLOR Select grout.
Tree Stump 3D Shower Seat: Unique Mosaics
Heber Springs, Ark.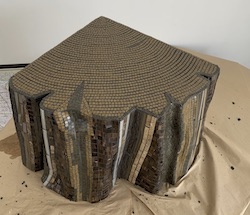 Angie Halford Ré's husband Jason sculpted this rustic shower seat from high-density foam, then she sanded it smooth and covered it in fiberglass mesh and liquid Hydro Ban waterproofing. She installed tile with LATICRETE 254 Platinum thinset, and grouted with SpectraLOCK Pro Epoxy Grout in two colors. Photos of tree stumps helped her choose colors, materials and patterns to emulate a real stump. She built up areas of the stump with a 1/8" thick hard plastic mesh between skimcoats of thinset to create the illusion of tree bark. Tile from Maryland Mosaics joined repurposed tile, stone, glass, and porcelain she had on hand. Other suppliers included: Floor & Decor, Modern Tile, Mosaic Mania, RodKat Foam, LATICRETE and ARDEX.
Roots of Knowledge: Ro Biaggi Design Build
Tampa, Fla.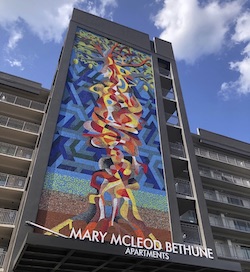 Tampa Housing Authority and Related Group commissioned this mosaic mural tribute to Mary McLeod Bethune for a low-income housing project in the city. Ceramic tile in different colors and sizes were broken into pieces and installed one by one on the building façade, using scaffold and lifters. Brands include: Ceramin Ceramiche, Strufaldi, Gabriella Revestimentos Ceramicos Ltda., Wickes Wall Tile, Grupo Boricua Tiles, Daltile USA, Shark Tile Mosaic, and Pavigres. VersaBond thin-set mortar by Custom Building Products, and black CUSTOM Grout were used to set and grout the project. Suppliers were Maderas Alfa and Home Depot.
Walk in the Park: Custom Mosaic Creations
Tigard, Ore.

Artist Lisa Bustamante uses stained glass to create clients' memories and tell their stories through functional mosaic art. When a "sweet lady" who lives in a local assisted living community wanted to add some color to her kitchen, Bustamante transformed her love of walking in parks, hummingbirds, trees, lakes, iris flowers, and cherry blossom trees into a backlit stained glass backsplash that would cast light in the evening. She used acrylic for the substrate, clear Liquid Nails to adhere the glass, and Bostik Dimensions Grout with glass micro-beads for sparkle, then added LED tape lights around the perimeter and a painted frame. Supplies came from Bullseye Glass Company and Daltile.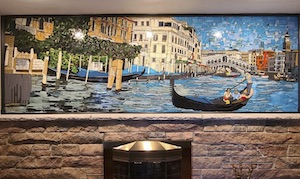 Venice, Italy: Unique Mosaics
Medford, Mass.
Angie Halford Ré won a second award for this personalized mural for tile contractor Sal DiBlasi. Read about this amazing project in detail in the TileLetter ARTISAN spring issue at: https://digital.tileletter.com/venice-mural
Special Recognition: Community Project
San Pedro Creek Culture Park: J&R Tile
San Antonio, Texas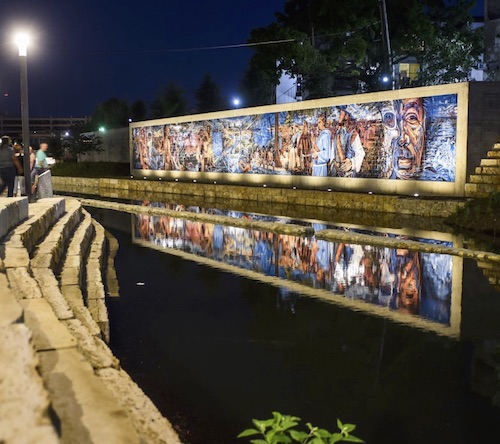 The San Pedro Creek Culture Park tells the story of the area through the works of prominent San Antonio artists in murals, ceramic art, tiled benches and historical text and poetry. Custom digitally-printed tile murals were made on a grid for installation. Challenges included exterior application of tile assemblies, meticulous mockups and multiple approvals by Bexar County and the artists and architects, and custom color mission tiles by Redondo Cement Tile. Vertical concrete had to be flattened, custom profiles on tile benches were installed to minimize damage from skateboarders, and movement joints had to be positioned to not saw cut through artwork. ARDEX setting materials sourced through Stone Solutions earned the project seven LEED points.
Special Recognition: Artistic Installation
SEIU Building Re-Making Mosaic Mural
Miotto Mosaic Art Studios, Inc., New York, N.Y.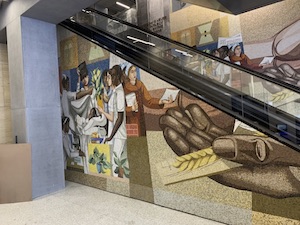 Miotto Mosaic Art Studios reproduced a mural that was designed by Anton Refrigier and originally created in 1970 for the Service Employees International Union (SEIU) building in downtown Manhattan. The principal of Miotto actually worked on the final cleaning of the original project decades ago, and was able to use some of the original material to reproduce some faces and figures in the recreation. Miotto fabricated the new panel together with an associate in Spilimbergo, Italy – Travisanutto, Giovanni SRL. MAPEI Keralastic/Kerabond and CUSTOM sanded grout were used on the project.
Ethyl and Steph Aqua Therapy Pool: Tierra Tile
Homer, Alaska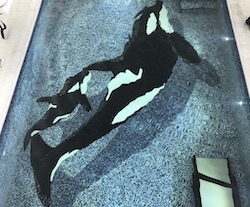 This was the first pool Joshua Nordstrom of Tierra Tile had ever attempted. He attended the Mud 3 event and gained wisdom from the Mud Facebook group before floating all the walls using LATICRETE 3701. This complex job was completed with the help of his very first employee, and a borrowed shop that was large enough to accommodate the projector work for the design. See more views of this project here:
https://www.tileletter.com/the-business-of-beauty/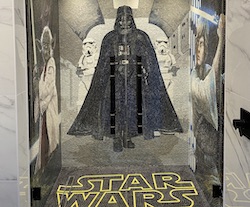 In a Galaxy (Not) Far, Far Away: Jonathan Stanton, Inc. Tile Artisans/LATICRETE
Louisville, Ky
This out-of-this-world bathroom project was originally featured in May 2020 TileLetter. Read about the new hope it brought to a shop bathroom, here: https://www.tileletter.com/contractor-transforms-shop-bathroom-with-star-wars-shower-mosaic/
Special Recognition: Restoration
By George at the Candler Hotel: The Beck Group
Atlanta, GA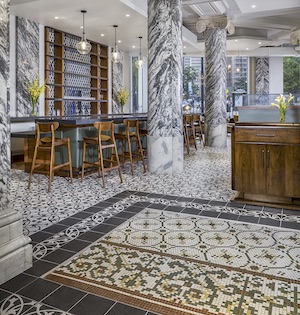 The 17-story Candler Building originally sported a bank, adorned by a stunning, expansive mosaic floor installed in 1906. Over the years, it had been covered up by vinyl tiles and remained hidden, until renovation for the restaurant began. The Beck Group took on the arduous task of removing the vinyl and cleaning the floor, then matching the original design with new tile that evoked the historic beauty of the 1906 floor. In renewing the space, the Beck Group was able to feature the tile craftsmanship that had been hidden from view for decades. Blending it with a new installation creates a timeless feel in harmony with the historic context.
Special Recognition: International
La Sastreria Restaurant: Masquespacio
Valencia, Spain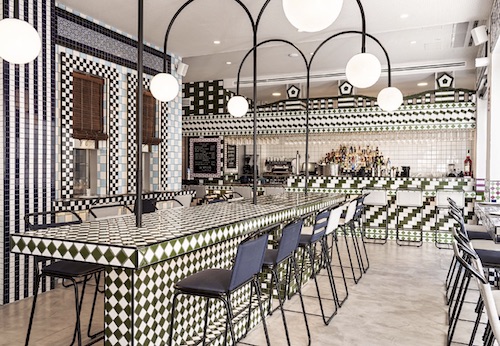 Masquepacio created a visually rich and exciting setting for this new restaurant. The bar section is adorned with custom tiles in patterns that reinterpret the facades of the neighborhood. The design of the seafood restaurant recreates a great wave that grows towards the kitchen and is translated into a sculpture made of ceramic pieces. The artisan ceramic floors in white and blue create a division like that between sand and water. Ceramic tiles cover almost every surface, creating a riot of rhythmic, clashing shapes – from the bar counter to the tables and the walls, enveloping diners in checkerboards patterns of green, blue, black and white.
La Roca Camper Store: Tomas Alonso Studio
Barcelona, Spain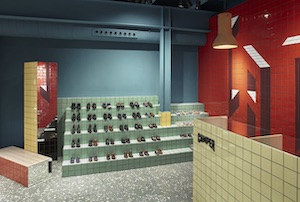 Tomas Alsonso Studio valued the practical, low-maintenance aspects of tile as well as the dynamic look tile colors and finishes afforded for this setting. Natural terracotta tiles – a material traditionally found throughout Catalonia – contrasted with glossy glaze finishes. The two central tables are custom designed to hold the large amount of footwear normally found in this kind of store and two big benches act as both a seat and window display. This furniture was handcrafted in Barcelona, like the bespoke cement floor tiles. The lights – some with shades made of terracotta – enhance the project.
Mosque in Shali City: F.H.L.I. Kiriakidis Marbles-Granites S.A.
Chechnya, Russia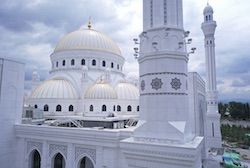 The white color is sacred in the Muslim religion. So, this project featured pure Thassos white marble cladding inside and out – sourced from a small Greek island – to provide a pristine and sparkling façade to this mosque, and also to reflect the sunlight and moderate the temperature. Colored marble, granite and onyx inlays were installed in arches and floors to emphasize the stunning purity of the marble in the mosque, which was designed with traditional Uzbek rhythm with many spindles and columns.
Glass Tesserae Panel: Oficina de Mosaicos
Rio de Janeiro, RJ, Brazil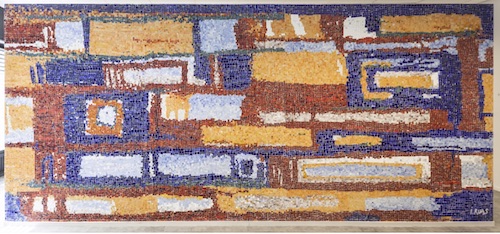 This colorful and striking panel is based on an original painting created for the restaurant by Isabel Ruas, architect and founder of Oficina de Mosaicos. The purpose was to create a strong contrast through the association of the primary colors, red, blue, yellow, while evoking a diluted urban landscape. Oficina de Mosaicos had to produce and install the mosaic panel in two weeks at the site in Rio de Janeiro, 400 miles away from the studio in São Paulo. Because of the vibration and movement of the building Oficina de Mosaicos developed a flexible mortar solution in concert with MC Bauchemie to accommodate the movement of the wall, and to be applied to the drywall board surface where the mosaic was installed.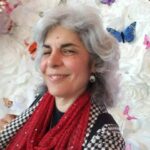 Editorial Director and Senior Writer for TileLetter and TileLetter ARTISAN
Lesley Goddin has been writing and journaling since her first diary at age 11. Her journey has taken her through a career in publishing and publicity, landing her the editor position of TileLetter and its special publications in 2006. Her goal is to educate, inspire, recognize and encourage those in the tile industry -- especially the tile and stone contractor. Other interests include the soft, purring marvels known as cats, labyrinth walking, drumming and percussion, and a range of spiritual, musical and artistic pursuits.