Grout residue on tile is hands down the number one cause of construction site callbacks.
The problem is well-known: a few months after the tile installation is complete, streaks and stains appear on the surface. No matter how hard you try, regular maintenance cleaners just won't get rid of the streaks, and the stains continue worsening. Finally, a heavy-duty cleaning intervention is requested, and the culprit is revealed – cement grout residue was left on the tile from the installation process, and over time, maintenance cleaners and everyday grime clung to the residue, creating layers of built-up dirt.
If we were to take out a microscope and take a close look at the layers on the floor, we would see what is called a biofilm. A biofilm is a group of microorganisms that grow on different types of surfaces, including residue-laden tile floors. The microorganisms form small colonies on the surface and eventually disperse into the air, creating an unhealthy living environment.
Once layered stains have formed, the only solution is to carry out a two-step cleaning process: first intervene with an alkaline cleaner to remove the organic matter on the surface, and then use an acid cleaner to remove the grout residue underneath. It's important to remember that biofilms are often resistant to disinfectants, making it imperative to clean tile floors with appropriate cleaners that not only remove grime, but also do not damage the integrity of the tile and grout.
But why is grout residue left on the tile to begin with? Typically, because the tile surface cannot be cleaned immediately after grouting. In traditional tile installations, the grout needs to cure for around 72 hours before the residue can be cleaned, which would require the time and cost of returning to the job site for subsequent cleaning. Therefore, what often happens is that the tile is quickly wiped down with water, and the job is considered complete. Though almost invisible in this phase, a thin layer of grout is still present on the surface and will begin slowly accumulating oil, footprints, food spills, etc., eventually revealing themselves as dreaded streaks and stains.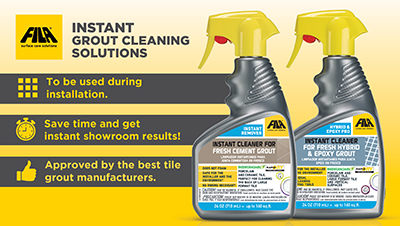 As long-time problem solvers for the toughest surface care predicaments, FILA researchers rolled-up their sleeves to come up with an easy-to-use solution for professional tile installers and savvy do-it-yourselfers, a solution that literally combines the grouting and cleaning phases into one: getting rid of the grout residue during the installation process. FILA's Instant Solutions, in fact, eliminate grout residue before it cures.
The innovative Rapiddry Technology allows the products to be used during installation, nipping grout haze in the bud, saving the installer precious time and money.
It's simple: remove excess grout and then spray the grout joints with Instant Remover (for cement grout) or Hybrid & Epoxy Pro (for epoxy, urethane and pre-mixed/hybrid grout). Let the product sit, then wipe using a damp sponge, rinsing it often to keep it clean. (For complete application instructions, read the product label.) Both products are created to be used on porcelain and ceramic tile, glass mosaic and quarry tile installations, and keeping in step with the detailing of contemporary design projects, they do not damage or corrode aluminum and steel trims.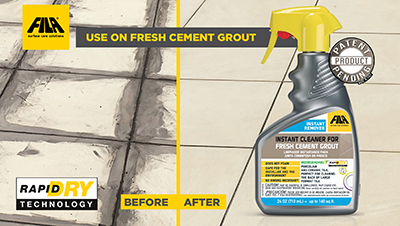 Once the grout residue is completely removed, you're left with a clean slate ready for regular maintenance. When tile installations are cleaned thoroughly right from the start, they're easy to keep clean. Be it on large surfaces or small counters and tabletops, appropriate maintenance is a foolproof way to keep surfaces pristine for years after they were installed.
These are the characteristics of the best everyday maintenance cleaners for porcelain and ceramic tile.
1. They're pH neutral: cleaners with a pH between 6 and 8 are safe even for delicate surfaces.
2. They don't leave a residue: eliminating streaks and biofilm formation.
3. They're eco-friendly: concentrated cleaners with biodegradable ingredients are preferable for surfaces, the user and the planet!
While porcelain and ceramic are not absorbent materials, cement grout joints are the element in tile installations that can absorb dirt even when properly maintained. Sealing cement grout joints guarantees that dirt stays on the surface, ready to be wiped away during the weekly cleaning schedule.
Let's go over these essential tile cleaning takeaways:
Cement grout residue attracts dirt and grime, creating layers of stains.
FILA's Instant Cleaners eliminate grout residue during installation, saving time and money in addition to greatly reducing call backs and complaints.
Regular maintenance with pH neutral cleaners is essential in keeping tile pristine.
Sealing grout makes everyday maintenance even simpler.