Building a portfolio, posting on social media and more are ways to attract new clients
Marketing your art and your creativity is an essential part of your business – if people don't know about your skills and talents, how will they know to come to you for that unique piece of art for their home, office, or commercial setting?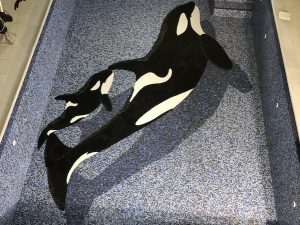 Tile artisans in a recent NTCA Roundtables Live! shared different approaches they took to promoting their work.
Lisa Bustamante of Custom Mosaic Creations in Troutdale, Ore., said she frequents the local home and garden shows a couple of times a year to introduce herself and artisan tile to the general public. "Usually every home and garden show, I land at least one or two custom mosaic jobs," she said.
"I also share my work on my own social media page, and on two different groups that I follow, and Google ads, too."
Angie Ré, of Unique Mosaics of South Salt Lake, Utah (read more about her talents in our artisan mural feature in this issue) said, "I get most of my business from social media and I'm starting to get known locally. Seventy five percent of my work comes through the internet – contractors, architects, and builders in the same networking circles find me. Designers will call from all over the nation."
Building your portfolio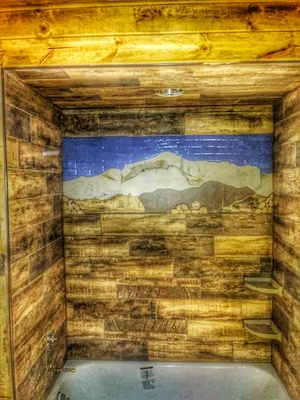 Simon Beames of All By Design LLC in Colorado Springs, Colo., is fairly new to artisan work, but he is in the process of building his portfolio. "Whenever I talk to customers, I scan their houses and if something catches my eye, I mention it and try to sell them on mural or mosaic," this NTCA member said. "Whenever I'm done with a scribe, mural or mosaic, I use local Facebook groups and Facebook Marketplace to get the finished work out locally. I also put pictures up on Instagram, my Facebook business page, LinkedIn, and a few others.
"As a new artisan, you have to be able to put two ideas and likes together from different clientele – whether it be the wife and the husband – and put them together to create a mural mosaic design that really brings the whole concept together. Then you have to sit down, find the right materials and plan it out to the point where there aren't that many grout lines etc.
"And then you have to actually sell it to the homeowner," he added. "You have them hooked when you show them pictures of your previous work, and they are very, very interested. More often than not, pricing is not an issue because people will pay for something that they absolutely love. So the key is to find that thing that every single customer or client essentially loves."
NTCA member Joshua Nordstrom, of Tierra Tile in Homer, Alaska (read more about his skills in our technical story about templating in this issue), said, "I gave away a lot of pieces in the beginning. If your friends or family are willing to let you do something cool in their houses – build your portfolio that way."
Early on, Nordstrom made tile "rugs" for people, mostly out of travertine, until he learned to cut porcelain and granite. "It doesn't happen overnight," he said. "You have to put your heart and soul into it and lose your pants on a few jobs to get the portfolio, learning, and experience. You learn from every job.
"You don't have to give yourself away, but maybe charge half the cost you think you'd like to charge," he added. "And take pictures of everything. People are not going to buy anything if they don't know it exists. Make it point to show people your work."
Pricing a project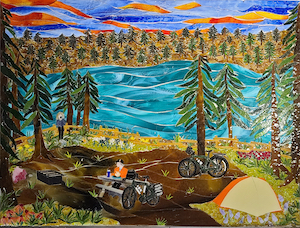 When it comes to estimating what a job will cost, tile artisans have different approaches to determining price.
Ré estimates how long a project will take her to complete, based on a similar completed project. "I have an amount I need to make a week," she said. "I add that to cost of materials and add in a percentage of profit and whatever else I might need – like shipping – and that becomes the price. It's not always done by the square foot." She said she can take whatever that price is and then break it down to a square foot cost, if the client requires it.
"You have to make sure you get enough for labor; I learned that the hard way," she said. "Explain to client how long you think it will take to make; give options for levels of detail, and then estimate by time vs. a square foot cost."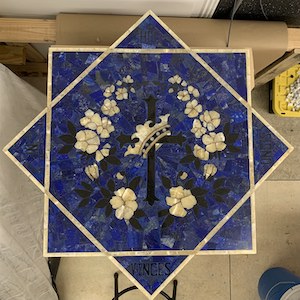 Artisan tile setter Lee Callewaert of NTCA member Dragonfly Tile & Stone Works, Inc., in Grafton, Wis., said, "If there is a detailed plan and everyone sticks to that plan, it's a little easier. But I have found the evolution occurs in these things. Even if you start out with a budget number, if new ideas come forward, you have to understand that cost has to be added as well."
Jane Callewaert, also of Dragonfly and wife and business partner to Lee, said one way to approach price and design requests from a customer is to say, "We COULD do it with onyx, but that would add $1,000 – $2,000 to the price. Does that work?"
"It's important to get a budget number and design the piece with that in mind," Lee added. "Don't design with thousands of pieces for low budget. Think about what you are drawing."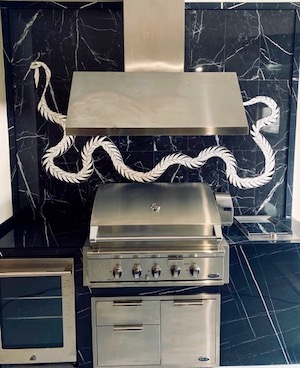 Ré noted that even though she gets some jobs that aren't initially that enticing, she's "never come across a job where I wasn't interested. Most people want something cool, and give it to me as a challenge to make it happen. You also have to educate the client." She accepts only custom work.
Lee Callewaert said it's hard to pin down the "type" of customer who is into custom pieces. "It's all over the board," he said. "Some people don't know till you show them –'You can do that?!' Art has no boundaries. Everyone loves art."
Nordstrom does 60/40 traditional work/art jobs, and Lee Callewaert said, "We'll do anything they want but at even higher levels of detail; we make it unlike anyone else. I would prefer to do art 100%."
The challenges of the work galvanize Ré. "Everything I do is so different from the last," she said. Of a recent job, she said, "I never cut lapis and honey onyx before. Each job is a challenge. I say yes to jobs over my head and figure it out."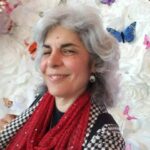 Editorial Director and Senior Writer for TileLetter and TileLetter ARTISAN
Lesley Goddin has been writing and journaling since her first diary at age 11. Her journey has taken her through a career in publishing and publicity, landing her the editor position of TileLetter and its special publications in 2006. Her goal is to educate, inspire, recognize and encourage those in the tile industry -- especially the tile and stone contractor. Other interests include the soft, purring marvels known as cats, labyrinth walking, drumming and percussion, and a range of spiritual, musical and artistic pursuits.