"I am always doing that which I cannot do, in order that I may learn how to do it." – Pablo Picasso
The magazine you hold in your hands is truly a labor of love: love of the incredible artistry, precision and beauty that artisan tile setters display when creating an art installation or custom install that demands skill and expertise. Work that goes the extra mile is inspiring, and offering enduring works of art as part of your job also provides deep satisfaction. TileLetter ARTISAN is here to celebrate all of that – and more.
This publication was inspired by a series of influences in early 2020: at TileLetter, we were looking for something special and new for our two large-format annual issues, and we had committed to dedicated support for artisan tile setters with a smashing program meant to debut at Coverings 2020. Those influences were roiling around in the back of my head when I took a day off in May, and was scrolling through the Tile Trade Artisans Guild's photos on Facebook, specifically the Orca Pool by Tierra Tile's Joshua Nordstrom (check it out on page 10 of the print issue). I was struck by an idea that brought all those factors together in one fell swoop: a twice-yearly large-format magazine that focused on the artisan aspect of the trade! 
Not only would it showcase jaw-dropping current projects; it would connect today's setters with the age-old legacy of beauty the trade embodies, offer news of artisan-related events and products, provide tips for building an artisan business and give technical pointers to hone one's craft. It would educate, inform, celebrate, and support current artisan tile setters, inspire those considering joining the trade, and show some of the amazing tiles available from U.S. artists and beyond.
Instead of taking the rest of the day off, I immediately contacted TileLetter Art Director extraordinaire Michelle Chapman to brainstorm and seek her expertise in creating a cover mockup. A month later we presented this at a marketing meeting and the idea received a green light to launch in 2021.
So here we are! We are delighted to showcase a wide range of artists and artisan tile setters in this issue and look forward to doing more of the same in the fall issue – and beyond. On our digital tileletter.com site, we also offer a digital companion to TileLetter ARTISAN: select videos that illuminate techniques, product or project details.
In addition to Michelle Chapman's artistry in bringing all this information to life in print in a beautiful way, and Avia Haynes' skill in formatting the digital version to be read across all platforms, I owe a debt of gratitude to Joshua Nordstrom, Jane and Lee Callewaert of Dragonfly Tile & Stone Works, and Sheila Menzies and Joe Taylor of Tile Heritage Foundation for guidance as this concept took shape. Everyone who has participated in the monthly Artisan Editions of NTCA Roundtables Live! hav been a tremendous resource, and enthusiasm and support by NTCA staff members and leadership have helped fuel this project. 
Future issues will showcase stunning tile work you come across in your travels, so send images and a little explanation of tile treasures to me at [email protected]. I'll also be looking for projects for future issues – specifically commercial or public art work for the fall. 
Without further ado, welcome to TileLetter ARTISAN. I hope you get as much joy in the reading of this issue as there was in the crafting of it.
God bless,
Lesley
[email protected]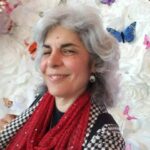 Editorial Director and Senior Writer for TileLetter and TileLetter ARTISAN
Lesley Goddin has been writing and journaling since her first diary at age 11. Her journey has taken her through a career in publishing and publicity, landing her the editor position of TileLetter and its special publications in 2006. Her goal is to educate, inspire, recognize and encourage those in the tile industry -- especially the tile and stone contractor. Other interests include the soft, purring marvels known as cats, labyrinth walking, drumming and percussion, and a range of spiritual, musical and artistic pursuits.