This diptych of stories on the Venice Mural tell two sides of the same tale: the creation of the gorgeous 11'7"x3'10" glass mosaic mural to replace a painted mural over a fireplace, and the expert installation of that mural, over 3,000 miles away.
Creating the mural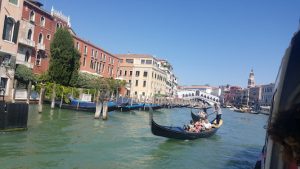 The story begins with NTCA member Sal DiBlasi, owner of Elite-Tile Co., in Boston, Mass., who wanted to refresh a circa 1960s painted mural in his freshly-painted living room. It just so happened, as he was exploring tile and stone options, Angie Halford Ré – mosaicist extraordinaire and owner of Unique Mosaics LLC in South Salt Lake, Utah – happened to call him on an unrelated matter. DiBlasi shared with Ré what he was considering and after chatting a bit, Ré said she could take on this project.
"She's in Utah – I'm in Massachusetts – it never occurred to me she could do it," DiBlasi said.
Instead of refreshing the existing image, DiBlasi decided to go with something special and personal, drawing from photos he took while on a trip to Venice, Italy, with his wife Pauline. He stylized a selected image with filters and then sent it to Ré, with a request to remove one gondola and replace the family in the foreground gondola with a couple.
"I can do better," Ré told DiBlasi. "I can put you and your wife in the gondola!"
From there it was game on! Ré began planning the project in June 2020, and worked on it in between other projects, since there was no definitive deadline for its completion.
In the first stage, Ré printed the photo in large paper sections, adjusting it to fit the dimensions over DiBlasi's fireplace. Ré then laid a sticky see-through mesh over the photo (which she removed once the mural was complete), allowing her to see the figures and buildings below.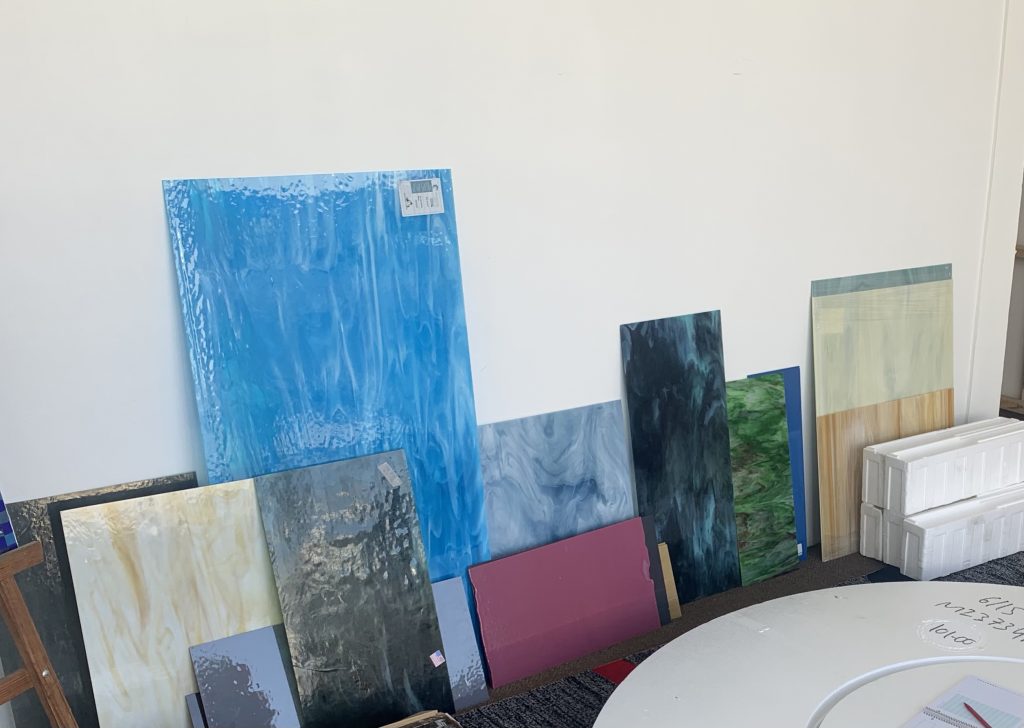 "I worked from there, cutting pieces in an impressionistic style, making sure to add in tiny details such as flowers, tiny watches and jewelry, flags, etc.," Ré said. "I want Sal and Pauline to be able to look at it from a distance and see a window into their time in Venice, as well as find little fun details when they observe it up close."
Ré used high-quality stained glass from Western Art Glass, SLC, mirror tiles from Maryland Mosaics, antique stained glass she had in stock for 30 years for the pink flowers on the bushes, and tiny millefiori bits for potted plant areas that have tiny floral designs on them. She invested about 200 hours into the making of the mural between June 2020 and February 2021, primarily using handheld wheeled nippers, a glass scoring tool and a ring saw.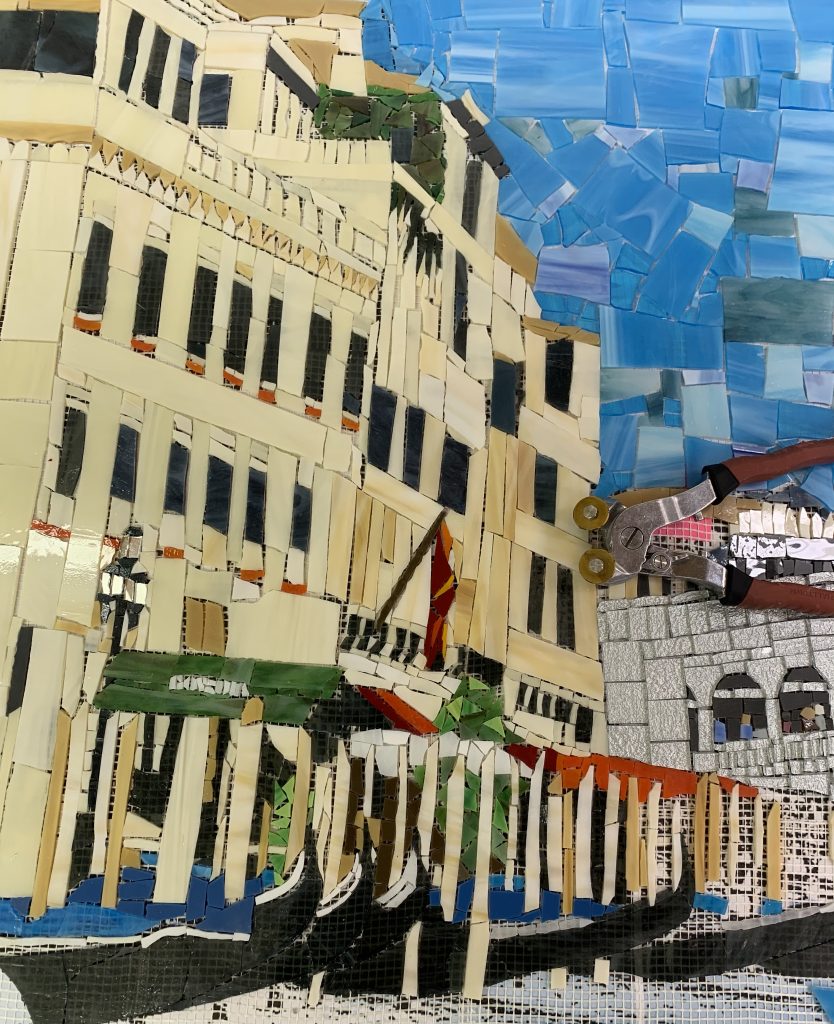 Her challenges with the mural were working on it simultaneously with other projects, placing Sal and Pauline into the gondola, and not being able to clearly see some of the detail from the reference photo.
"I had to free-style a bit when putting in Sal and Pauline, because although I did have pictures of their faces, I didn't have one of them sitting in the position I needed," Ré explained. "I changed their clothes, added some shopping bags, etc. Where the other gondola was, I covered it up with water."
To keep on task, Ré created a schedule for herself, working on the mural on specific hours and days of the week to make progress, and adjusting her schedule where needed.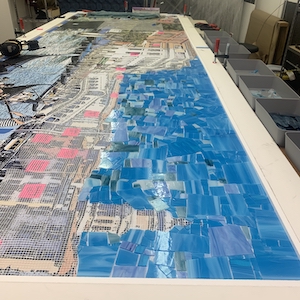 When the mural was complete, Ré vacuumed up loose slivers of tile and used a microfiber duster to remove dust and tiny shards. Then she went over the entire piece with a damp microfiber cloth to make sure all the dust was gone. After the piece dried, she mounted it with clear mosaic tape, making sure the tape slightly overlapped, and there were no bubbles. Then she carefully cut it into 12″x12″ sections for easy handling during installation, and so the pieces would fit in the parameters of the shipping boxes. The pieces filled five boxes. Ré emailed DiBlasi photo PDFs of the labeled sections so he could see what the assembled pieces in the boxes should look like and where all the numbered sections should go. She also included a PDF of installation recommendations, including setting material recommendations: LATICRETE Glass Adhesive, SpectraLock 1 Midnight Black grout for the majority of area, and SpectraLock Pro epoxy grout in Slate Grey for the sky area.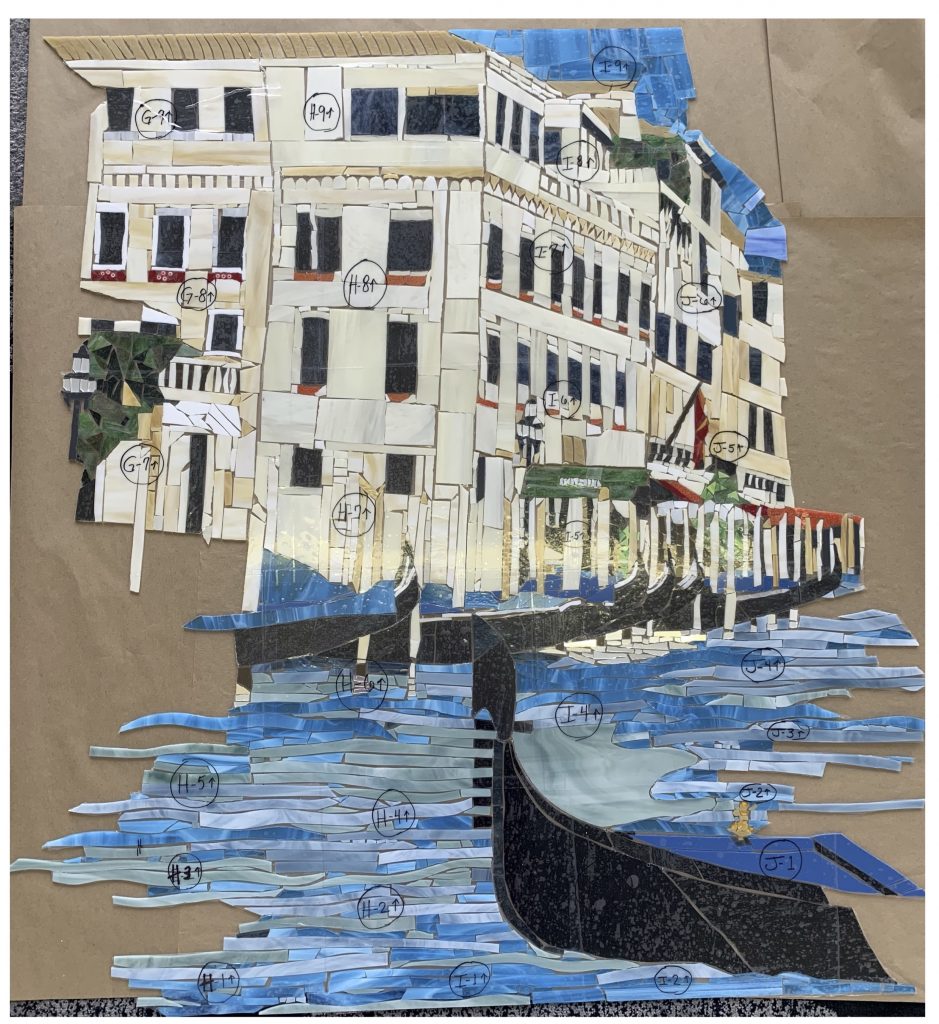 She planned it so DiBlasi could start at box one, and easily follow the photo PDF of the section to assemble the pieces. Ré also included a box of each glass color in case a new piece needed to be cut.
"I separated each mosaic sheet with bubble wrap, packed foam and bubble wrap inside the boxes, then packed those five boxes into another larger box," she said. "I set the larger box onto a pallet and secured the pallet with freight plastic wrap. The mural was shipped as a fragile item, where nothing would be stacked on top of it, and off it went!"
This process of creating the art, and having another party install it, is not foreign to Ré.
"I am used to creating mosaics and custom tile work to be installed by someone else," she said. "I try to always make sure that professional tile installers will be installing my work. I use the knowledge that I have about tile installation to create a method that is easy to install and takes a lot of the tediousness out of it.
"For each project I do, I want to know in advance where it is going (wet/dry environment, floor/wall, indoor/outdoor) and make an educated determination on what type of materials, what setting materials, and what mounting methods I will use for that specific project," she added. "A lot of planning, design, and prep happens before I start assembling any project."
Throughout the process, a friendship between Ré and DiBlasi blossomed. "Sal and I have been in pretty constant communication since last summer, and have become friends," she said. "We don't always talk about tile, or the mural, just enjoy the conversations about what is going on in our parts of the world. My husband and I went to Venice, Italy, in 2018 on our honeymoon. I was able to reminisce about sitting on the dock with him, drinking red wine and watching the gondolas float by.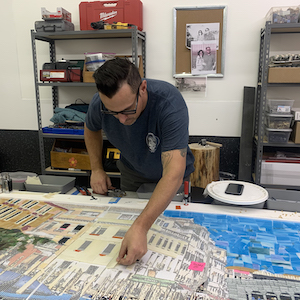 "It was a wonderful project, and not only a very personal place to Sal, but also to me," she added. "My husband, Jason Ré, also pitches in to help me now and then. He came in for five days and worked on one of the buildings in this mural. I'm fortunate to have an artistic husband who doesn't mind lending a hand – we hope that when he retires from the military, he will be able to help out more often. Also, my 26-year-old son Corey came in a couple days to help cut the thousands of triangles I needed for the shrubbery. I was thankful for that for sure!
"This mosaic mural started from large sheets of glass, and turned into a representation of the most beautiful places in the world – Venice, Italy," she concluded. "I was able to give my client, my friend, some joy and art for his family's home. That is a cool thing. I love my job."
Installing the mural
So, part two of our story takes place in Boston, Mass. The glass mural by Angie Ré of Unique Mosaics LLC, South Salt Lake, Utah, has been packaged and shipped and received by NTCA member Sal DiBlasi of Elite-Tile Company.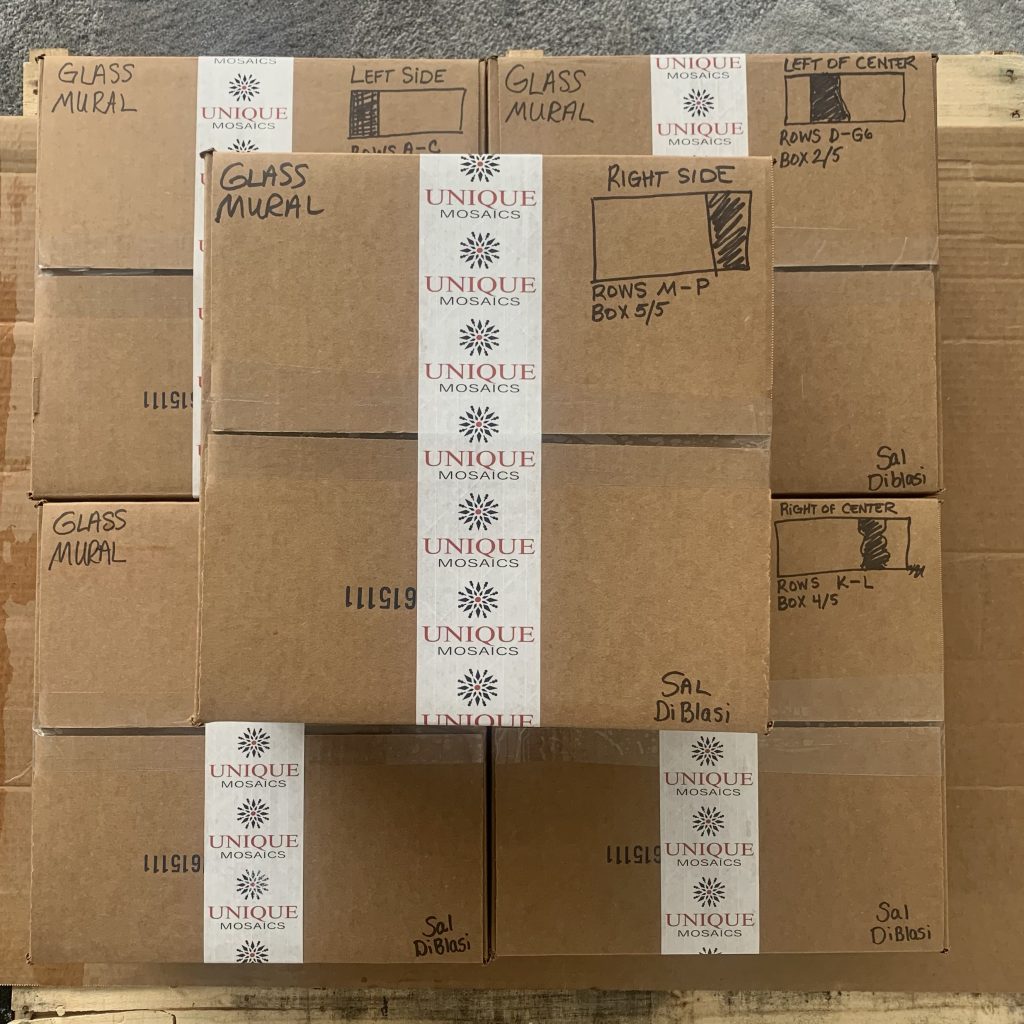 As part one of our story explained, the mosaic was wrapped in clear tape, labeled and cut into sections, then put into five boxes that were packaged into one box taped to a pallet. Since Ré requested the mural be shipped to a facility with a forklift, DiBlasi had it sent to his faithful supplier Genrose Stone + Tile in nearby Burlington, Mass. And it just so happened that only a week prior, Genrose had started carrying the LATICRETE line of setting materials which Ré had recommended for installation: LATICRETE Glass Tile Adhesive, SpectraLock 1 Midnight Black grout for the majority of area, and SpectraLock Pro epoxy grout in Slate Grey for the sky area.
Once he got the mural to his house, DiBlasi taped together several LATICRETE HYDRO BAN Boards as a base, and started assembling the mural, referencing the section photos Ré had emailed him.
Before initiating the installation, DiBlasi prepared the substrate.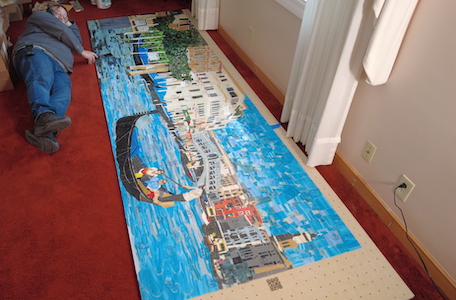 "I wanted a flat surface, and I wanted a foam board," he said. DiBlasi consulted with LATICRETE Technical Sales Rep Matt Bunszel about using HYDRO BAN Board to cover the mural. After marking all the studs, he installed one whole sheet of HYDRO BAN Board and a partial sheet to cover existing mural, then skim coated the entire surface with LATICRETE Glass Tile Adhesive. This gave a white background and an impervious surface to install the glass tile on. DiBlasi also reasoned the skim coat would absorb a bit of moisture and help the curing process.
DiBlasi had assembled a team of installers to help with the process, chiefly his friend Stephen Belyea, CTI #1274 and owner of JSG Tile & Stone in Weymouth, Mass., with some helpers.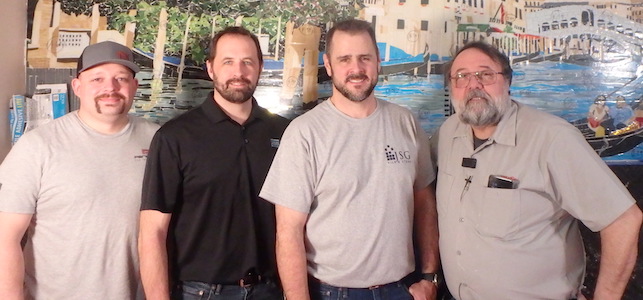 "Stephen heard I was doing this and said, 'If you need help, let me know." I said, 'Yeah, I need help!" DiBlasi explained. So Belyea arrived, and Matt Blood of
Paragon Tile in Cumberland, R.I., also offered to lend a hand, as well as LATICRETE's Bunszel.
"I put Matt [Blood] behind the camera, and instead of switching between Stephen and me installing, Steve did the bulk of it," DiBlasi explained.
Belyea said, "I originally thought I would just be giving Sal a hand, but he asked me to be the one to do most of the install. I was honored. So I spread, combed, knocked down the ridges of the mortar and embedded all the sheets. Sal set the first 'corner stone' sheet, in the bottom corner, and of course he installed the sheet with him and his wife."
"That was the coolest thing – when Angie told me she was doing that and I saw the pictures of it – you can tell there is a likeness," DiBlasi interjected about the autobiographical images of him and Pauline. "This is AWESOME! It is a nice feeling. It makes it personal."
Blood noted, "I worked behind the scenes running the camera equipment, mixing thinset, handing pieces to [Stephen], and adjusting, and cleaning joints once the pieces were on the wall. The instructions were so easy to follow. Angie had given Sal instructions on trowel size, grout colors, etc. Even with the level of detail of this mural, the sections installed simply with a letter/number grid marked on each piece, similar to a color by number or puzzle."
Little Stephen makes a surprise appearance!
Ré had engineered a surprise for Belyea. When Ré was creating the mural, Belyea was playfully jealous of DiBlasi being immortalized in glass mosaic. Ré had fun with this and added Belyea into the mural background as a worker, pointing him out on the plastic tape that covered the mosaic.
"I knew everyone would have a laugh about it, so I kept it a secret, and I was laughing too knowing they would see it during installation," Ré said. "It went over well!"
The work went quickly – about four hours from start to finish. Bunszel sprang for a lunch of sub sandwiches and DiBlasi added his homemade red wine – the latter of which was explicitly mentioned in the installation instructions Ré sent.
Peeling and grouting
The harder part came the next day when it was time to peel the plastic off the face of the installed mural. That took DiBlasi over 10 hours peeling layers of tape and reattaching random pieces of glass that invariably came off. Belyea came by the following day to grout and both Belyea and DiBlasi picked off remaining pieces of plastic tape, used dental picks (on Ré's suggestion) to scrape away any thinset that had bled into the spaces between the mosaic pieces, and recemented any errant pieces of glass that had come loose.
Once grouting was done, DiBlasi exclaimed it was a whole different piece, with grout enhancing the definition and detail. Ceiling can lighting also gave it a softer, more muted finish. For a finishing touch, DiBlasi framed the mural with crown molding and quarter round and added a decorative plinth block at the bottom corners, on Belyea's suggestion.
Ré was ecstatic about the installation. "I was so happy the day that the mural was installed," she said. "Seeing that Matt, the other Matt, and Stephen were there to help, and were excited to watch it all happen, just made me so happy. They were all messaging and FaceTiming me throughout the process, making sure I was included. That is the part where I usually don't get to be involved. They made me feel involved and like, I was watching it happen. I am so grateful for the team that Sal had there with him: all great, knowledgeable people."
Blood added that seeing this "masterpiece" come together in person was incredibly rewarding. "Photos just do not do it justice." He added, "Time spent with Sal, Steve, and Matt is always time well spent. After the last year with all the events cancelled due to the pandemic, just getting together with like-minded professionals was amazing."
And Belyea commented that, "Aside from the reward of working with talented tile friends, the final grouted project is a sight to behold. The grout brought the whole thing together. It accented all the different intricate designs and beautiful colors. It was also rewarding to see how much Sal and Pauline admired the finished mural.
Angie is super talented, and must have tons of patience to be able to put so much work and detail into her art."
The final result is a testament to precision, excellence, artistry, and true collaboration between an artist and camaraderie among the installers who brought the art to life. It's also another building block in the enduring legacy artisan tile installers have enjoyed throughout the ages.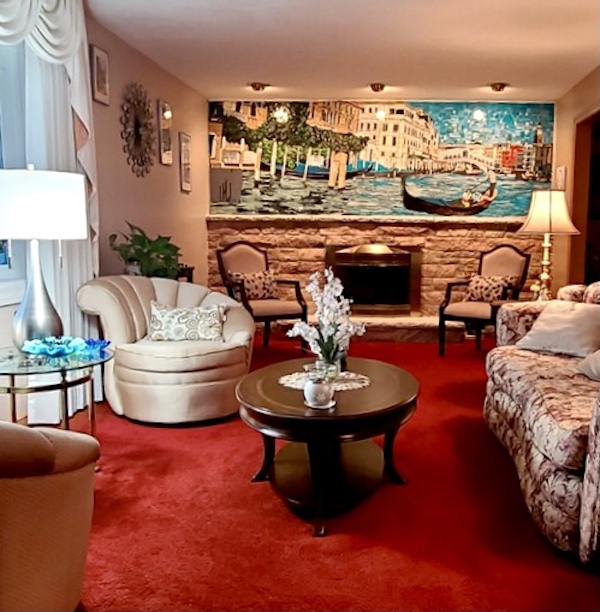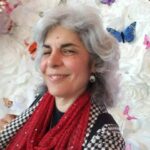 Editorial Director and Senior Writer for TileLetter and TileLetter ARTISAN
Lesley Goddin has been writing and journaling since her first diary at age 11. Her journey has taken her through a career in publishing and publicity, landing her the editor position of TileLetter and its special publications in 2006. Her goal is to educate, inspire, recognize and encourage those in the tile industry -- especially the tile and stone contractor. Other interests include the soft, purring marvels known as cats, labyrinth walking, drumming and percussion, and a range of spiritual, musical and artistic pursuits.