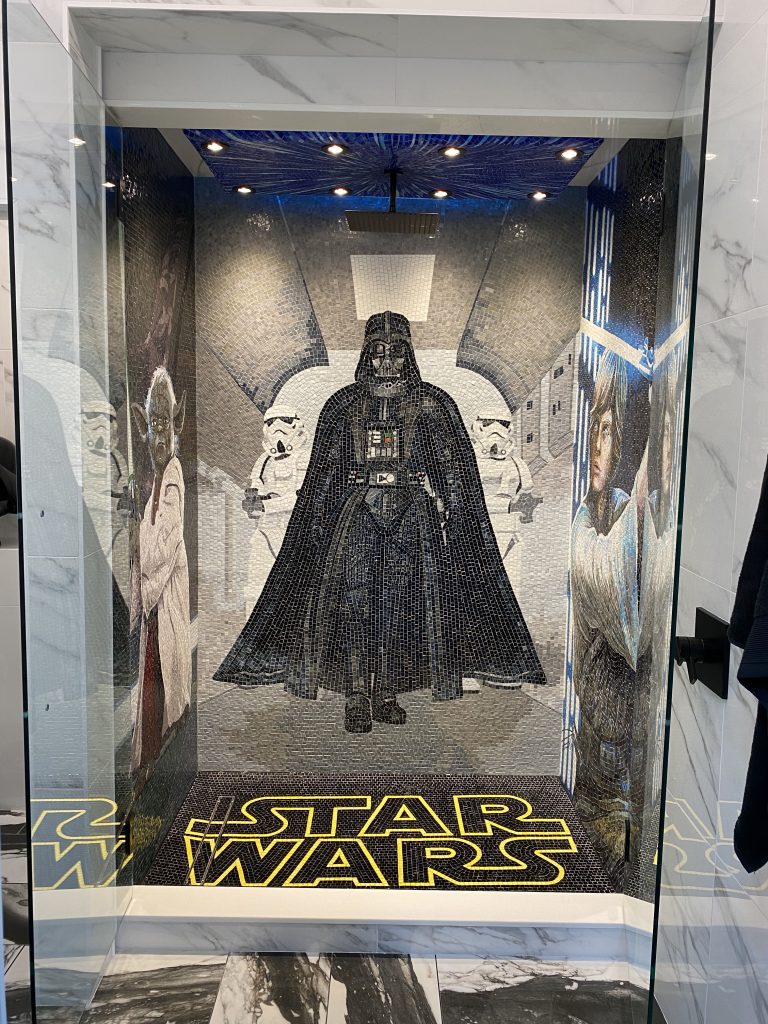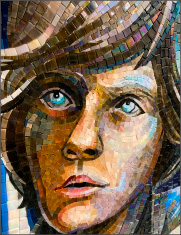 A long time ago in a galaxy far, far away…..Jonathan Stanton was born, the same year that the blockbuster phenomenon Star Wars soared across the silver screen, and changed film history forever.
The year was 1977, and the galaxy was actually our very own Milky Way. Over the intervening years, the force awakened as Jonathan grew up learning the tile trade from his father. In 2002, he established Jonathan Stanton, Inc., in Louisville, Ky., specializing in stellar residential installations.
Flash forward, and Jon and his wife have two sons, 14 and 10 years old, and a 4-year old daughter – and they all LOVE Star Wars.
So, inspired by his children, he set out to transform the crumbling outdated bathroom in the shop he bought several months ago into a homage to the Star Wars legend, and an example of creative themed bathrooms that designers could attempt for their clients. "I wanted to take a fun approach and be the cool dad," Stanton said. "I wanted to do something that wasn't like anything else out there."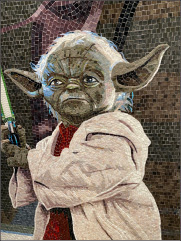 Stanton amassed his crew of three men to work on the 1,200-square-foot Jedi Unisex bathroom, on weekends, amounting to about two months of framing, electrical, plumbing, and all the tile work – which alone took two to three weeks.
Meantime, he was in touch with companies he's developed partnerships with in China to create five mosaics of Darth Vader, Luke Skywalker, and Yoda for the shower, derived from online images of the characters. "It took almost three months to have the murals made on mesh sheets, and Yoda's face alone took two weeks," he said. "Hundreds of colors of glass were used. The lips of Luke Skywalker alone use about 12 different colors." The company shipped the mosaics in pieces, designed to lock together, along with extra glass tiles for repairs or to fine tune the installation.
Stanton was careful to check into the licensing ramifications of his bathroom. Since it was for his own use, there was no infringement of using the likenesses of movie characters in his project.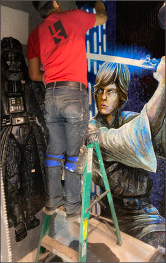 His job also utilized Repel Systems XPS closed cell extruded polystyrene foam building panels – 1/2" board on the wall, 5' x 3' linear presloped shower pan with tileable drain cover, and solid foam curbs and shower header. Stanton wrapped exposed iron pipes and built shelves with 1.5" thick Repel panels. Stanton owns Repel Systems, with product manufactured to meticulous standards in China. Repel Systems recently joined NTCA as an affiliate member.
Positive partners
Stanton's work with Chinese companies has been a positive, and the partnership he has cultivated with his Chinese partners has opened the door to not only new business opportunities but to outstanding work done to his exacting standards. "A lot of people think Chinese goods and craftsmanship are a negative connotation," Stanton said. "I've had to peel back the layers and work through some of that…what you buy needs to be done with such care. Initially, mosaic orders were filled quickly but they weren't what I wanted." After some discussion and direction, his manufacturing partner met and exceeded his expectations.
Similarly, Stanton and Repel Systems (repelsystems.com) Chinese manufacturing partner Xuancheng JIT New Materials Tech. Co., Ltd., spent 1-1/2 years before even launching the system. "I've asked for emissions reports so we are dealing with only the best of standards for the environment," he said. "We tested it to make sure we have a top quality product." The products have UPC certificates through IAPMO Research and Testing, and shear strength that surpasses the U.S. ANSI A 118.10 standard.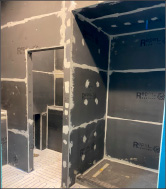 Stanton has built strong connections and relationships with his partners and their families, and is in touch with them seven days a week. "I was sad to have to recently cancel a trip to China for a wedding due to the Coronavirus," he said. And he is still dealing with an additional 25% tariffs on products imported from China. But despite that, the connection, quality, and cost of products he's developed in partnership with Chinese companies is worth it.
Walls and floors
In addition to the stunning mosaics, Stanton used Emil America Italian Tele Di Marmo Statuario Michelangelo Lappato Lucido porcelain 24" x 48" tiles for the bathroom walls, and 12" x 24" Emil America Tele Di Marmo Calacatta Renoir Lappato Lucido porcelain installed in a modern herringbone on the floor. The black and white palette reflected the Rebellion versus Dark Side theme throughout the films.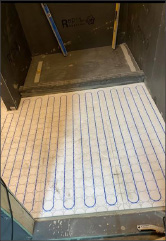 About 300 square feet of large-format, rust-look Emil Ergon Metal Style 12" x 24" Revival tile clads the outside of the bathroom envelope, transforming it into something you might find on Tatooine. Emil product was sourced from Patria Coverings Co., in Indianapolis.
LATICRETE setting materials were used throughout, from TRI-LITE mortar for floors and walls, and MULTIMAX LITE mortar – rated for glass – for the murals. SPECTRALOCK epoxy translucent grout was a must for the murals, Stanton said, since the translucent material "takes up the inner tones of red and blues in the glass tiles, and helps blend in the color." PERMACOLOR SELECT was Stanton's choice for grouting porcelain floors and walls.
To level the "out of whack" subfloor prior to installation, Stanton's crew poured almost a 1-1/2" of self leveler before snapping electric floor warming wires into the 3/8" Repel Heat Board.
Stanton created a custom light fixture in the shower with Repel board, with rounded corners and tiled with mosaic. It provides light and the shower head runs through the middle of it.
Another challenge that presented itself was the toilet, sunk into the wall beneath piping. Stanton chose to strike back by working around the old cast iron pipes, designing shelving around the toilet that is integral to the design of the space.
As of this writing, the project is nearly complete, waiting for door hardware on order from China that's been delayed by the COVID-19 outbreak.
As a finishing touch, the bathroom is accented with actual Disney Star Wars light sabers and Resistance and Empire helmets.
This contractor's vision, professional connections and dedication turned an outdated, tumbledown shop bathroom into a new hope, full of fun and delight for years to come.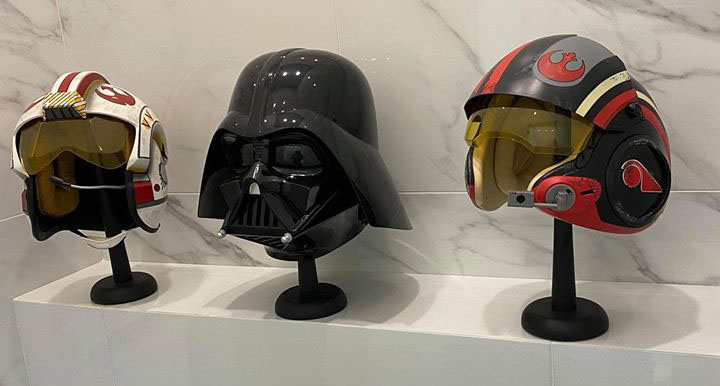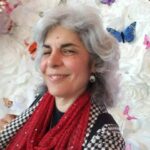 Editorial Director and Senior Writer for TileLetter and TileLetter ARTISAN
Lesley Goddin has been writing and journaling since her first diary at age 11. Her journey has taken her through a career in publishing and publicity, landing her the editor position of TileLetter and its special publications in 2006. Her goal is to educate, inspire, recognize and encourage those in the tile industry -- especially the tile and stone contractor. Other interests include the soft, purring marvels known as cats, labyrinth walking, drumming and percussion, and a range of spiritual, musical and artistic pursuits.