The Echo Collection is a new design by Italian tile designer Giovanni Barbieri manufactured by ARTO in Los Angeles. The concrete line offers infinite motifs, decorative borders, and inlaid panels. The products in the Echo Collection can be combined with any of ARTO's Roman tiles or pavers to make a custom aesthetic result. Echo Tiles are 1″ thick and can be mortar set in interior and exterior applications, including walls, floors, and vehicular applications. Echo Pavers are 2″ thick and can also be sand set for patios, walkways, pool decks, and driveways.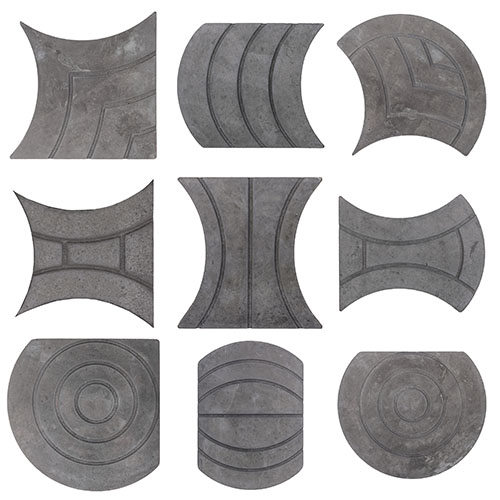 The Echo Collection includes relief pattern tiles and pavers as well as an assortment of individual tiles. The nine art deco inspired 3/4″ thick tile designs can be puzzled together to create a captivating hardscape or wall. The tile sizes are based around a 4″ x 4″ square. Choose from 22 colors or custom hues.
The Scirocco Collection features 32 ancient quad designs inspired by the Arabian desert and Southern Italy. The tiles are hand silk-screened in a way that looks time-worn and antique and are finished with hand-rubbed, rustic edges so each tile has its own personality and no two tiles are ever the same.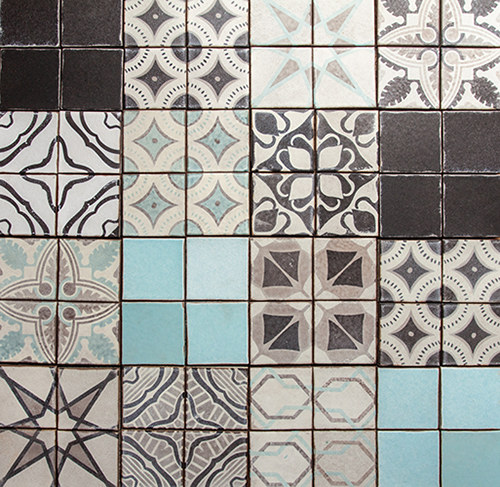 At only 3/8″ thick, the thin nature of the ceramic Scirocco tiles allows them to be used adjacent to wood or porcelain. And because of the process in which the tiles are made, they are durable enough to be submerged in water or installed around heat.
The high-fire bodies are freeze thaw resistant and are ideal for floor and wall applications. This collection works with ARTO's Studio Field trim and tile. Custom designs or custom color combinations can be made as well. These tiles can be used in wet areas, but if exposed to pool chemicals an overglaze must be added to the tiles. Various sizes are available, including 8×8″, 6×6″, and 4×4″.