MANSFIELD, MASSACHUSETTS – The Belknap White Group (BWG), one of America's leading full-service flooring distributors, has announced that Jane Twombly has joined its team as Director of Specifications. In this position, she will be developing and maintaining the firm's strategic architectural and design focus, which is concentrated on increasing specifications of BWG's extensive product portfolio.
Twombly will be actively assisting the A&D Sales team in securing specifications of BWG product lines in commercially-focused projects such as higher education, K-12, multi-unit residential, hospitality and similar.  She will also be working closely with key suppliers as it pertains to the product lines they are promoting to the A&D Community.
"I'm very excited to have the opportunity to work at the Belknap White Group and its sales team here," beamed Twombly.  "I am ready for the challenge, and look forward to a very successful 2018!"
According to Bill Prescott, BWG's Executive Vice President of Sales, "We're confident Jane's experience will help greatly increase our market share within the North American specification channels."
Jane Twombly, has been in the industry for over 20 years, with extensive experience in architecture, interior design and specification, as well as flooring products specifically.  Twombly earned her bachelor's degree in Architecture and her graduate degree in Marketing. In addition, she is a LEED Green Associate.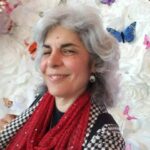 Editorial Director and Senior Writer for TileLetter and TileLetter ARTISAN
Lesley Goddin has been writing and journaling since her first diary at age 11. Her journey has taken her through a career in publishing and publicity, landing her the editor position of TileLetter and its special publications in 2006. Her goal is to educate, inspire, recognize and encourage those in the tile industry -- especially the tile and stone contractor. Other interests include the soft, purring marvels known as cats, labyrinth walking, drumming and percussion, and a range of spiritual, musical and artistic pursuits.