IMAGIO™ Glass, widely known for their beautifully imaged glass backsplashes, is announcing the expansion of their technology to include shower walls, feature / accent walls, fireplace surrounds, cabinet glass, privacy windows and more. The popularity of their backsplashes has grown and so has the demand for more IMAGIO glass in homes and offices across the country.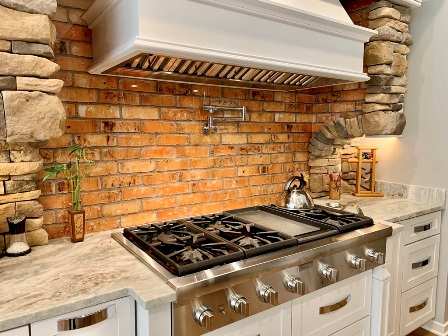 Designers have asked IMAGIO for more glass — why stop at the backsplash? Over the past couple of years IMAGIO has agreed and has gone to work by moving into other areas of the home, and more frequently, home offices. Glass has a persuasion with humans. It is a natural mood enhancer and best of all, is one of the healthiest wall covering options where we live, work, and play. Wellness Design is coming on strong in 2023 and with IMAGIO's non-porous surface, light transmission, and design selection, IMAGIO ranks high amongst a sea of competitive wall covering products. This in turn helps to create atmospheres that reduce stress, anxiety, and depression.
IMAGIO products allow you to minimize seams, eliminate grout, and maintenance. They are made of durable .25" tempered, low-iron, ultra-clear solid glass. Its sophisticated appearance and moderate pricing give designers, builders, and remodelers an endless spectrum of design choices, including custom imagery.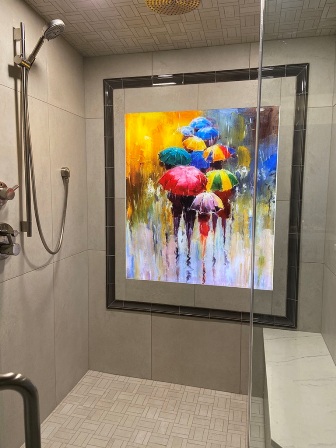 These stunning works of art start with the highest quality 94% colorless glass, allowing the highest resolution and clarity. IMAGIO is a pioneer of image-to-glass technology, creating lasting high quality imaging directly to the back surface of glass, for a crisp, vivid, and exceptional visual impact. IMAGIO is manufactured and imaged in the U.S.A., with recycled glass combined with eco-friendly inks making it one of the best options for a sustainable design. The glass products also come with a 10-year limited warranty.
One of the many benefits of IMAGIO, is the fast, clean, and easy installation. In addition to backsplashes, IMAGIO can also be used for shower walls, feature / accent walls, fireplace surrounds, and more. The design options are virtually endless. Whether you are looking for natural stone, patterns, abstracts, textures, photography, or art.
IMAGIO Solid Glass backsplashes are a healthy alternative to many other substrates. Glass is non-porous, naturally anti-microbial, and easy to clean. Glass takes light from a room and transmits light back into the room through its reflection. Since humans are attracted to light, it is a natural mood enhancer, while also lighting up your space. Evidence Based Design states that by bringing biophilic, or designs of nature into our living space gives us a sensory experience. Helping to reduce stress, anxiety, and depression makes it the perfect canvas for healthy design, and lifestyles.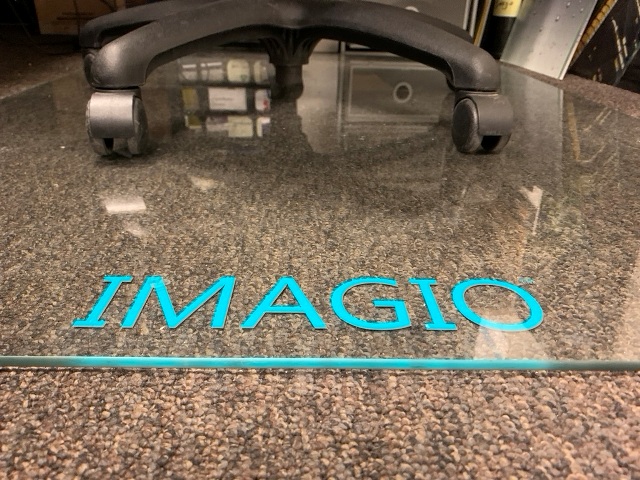 IMAGIO is also expanding its coverage area and is looking for wholesale dealers and installers. Please contact IMAGIO for more information via email to: [email protected], or by phone at 888.998.0010. For more information about IMAGIO and their products visit: www.imagioglass.com.