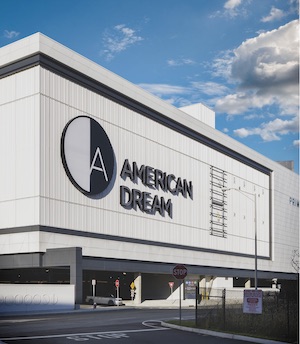 American Dreamis a gargantuan retail and entertainment complex located in East Rutherford, N.J., a stone's throw from MetLife Stadium, home of the N.Y. Giants and N.Y. Jets. Nearing completion, plans include having over 450 stores and much, much more including being home to the largest indoor water park in North America and the world's largest indoor wave pool. The project was first proposed in 2003. After a number of ownership changeovers, roughly 10 years later, Triple Five Group officially gained control of the mall and the surrounding site.
Because so many contractors and construction methods have been used over the last 15 years to complete this project, overall finish work required highly-skilled craftspeople. State-of-the-art products were needed for substrates, design changes and a variety of finishes, as well. Bostik, with its diverse portfolio of products for tiling, surface preparation and gauged porcelain tile panel solutions, solved several significant challenges for the team of Sesso Tile & Stone Contractors, PCL, Gensler and Adamson Architects.
A global destination requires reliable solutions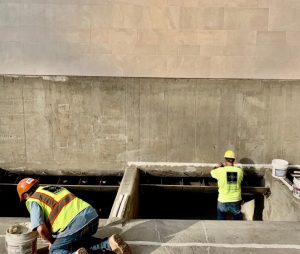 The American Dream tile installation was overwhelmingly massive – over 250,000 square feet – and posed highly ambitious traffic expectations. For example, anticipating over 40,000,000 visitors per year, it's projected that American Dream will compete with Disney as a global destination. With this type of traffic, Sesso's top crews were brought to the job site and sourced absolutely the best products available to avoid any possibility of catastrophic failure. These included products the contractor considered the most economical – not simply based on price, but on the peace of mind knowing that the best products were selected for the job – and at the project's conclusion, assurance that everything performs properly and that the job can be completed quickly.
Meetings were assembled with American Dream's architectural team, general contractor and ownership regularly to recommend the right type of solutions, including GoldPlus™ waterproofing and crack-isolation membrane as well as TOTALPrime™ Multi-surface Bond Promoting Primer.
SLU provides streamlined solutions
One unique solution was determining the requirement for self-leveling underlayments (SLUs). The concrete slab, due to its age and various construction methods over the years, required significant leveling, patching and ramping to fill some areas at around 1/2", but others at well over 2". Bostik's solution was Universal Primer Pro™ and SL-100™. These can be applied for a range of conditions instead of bringing in multiple SLUs for the varied demands of uneven floors on porous and non-porous concrete. Bostik's streamlined solutions throughout the entire project allowed Sesso's crew to stick with the original plan, which reduced trips to supply houses. As a result, transit time was transformed into productivity time. The SL-100 provided a degree of flatness equal to any mud job, and the contractor's team was able to install this portion of the 250,000 square feet while standing upright.
Floor-to-ceiling precision
There were a number of challenging areas in the mall, including one area that required the floor pattern to line up precisely with the pattern on the ceiling above. Bostik's SL-100™ was poured to achieve a perfectly flat floor, then scissor lifts were brought in to affix plumb lines off the pattern of the ceiling, so the floor pattern would perfectly reflect the ceiling above. This was precision work, because all of the tiles, water-jet pieces and everything else had to be perfection.
The Sesso crew applied waterproofing and crack-isolation membrane over the entire surface of the substrate. This is where Bostik's GoldPlus came in to help. It's translucent – even at 30 mils – so the contractors were able to see the layout through the membrane and didn't run the risk of the scissor lifts damaging the membrane. This was a massive solution for the contractor, on a very technical project, completed under today's fast-paced modern construction timelines.
Jonathan Conley of Bostik added, "GoldPlus offers highly-elastic flexibility for when tile installations become stressed. A good example is when lifts drive on top of a new tile installations to change lights or hang up holiday decorations at the mall; another is when 80,000,000 feet are walking on this floor per year."
The Sesso crew knew they had to deliver the ultimate product to handle this type of traffic, expansion and contraction of the building and hopefully any concrete issues that could arise over time. They knew they could count on Bostik products.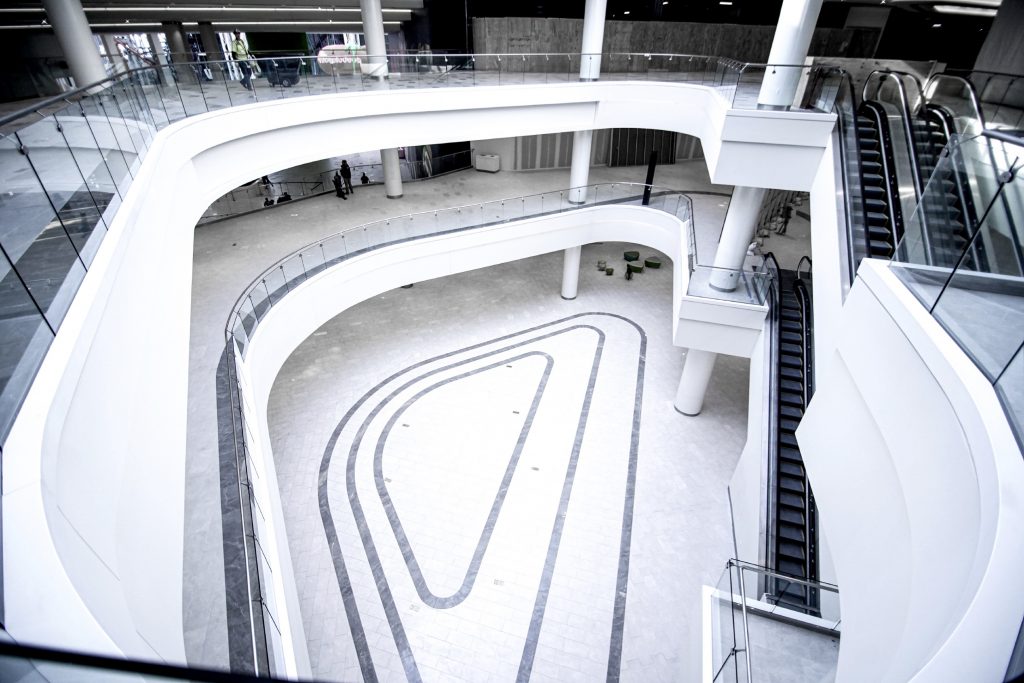 BAM: extended open time and fast cure
For the most challenging sections of the mall, the Sesso team selected Bostik's BAM™. They chose this product after seeing firsthand how the Bostik team mixed up a "new-era, fast-set mortar" with nearly two hours of pot life! Initially, Sesso crews told Bostik people that their new mortar wasn't working. But, four hours later, when they couldn't budge any of the large-format tiles, they became believers in the extended open time and fast cure nature of BAM.
BAM reaches over 400 PSI porcelain tile shear testing at 24 hours.This is the same type of strength that the rest of today's "best" mortars gain at 28 days – absolutely absurd strength, which was exactly what was needed. This mortar allowed the crews to install large-format tiles and grout them with Hydroment® Vivid™ the very same day.
So, when the whole system of Universal Primer Pro™, SL-100™, GoldPlus™, BAM™, Hydroment® Vivid™, TOTALPrime™, Large Format Floor™, BostiSet™ and Pure Silicone™ came together, productivity skyrocketed from the planned square feet per day, upwards by 15%!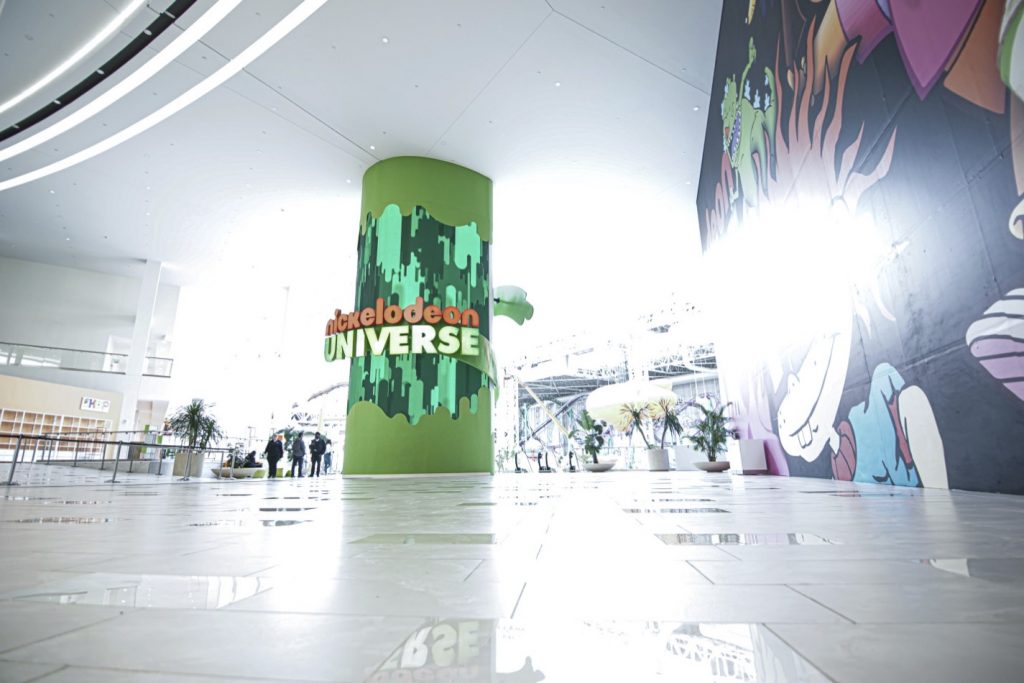 BostiSet: bonding solution for non-traditional substrates sans primer
Bostik's John Damato explained, "The next challenge was with the walls in the south wing of the main corridor. There was a problem, as these walls had a surface coating, which disallowed a traditional tile mortar to bond to them. While searching for the optimal way to remove this coating, our distributor in New York City, Nemo Tile + Stone's Matt Karlin, introduced Sesso to our BostiSet™. It's an elastomeric adhesive based upon a newer polymer type developed in the U.S., named Tenirex®. BostiSet will bond to a variety of non-traditional substrates without a primer, and it will cure in a variety of environments even without absorption or evaporation. No matter the size of the tile, BostiSet will always cure. So, we conducted a test area, submitted a change order and kept the project on track without having to do significant labor to further prepare the wall."
Damato added, "BostiSet has since been a solution for our customers on a variety of other projects – in particular, involving gauged porcelain tile panels from Crossville, Stonepeak, Neolith and Cosentino."
The American Dream Mall has been described as a "megamall inflated to billion dollar proportions" and also, as a "staycation" for those from NYC and neighboring New Jersey. For the tile and stone sector, it can very simply be described as a "bonafide trade masterpiece."