The following article provides a brief high-level summary of the construction outlook for both the residential and commercial markets, including an estimate of tile consumption for 2021, as it stands in early December 2020. Forecasting estimates for 2021 are significantly challenged by the uncertainty and impact of COVID vaccines, distribution and government stimulus and actions.
Residential construction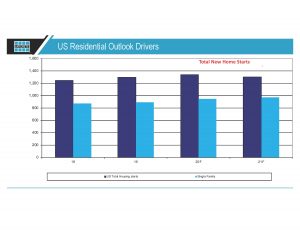 Residential new and remodeling construction has always and continues to account for a significant share of tile consumption – now slightly over 60% and a key barometer to the overall economy. This has certainly been the case in 2020, and outlook for 2021 affirms the importance of these segments to tile and stone consumption. Outlooks vary significantly from many sources, which is no surprise based on the dynamics impacting the economy. However, there is widespread consensus that the residential segment will be the driver for growth in 2021.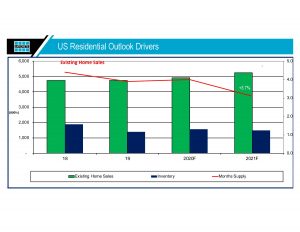 New housing starts – 2020 turned out to be a very welcome surprise in home building with January and February housing activity increasing, surpassing 2019 original forecasts, but once the pandemic hit in March, expectations turned very pessimistic. However, new housing bucked all the forecasts with growth of single-family housing remaining strong throughout the year, finishing up roughly over 5%. Driving this strength has been changing preference to leave densely-populated urban areas, work from home shifts and more millennials finally starting to form family and households. Forecasts vary widely; however, there is consensus of continued growth in single family starts in 2021 of between 3% to 8%. This is a positive forecast for tile and stone, which rely heavily on the residential market for growth. Whereas single family starts have been a bright spot, multi-family housing took a hit in 2020, declining around 13% after several years of solid gains and is expected to further decline in 2021 of between 6% and 10%.
Residential remodeling – Remodeling has been another bright spot during 2020 as work-from-home and stay-at-home motivated strong home improvement investments with people spending so much more time within their homes. Helping fuel remodeling expenditures has been the increase in existing home demand as many opted out of the urban / downtown areas. Most recent forecasts point to a continuation into 2021 with strong existing home unit sales around +6% versus 2020, that bodes well for bath and kitchen remodels. In addition, inventory of existing homes remains low/stable, helping increase home values, but mortgage rates are forecasted to remain at very low levels, aiding in affordability for first-time buyers. Overall current projections are for remodeling to remain healthy – increasing in a range of +4% to 7% over 2020 in total expenditures.
Commercial construction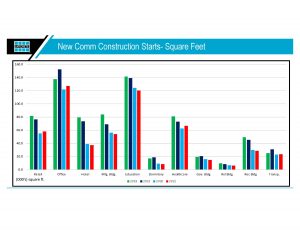 Whereas residential new and remodeling sectors grew in 2020 and are forecasted to continue growth in 2021, the commercial segment has been ground zero for construction declines in 2020 with a more challenged road ahead. There are wide-ranging estimates; however, consensus of declines between -12% to -23% in overall new construction square-foot starts occurred in 2020. To no surprise, COVID shutdowns impacted every vertical negatively. Billing and inquiry activity among architects saw its lowest levels throughout a six-month period according to the AIA while roughly 20% of projects were cancelled or postponed. Remember that with new commercial starts, there can be a 9 to 12+ month lag depending upon type of project, between a start and roughly when flooring materials are utilized, which pushes the realized impact of 2020 into 2021 and even into 2022.
The good news is that 2021 starts for commercial construction show, as of December 7, a slight increase of +2% versus 2020 – but again, we first have to get past the next 12 months.
Commercial additions and alterations were also hit hard in 2020, down over 15% in value, but remodeling activity is expected to increase close to 8% in 2021, with a lower lag time, which may help to offset the negative impact of new commercial starts. It is yet to be seen what percentage of projects delayed in 2020 return and to what degree.
Tile consumption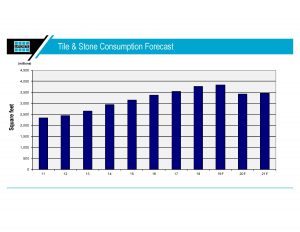 As previously mentioned, 2020 residential construction experienced another solid year of growth for new and remodeling activity, whereas this has been offset by declines in commercial construction. Based on the segment activity we believe tile and stone combined consumption will decrease roughly between -5% to -9% to ~3.6 billion square feet in 2020 versus 2019.
Through an evaluation of the above forecasted growth in each market segment for 2021, we can then segment the ceramic tile and stone industry accordingly, and calculate the respective share in square footage of each construction segment with applicable growth percentages based upon the 2021 outlook. We must also account for the impact/cannibalization of LVT for both construction segments as it continues to grow at above market rates, gaining share from other coverings. At this time a conservative estimate range for 2021 indicates combined tile and stone consumption growth of flat to +5%.
Tile and stone consumption estimates are naturally subjected to all the macroeconomic and subsequent construction market risks. Complicating the normal forecasting inputs is the uncertainty of COVID – from vaccine creation and distribution to business shutdowns etc. – which has a direct impact obviously on all assumptions. Forecasting 2021 by major institutions that track and forecast construction activity are projecting growth for 2021 at various rates, however, there is consensus on overall direction. It is that consensus which makes us confident that we are looking forward to a stabilization and turn around in 2021 of ceramic tile and stone!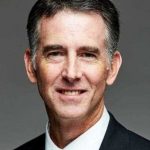 Sean Boyle is the Vice President of Market Intelligence & Channel Management at LATICRETE International, Inc.