The company from Fiorano Modenese is one of the protagonists of the new edition of Coverings: its solutions are increasingly oriented towards cutting-edge design.
Fiorano Modenese, March 2022 – Coverings reopens its doors and prepares to host the best in innovation and design for the natural stone and ceramic sectors.
From 5 to 8 April 2022 at the Las Vegas Convention Center (Nevada-USA), the US trade fair will once again be the center of excellence for all exhibitors and visitors from all over the world who are looking for opportunities to take the world of surfaces a step ahead in terms of efficiency and aesthetics.
One of the main ambassadors for Made in Italy, Caesar will be exhibiting at Booth C7438 to showcase the constant R&D work that has enabled them to bring ceramics ever closer to artistic and design levels, becoming exclusive among the international excellences in the industry.
The central role of nature is undoubtedly interpreted in a wide range of ways throughout Caesar's culture: production is strongly devoted to environmental protection and sustainable solutions govern the vision of the company focused on men in their need for comfort, quality, functionality and well-being.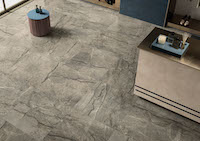 Caesar's mission is to investigate the structural and emotional aspects of natural materials in their collections, such as Anima Futura, a futuristic projection of the original splendour of marble in seven striking colours and two finishes, matt and polished.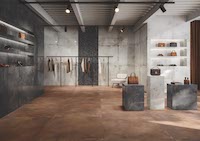 Moreover, the LUX glossy finish gives a new boost to the already original Alchemy collection, presented in 2020. The alchemy between material and design dominates porcelain stoneware of Alchemy, that explores the beauty of metal, according to the unpredictable paths and surprising chromatic effects which oxidation creates on its surface. The precious Lux version, glossy and reflective, creates a precious proposal with unusual elegance.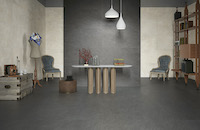 Classic and Italian stone is also the dominant feature of Key_mood, a collection that brings men back to their essence, a return to nature in a modern and minimalist key. The wide range of colours and sizes is completed by three highly appealing finishes: Matt R10 B, pleasant, with a high anti-slip coefficient; SOFT, soft and velvety; GRIP R11 C, which replicates the typical effect of stones which have undergone micro-sandblasting operations, with a specific anti-slip coefficient for areas where water is also present.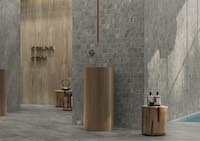 Even the best Alpine quartzite finds in Caesar a valid interpretation tool for the Quartz Essence ceramic collection, which discovers the many facets of uncontaminated natural stone and makes versatility its strong point, always finding the best design response from its wide range of solutions for indoor and outdoor spaces.
Caesar stands for the quality and value of porcelain stoneware in an international context, as demonstrated by the Made-in-USA collections of Caesar on the Coverings 2022 booth, which translate American stylistic features into all-Italian functional and aesthetic attention.
Like Style, presented to the public last spring, where soft lines and enveloping shades offer a contemporary opportunity for architecture and interior design.
There will also be previews of the Spring-Summer collections, displayed on the booth as prototypes of the most exclusive trend studies to give the North American market the right answer to surface design.
Caesar looks forward to seeing you from 5 to 8 April at Coverings 2022, Booth C7438, at the Las Vegas Convention Center (Nevada-USA).