– RISING STARS –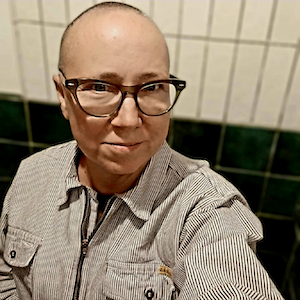 Rising Stars is a feature that focuses on emerging talent in our industry. And generally, that talent is on the under-40 end of the spectrum.
But in this feature, we meet a woman who is an apprentice for NTCA Member Columbia River Tile & Stone, Inc., that serves the Portland, Ore., area. Owner Jeff Occhipinti says of Patricia "Trisha" Guinn, that she "is an integral part of our team. She is unique in that she came to us in her early 50s. She also has completed the brick masons finishers program and brings the skills and knowledge from that experience to our team."
Guinn's path to tile apprenticeship was a meandering one. After reaching a burn-out point in California as an elementary school teacher in 2013, she started a private catering and business prep company in Southern Oregon. Life brought some curve balls, and she moved to Portland in 2018, where she faced decisions about her career path.
"I knew that I didn't want to go back into teaching or any other career that I could achieve with the college degree that I had," Guinn said. "So I enrolled in a pre-apprenticeship training program called Constructing Hope. This program introduced me to a wide variety of career options in the construction trades fields."
Joining the Union
After completing the program, she joined BAC 1, the Bricklayers and Allied Crafts Union, and worked as a mason trades finisher. "After two-and-a-half years in the bricklayers union, I began to realize that I wanted to stay in the trades but desired to find something that was more fulfilling than building apartment complexes all over the Portland Metro area," she said. "I wanted to find an area of the mason trades that was more artistic and fulfilling."
While working on a major stone project for a tile and marble company, she listened to tile setters talk about their experiences and started to get curious about pursuing this trade. She asked the union to place her on the list of candidates for tile finishers to gain experience and eventually move into the tile setters apprenticeship program.
"This was right at the beginning of the COVID 19 shutdowns, so many job projects were being put on hold, and I was told that gaining a position as a tile finisher was a slim prospect because of these shutdowns and because most of the union tile companies were not taking on new hires," she said.
She tried cold calling, to no avail. While working for a fireplace and chimney repair company, she took a break from the union and started searching for open-shop tile companies in the area.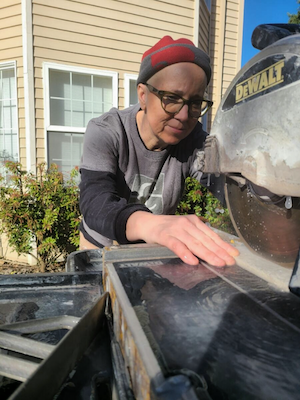 Helper ad leads to new career
"I came across an advertisement for a tile setter helper for Columbia River Tile and Stone," she said. "I reached out to Jeff, scored an interview, and now here I am! I left the union and moved into residential tile work, and I have been working with Jeff and Co. at Columbia River since June 2021. It turned out to be a great decision and I am very happy working for a residential tile company."
The Columbia River Tile Trades (CRTT) Apprenticeship Program has been a big draw for Guinn. Union opportunities for advancement were slim and she was told it could take up to five years to become a brick or stone mason.
>>NTCA's Apprenticeship program is part of the U.S. Department of Labor's National Apprenticeship System and uses an employer-driven, "learn-while-you-earn" model that combines hands-on job-related training with NTCA University on-line learning.
"I did not have the time or patience for that," she said. "When Jeff explained the CRTT apprenticeship program to me, it seemed like a great way to learn much more than I had previously and it offered me a chance to move up much more quickly! I was also excited about the online learning opportunities that I could pursue on my own time, along with the once-a-month classes that we would be attending."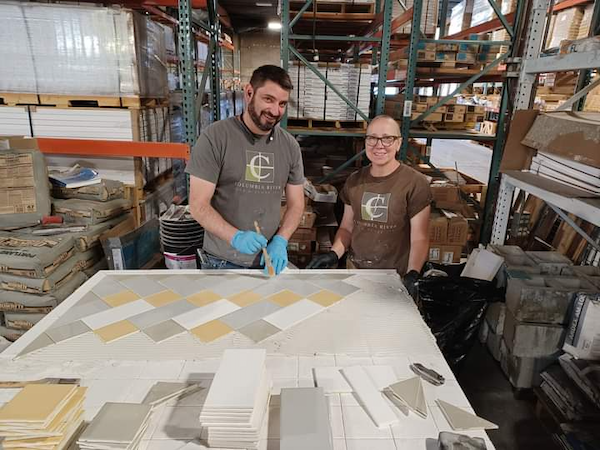 Today, a typical day for Guinn is 7:30-4:30 Monday through Friday, plus occasional overtime. She is on the jobsite with a setter she assists in whatever way that they need for the day, such as mixing mortar, cutting tile, assisting in floor and wall prep, demo, grouting and caulking, or setting up the saw and tools for the day. "We attend classes one Friday a month and I spend a couple of hours each weekend taking online classes," she added. The CRTT apprenticeship program employs NTCA University courses as part of its educational component.
>>NTCA University is an online platform that has tile installation courses for those that are new to the industry or need a refresher.
Gumption and strong work ethic makes the grade
Guinn said she brings punctuality, strong work ethic, attention to detail and meticulousness, organizational skills, creativity, perseverance and gumption to her job, and has felt a lot of acceptance in the trades.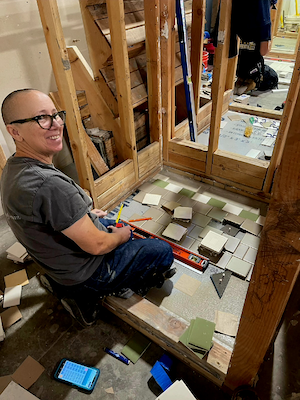 "I've never looked at being a woman in the trades as a barrier to overcome," she said. "I have found that if you show up, work hard, don't make excuses, be willing to learn and have a good attitude, most people don't care if you are a man or a woman, or how old you are for that matter. At graduation time from Constructing Hope pre-apprenticeship program, I was the only person, male or female, out of a group of 29 graduates that was already accepted into a union and had a job lined up! I realize that this is my second career in my life and that I am older than most people coming into the trades, but I am grateful for the opportunity and I believe that the skill set that I bring with me from my previous career as an educator, and just life experience in general, is of benefit overall."
Last month, Guinn begun the setter year 1 classes. "I am excited to have begun the setter classes and the new opportunities for hands-on learning as well as the new responsibilities I am being given on the job site," she said. "I am also dabbling in teaching myself to make mosaic projects at home, so this is an exciting time for me. The finisher classes were great, but now I am looking forward to moving toward what I really want to do – set tile."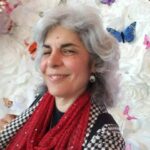 Editorial Director and Senior Writer for TileLetter and TileLetter ARTISAN
Lesley Goddin has been writing and journaling since her first diary at age 11. Her journey has taken her through a career in publishing and publicity, landing her the editor position of TileLetter and its special publications in 2006. Her goal is to educate, inspire, recognize and encourage those in the tile industry -- especially the tile and stone contractor. Other interests include the soft, purring marvels known as cats, labyrinth walking, drumming and percussion, and a range of spiritual, musical and artistic pursuits.