Despite the cancellation of Cersaie and other design trade shows around the world, Italian manufacturers continue to invent new designs and invest in technologies to keep expanding the versatility and value proposition of ceramics. After all, Italian ceramic tile is prized for its functionality – durability, ease of maintenance, hygiene, water and frost resistance – as much as its aesthetics. In terms of design, this season's trends can be summed up in three words: natural, colorful, and playful.
CONFETTI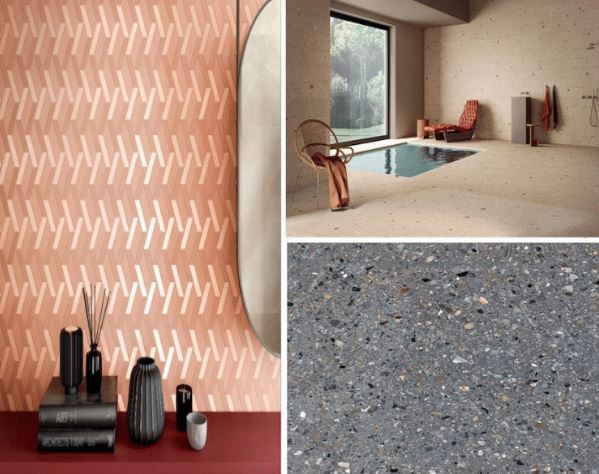 Nothing dazzles like a bag full of confetti, which is the same effect that these tiles have on interior spaces. Whether the designs are a kaleidoscope of colors or floating fragments of shapes, the patterns lend a burst of energy to floors and walls. Even speckled stone and ancient flooring techniques like Venetian terrazzo can add an interesting layer of perceived texture and help develop a cohesive, contemporary design. This trend works especially well on extra-large tiles that minimize grout lines and allow the pattern to shine.
AUTUMNAL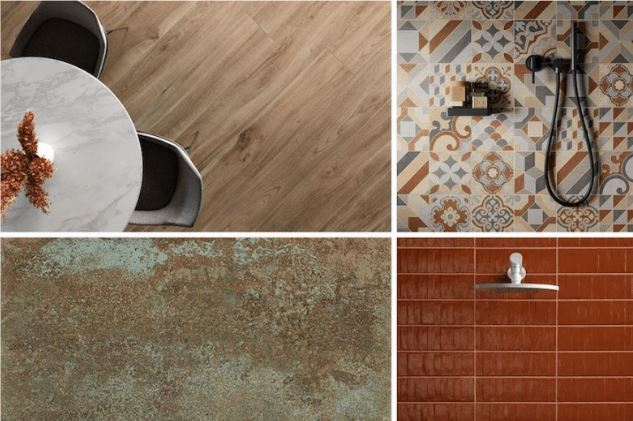 Autumn is historically a season of transition and one where nature is the main protagonist. As temperatures drop, leaves start to change color, apples and pumpkins are harvested, and fires dot the landscape of countless backyards. This year Italian manufacturers were clearly inspired by the effects of Fall with motifs and colors that conjure the feeling of a crisp autumn day or cozy night by the fire. Organic hues like earthy browns, golden yellows, and burgundy reds are a few autumnal examples alongside tiles with natural effects like wood and stone in a warm palette. Collection names like "Matter" and "Husk" and colorways like "Autumn" further solidify this trend.
CONCRETE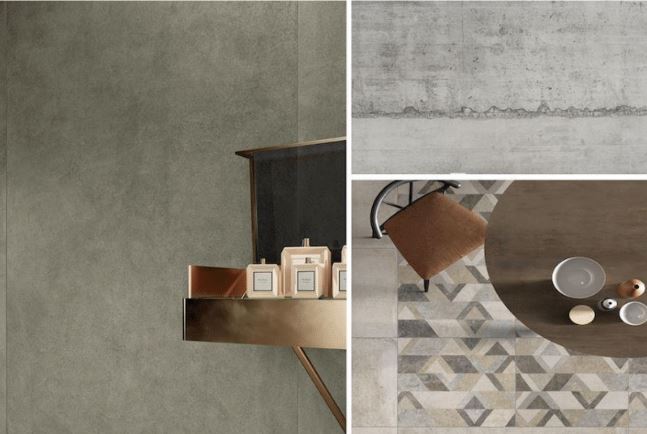 Concrete is a ubiquitous building material that has allowed creative architectural expression since ancient times. The Romans used it to build the dome of the Pantheon nearly 2,000 years ago – an engineering marvel that still stands today. Modernists used it to create load-bearing columns that would make their buildings appear lighter. Long admired for its strength and beauty, concrete continues to serve as a muse for architects as well as manufacturers. From the industrial look of Béton brut to the charm of encaustic cement, these Italian tile collections can be used for all types of surface applications, both indoors and out.
BLUE-GREEN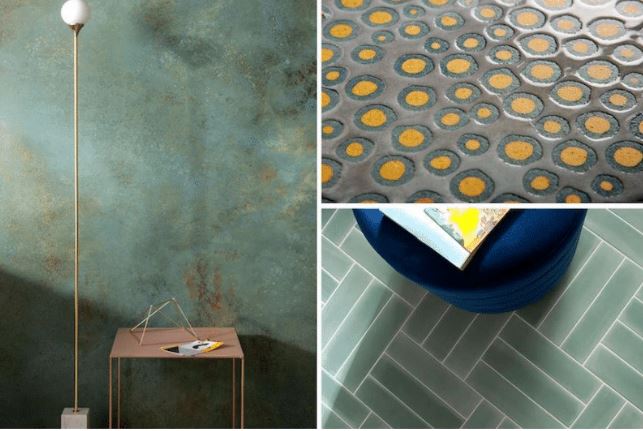 With blue and green dominating this year – emerald was touted as designers' go-to color and classic blue was Pantone's color of the year – it should be no surprise that this tertiary color is king among many new Italian tile collections. Color trends reflect the overall emotions and mood of society and according to color theorists, blue-green combines the tranquil effects of blue with the optimistic feeling of green, which is much needed in these uncertain times. Hues of blue-green also have strong associations with water, from the turquoise of glacial lakes to the aquamarine water of the Mediterranean Sea, that can help people find quieter moments and peace of mind without traveling.
HIGH GLOSS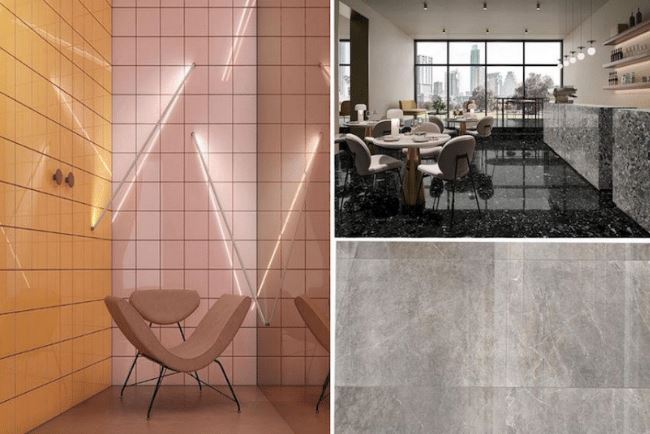 Glossy tiles are making a comeback, allowing floors and walls to pop with perfectly smooth surfaces and beautiful shine. Glossy finishes are also a good option for areas that need to be cleaned often – from backsplashes and showers to lobby floors and exterior walls – offering a way to add both flair and durability to the built environment. In some collections, light and reflection are the main features, allowing designers to accentuate architectural features and construct chic environments full of drama. However, most tile lines offer a variety of finishes, ranging from ultra-matte to high gloss, which can be used concurrently to create a perception of depth and eye-catching texture.
DECO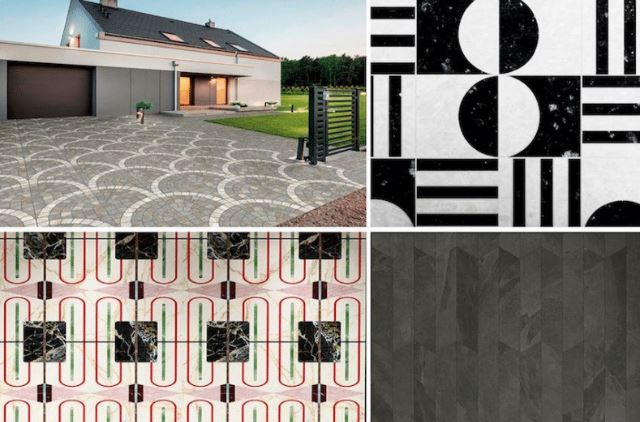 Art deco is a classic trend that never really goes out of style. Characterized by bold geometric shapes and decadent details, deco tiles feature chevron patterns, arches of contrasting marble, and scallops full of color. Traditional deco style leans toward striking contrasts, which you can see in many these collections, juxtaposing dark shades against light. Others offer bold geometric shapes in monochrome palettes to create a powerful yet subdued statement.
These trend-setting products from Ceramics of Italy members, and hundreds of others from Italian tile manufacturers, are now available in the North American market through an extensive network of tile dealers and retailers. For additional products and inspiration, visit the product gallery on ceramica.info. For information on individual companies across the Italian ceramic sector, visit the new Italian Ceramic Finder.