An International Jury Picked Seven Winners and Two Honorable
Mentions that Showcase the Versatility of Italian Tile
(New York, NY – July 2021) After an extraordinary year that has proven incredibly challenging for the design community at large, Confindustria Ceramica (the Italian Association of Ceramics) and the Italian Trade Agencyare more proud than ever to announce the winners of the 2021 Ceramics of Italy Tile Competition, which annually honors North American architects and designers who use Italian ceramic and porcelain tile in creative ways. The international jury reviewed a number of impressive submissions from designers, architects and students across the U.S. and Canada, ultimately picking a record-breaking seven winners and two honorable mentions. The projects span four built categories – Commercial, Institutional, Multi-Family Residential, and Single-Family Residential – and one student category.
Among this year's winning projects are: an expansive, tile-clad amenity club designed by Rockwell Group within a luxury apartment complex in Manhattan; Taller KEN's biophilic single-family home in Costa Rica with natural-looking ceramic surfaces throughout; an unforgettable pool deck by Post Brothers with unique sculptural elements clad in porcelain; and two imaginative renderings created by students at Pratt Institute that make extensive use of Italian tile. This year, the jury also selected two beautiful higher-education buildings as winning projects in the Institutional category – both designed by Gow Hastings Architects – recognizing their clever use of Italian ceramic tile as a wayfinding element. These projects, along with the honorable mentions, showcase many recent innovations from Italian manufacturers including large-format slabs and gauged porcelain tile panels, hyper-realistic surface designs and textures, and more.
The 2021 Tile Competition winners will be officially announced on Wednesday, July 7 from 3-4pm EST at Coverings 2021 during the Ceramics of Italy press conference. Confindustria Ceramica and the Italian Trade Agency will also celebrate the winners during an awards ceremony in Bologna, Italy at Cersaie – the world's premiere exhibition of ceramic tile and bathroom furnishings – taking place in September 2021. To make up for the cancellation of Cersaie last year, winners from the 2020 Tile Competition will also be honored during this time.
For high-resolution project images, plus videos recorded by the winners and honorable mentions, see here.
MULTI-FAMILY RESIDENTIAL WINNER
Firm: Rockwell Group
Project: The Waterline Club
Location: New York, NY, USA
Tile Manufacturers: Florim
Distributor: Lazer Marble and Granite Corp.
Contractor: Garcia Marble and Tile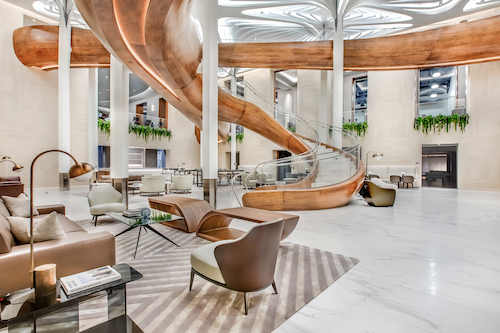 A luxury residential development on the Upper West Side of Manhattan, the Waterline Square Luxury Condominiums consist of three high-rise towers in a prime waterfront location on the Hudson River. Rockwell Group designed The Waterline Club – a comprehensive amenity space for residents that connects the complex's three main buildings. Inside, among sweeping expanses and lofty ceilings, amenities include an indoor tennis court, basketball court, rock-climbing wall, fitness center, 25-meter lap pool, game room, art studio, and countless more offerings for residents of all ages. With durability and elegance in mind, the designers selected large-format marble- and stone-look porcelain tiles by Florim to cover the walls and floors throughout the high-traffic lobby and peripheral lounge areas. Non-slip quartzite-effect tiles surround and line the inside of the pool, and statuario-esque porcelain tiles bring grandeur to the walls. Finally, a dark marble-effect porcelain slab from the brand's FLORIM Stone range composes the bar top and backsplash area in the space's party room.
SINGLE-FAMILY RESIDENTIAL WINNER
Firm: Taller KEN
Project: Casa Las Vistas
Location: Escazu, San José Province, Costa Rica
Tile Manufacturers: Italgraniti; Ornamenta
Distributor: Kamalio
Contractor: AIE Construction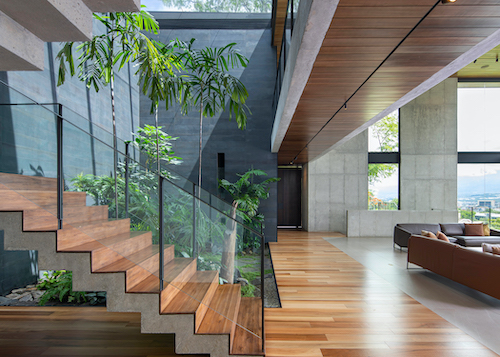 Set into a hillside in San José, Costa Rica, Casa Las Vistas' refined material palette, floor-to-ceiling windows, and curated furnishings draw attention to the lush natural surroundings. The designers at Taller KEN made extensive use of porcelain tile throughout the space, which, as a single-family residence home to young children, demanded functional, low-maintenance materials. Nordic stone-look porcelain floor tiles from Italgraniti in a calming, neutral palette ground the main living area and compliment the natural wood and concrete used throughout the room. Dark, metal-effect ceramic wall tiles – also from Italgraniti – serve as a contrasting backdrop for the home's skylit indoor garden. In the kitchen, Ornamenta's graphic geometric wall tiles decorate the backsplash, pairing nicely with concrete-effect tiles by Italgraniti on the floor. The minimalist palette continues upstairs, with marble-look Ornamenta tiles covering the master bathroom floors and walls, and light-colored tiles from a metal-inspired Italgraniti collection lining the outdoor shower.
SINGLE-FAMILY RESIDENTIAL HONORABLE MENTION
Firm: Mojo Stumer Associates
Project: Miami Penthouse
Location: Miami Beach, FL, USA
Tile Manufacturers: Florim (CEDIT)
Distributor: Florim
Contractor: Dutchmaster Tile and Marble
Installation Products: MAPEI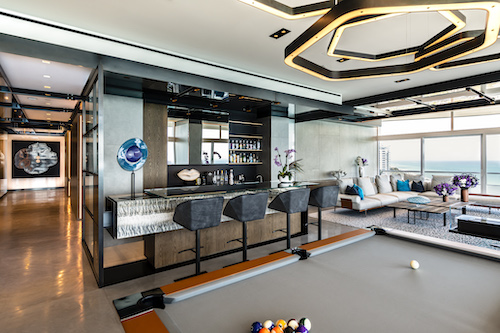 In renovating Miami Penthouse, the design team at Mojo Stumer Associates required a strong grounding element that would emphasize the height and significance of the space, support the open-plan living concept, and highlight panoramic views of the Atlantic Ocean – all while satisfying the client's modern, industrial design style. With each of these goals in mind, the designers selected large-format, concrete-effect tiles by Florim's CEDIT brand to clad the walls. Incidentally, the large-format slabs also served as the perfect backdrop for a carefully-curated selection of furnishings and colorful artwork, which accent the space.
COMMERCIAL WINNER
Firm: Post Brothers
Project: The Cove at The Piazza
Location: Philadelphia, PA, USA
Tile Manufacturer: Mirage
Distributor: Nemo Tile; Mirage, Mega Supply Pro
Contractor: Philly Tile Inc., DA&W Construction, Poolside Plaster, BN Painting LLC
Installation Products: MAPEI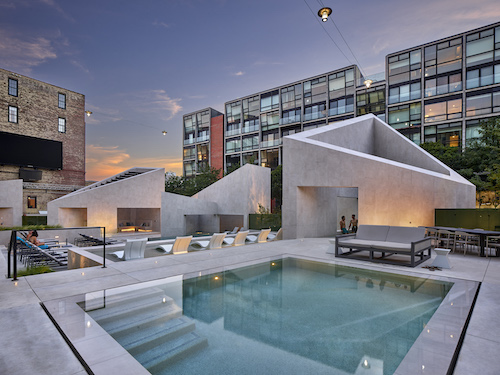 An apartment complex in Philadelphia's Northern Liberties neighborhood, The Piazza features an impressive outdoor pool area called The Cove, with unique architectural features constructed by the design team at Post Brothers – a local residential development company. Towering angular structures clad with gauged porcelain tile panels in a concrete-effect style from Mirage define the perimeter of the pool deck, which is covered with matching tiles from the same collection. This decision to coordinate the pavers with the tile-clad structures surrounding the pool created seamless continuity throughout the entire space, allowing the designers to achieve the desired monolithic look. Mirage tiles offer both safety and durability in this demanding outdoor environment.
COMMERCIAL HONORABLE MENTION
Firm: Bells + Whistles
Project: Marrow Fine
Location: Newport Beach, CA, USA
Tile Manufacturer: Ceramica Fioranese
Distributor: Highstyle Stone & Tile
Contractor: ECLR Flooring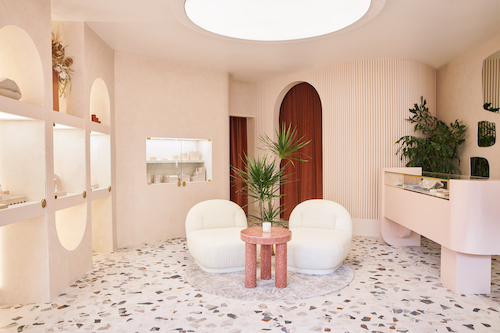 Met with the challenge of bringing a neutral, blush-toned palette to Marrow Fine's second jewelry shop in Newport Beach, CA, the designers at Bells + Whistles knew that Ceramica Fioranese's chunky, terrazzo-look porcelain floor tiles would serve as the perfect foundation. The 36"x36" format would also be much easier to install – and significantly more affordable – than real terrazzo from Italy. The tiles' palladiana-esque pattern, paired with Venetian plaster walls and arched details throughout the space, evoke romantic images of Northern Italy, creating a truly memorable customer experience.
INSTITUTIONAL WINNER
Firm: Gow Hastings Architects
Project 1: Fleming College A-Wing, Sutherland Campus
Location: Peterborough, ON, Canada
Tile Manufacturers: Panaria Ceramica; CE.SI. Ceramica
Distributor: Stone Tile International Inc.
Contractor: Rytiff Flooring
Installation Products: MAPEI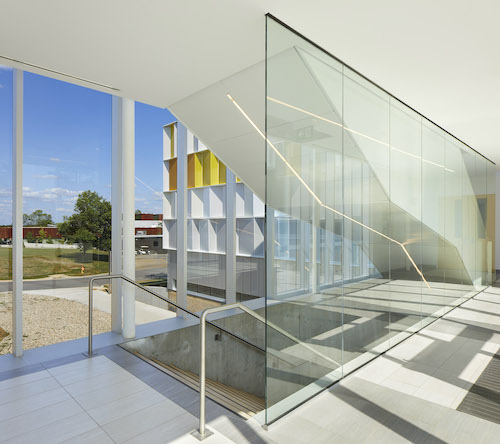 When Gow Hastings Architects was tasked with revitalizing the outdated, 76,000 sq. ft. A-Wing on Fleming College's Sutherland Campus, their goal was to transform how students would experience and engage with the institution by implementing clever, contemporary design solutions. Ceramic floor tiles by Panaria Ceramica played an important role in this project, serving as a wayfinding element to demarcate zones throughout the building. The floors alternate between three different colorways from the same collection, which helps to visually separate the student lounge areas from the public corridors without the use of walls. A field of bright yellow wall tiles by CE.SI. Ceramica – punctuated by white and grey tiles from the same collection – brings an uplifting design element to the space, which is located deep within the building's floor plan and features limited natural lighting. The same pattern is also used to distinguish all restrooms within the building. Aside from their aesthetic function, the Italian ceramic tiles provide a durable, hygienic surfacing material for this high-traffic building.
Project 2: Niagara College Welland Student Commons
Location: Welland, ON, Canada
Tile Manufacturers: Ergon; Gambini Tile on Time
Distributor: Stone Tile International Inc.; Centura Tile
Contractor: Adler's Main Tile
Installation Products: MAPEI
Surrounded by the beauty of Ontario's escarpment, the Niagara College Welland Student Commons is a two story, 35,000 sq. ft. hub for the student community. In designing this space, Gow Hastings Architects developed a program that would reinvigorate the campus' visual identity and serve as a point of pride for all students and visitors. Part of this plan involved the application of blue supergraphics on the walls, which would add branding and help students find their way. White, matte wall tiles from Gambini Tile on Time would prove to be the perfect clean slate for applying these graphics. The designers also created a linear installation using stone-look floor tiles by Ergon in two different colorways to help direct traffic throughout the busy space and demarcate different activity zones, including the corridor, event space, food hall, and seating areas. The tiles from Ergon & Gambini Tile on Time also provide the long-lasting durability that is necessary for higher education environments.
STUDENT WINNER
Entrants: Fangming Cai and Yang Pei
University: Pratt Institute
Declared Major: Interior Design
Project: Co-Living: Life and Art.
Tiles Used: ABK; AVA Ceramica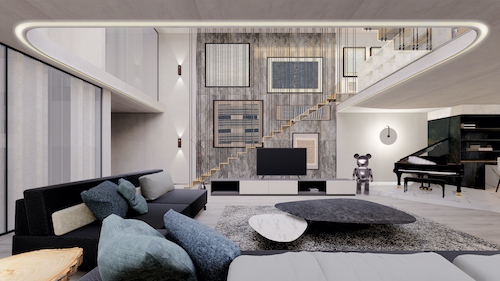 Conceived as a shared living space for two artistic families in Manhattan's Gramercy Park area, Co-Living: Life and Art supports unplanned collisions and spontaneous art sharing between residents. Pratt students Fangming Cai and Yang Pei selected various ceramic tiles by ABK and AVA Ceramica for the main flooring, walls, and ceilings throughout the home, as well as the kitchen cabinets and countertops. The intentional use of different colors and finishes from zone to zone helps to establish boundaries between private and shared spaces, and also reflects the amount of natural light in each room; Darker-colored tiles were used prominently in the private spaces where natural light is more abundant, and lighter-colored tiles help to brighten the central shared spaces, which are more reliant on artificial light. Overall, the neutral color palette and occasional bursts of patterned tile create a cozy, yet stimulating work/life environment.
STUDENT WINNER
Entrants: Sarah Gbobo and Emily Guan
University: Pratt Institute
Declared Major: Architecture
Project: G2 Yoga and Bath
Tiles Used: Roberto Cavalli; Gardenia Orchidea; La Fabbrica
Pratt students Sarah Gbobo and Emily Guan designed G2 Yoga and Bath as a quiet refuge with thermal baths, a sauna, yoga spaces, and meditation rooms for guests to boost wellness and reduce stress. The imagined structure dialogues with the natural landscape, featuring large windows and indoor/outdoor spaces that frame the surrounding forest, and ceramic tiles inspired by natural materials like stone, wood, and marble support this design scheme. Marble-look slabs by Gardenia Orchidea – specified in a large format to maximize the veining – welcome guests into the reception area and create an aura of warmth and intimacy in the sauna and indoor patio. Lighter, stone-look tiles from Gardenia Orchidea and wood-effect tiles from La Fabbrica add refreshing elements in the outdoor patio, lobby, and yoga spaces. Custom-cut marble-look slabs from La Fabbrica construct the accent furniture and window frames in the lobby, and finally, decorative wall tiles from Roberto Cavalli can be found in the bathing pools.
---
Ceramics of Italy is the trademark for Italian manufacturers of ceramic tiles, sanitaryware and tableware, that are members of Confindustria Ceramica. For more information visit ceramica.info or follow Ceramics of Italy on Facebook (@CeramicsOfItalyNA) and YouTube (@LaCeramicaItaliana) as well as Twitter, Pinterest and Instagram (@CeramicsOfItaly).