September 2021 — Design is poetry applied to space, an artistic interpretation of matter, and it is no coincidence that Italian designers are admired all over the world. One of these is Paola Navone, a Milanese designer, architect and art director renowned for her eclectic personality, free spirit and interest in different cultures. A collaboration between ABK and Studio OTTO – Paola Navone has resulted in POETRY HOUSE, a project that explores creative experiences, materials and graphic designs inspired by her most iconic and representative works. It is an authentic poetry of living, a distillation of the personal history and artistic experience that the designer brings to architectural spaces.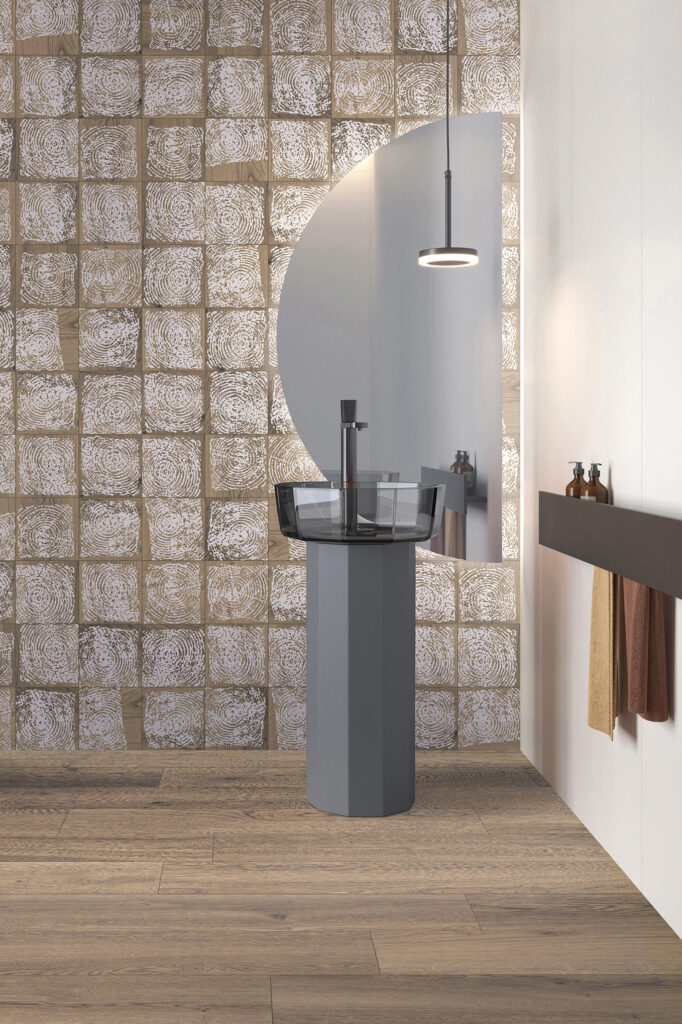 POETRY HOUSE is the first step in a collaboration that will see ABK strengthen its presence in the world of design and is destined to continue in the future. The project consist of two collections of ceramic surfaces inspired by two different materials, wood and stone.
POETRY WOOD evokes the poetry of wood, a natural-looking surface with an elegant patina created by the passage of time. Available in four soft colours, the series comes in classic plank formats complemented by a 20×20 cm modular element. It offers an irresistible range of artisanal style decorations including a hand-painted plaster look that enhances the wood texture and an iridescent metallic effect.
POETRY STONE is a poetic composition inspired by stone. It features a wide range of patterns, textures and decorative motifs that vary according to the size of the tile, from 60×120 cm up to large format slabs. It has a clean, essential and vaguely tribal look in keeping with the visual style of Studio OTTO – Paola Navone, which fits in perfectly with ABK's aesthetic vision.