Like many things, Cersaie (www.cersaie.it/en/) looked a little different this year. After an initial delay until November, the decision was made to postpone the Bologna, Italy-based ceramic and sanitary ware show until September 27-October 1, 2021, to protect attendees and exhibitors from the pandemic.
But Cersaie took another form, keeping stellar offerings from Ceramics of Italy companies front and center in the industry's minds.
One approach is via the "Two Minutes With…." videos, which introduce viewers to new products from Ceramics of Italy companies. Companies featured in the videos thus far include Ceramica Sant'Agostino, FAP Ceramiche, the Vero collection from Marazzi, Settecento Manifattura Ceramica's Reverse marble look porcelain series, Ceramica Mediterranea's Pietra di Serrenti, manufactured in Sardinia, Gigacer Concept 1 All in One, Sicis, Ragno's Contrasti Collection, and Casalgrande Pandana's Limpha stoneware collection, that offer anti-bacterial and self-cleaning properties. In addition, there's a video showcase of tiling tools and equipment from Raimondi, that illustrates its EASY MOVE frame, specialized tables and POWER RAZOR cutting equipment for GTPT panels. Visit here to view the videos. https://www.ceramica.info/en/articoli/2020-tile-trends-overview-by-companies/
While a new trend report is in the works by Ceramics of Italy, enjoy some select novelties from the many that would have graced the halls of Bologna Fiere, including a cool new pedestal system for pavers by Impertek.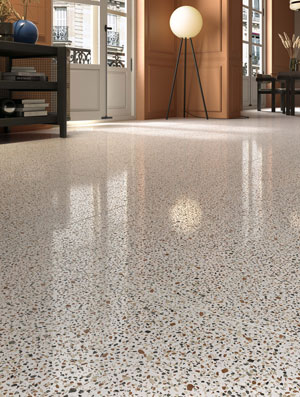 ABK's full body porcelain indoor/outdoor BLEND collectionincludes Blend Concrete, a concrete-look porcelain enhanced by graphic reproductions of tiny pebbles. Blend Dots (shown)is an on-trend reimagining of terrazzo, exploring the theme of fragments – this time in marble – and returns to the mixture concept that underpins the entire BLEND collection. Both of the graphic designs come in four colors for commercial and residential settings. BLEND is available in natural, lapped and P-tech finish, which improves anti-slip performance while retaining a soft touch that's easy to clean. For outdoor use, BLEND comes with R11 grip finish in both 20 mm (OUT.20) and 9 mm thicknesses. abk.it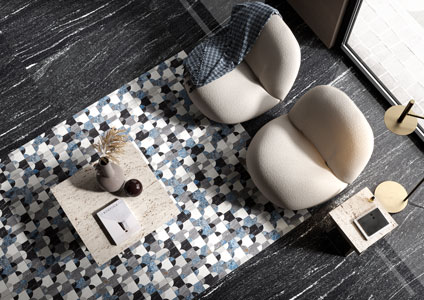 Ceramica Fioranese's Granum gres porcelain is inspired by two Brazilian granites – distinctive blue Azul Bahia and deep black Via Lattea, both with white veins and a small/medium grain. Other colors float through the design, shifting from dark and light grey to white. Colors are Bianco, Grigio Chiaro, Grigio Scuro, Blu and Nero (shown) in five sizes ranging from 12" x 24" to 29" x 58" rectified in matte and polished finishes. Available with random mosaic of mixed colors, a Trapezi mosaic, and decos in Arcs Blu (shown) and Arcs Grigio, each in 24" x 24" and 8" x 8" sizes. fioranese.it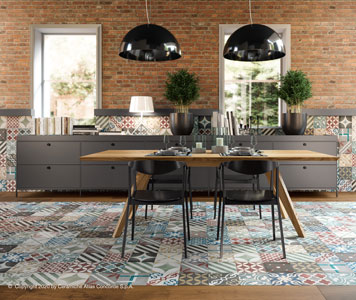 Atlas Concorde launched Venti Boost, an encaustic-inspired line of 20×20 cm tiles in Concrete, Classic and Blue design approaches. Classic (shown) interprets a retro mood with geometries, colors, and symmetries featuring graphics and patterns of the past. Blue blends lightness and solidity in an elegant contrast, bearing classic patterns in a blue tint. Concrete is contemporary: neutral desaturated colors and earthy, geometric surfaces that alternate the full and empty spaces of the chiaroscuros with a precise, rigorous motif. The collection has two backgrounds and four mixes that combine different patterns extrapolated from the three main themes and 12 decorative carpets, repeating patterns to delimit a carpet and available in neutral or colored versions. atlasconcorde.com
Ceramica Rondine offers the Skyline glazed porcelain stoneware series that interprets the traditional aspect of brick, in modern solid colors. The innovative thickness of 6 mm allows a faster installation even in when installing over an existing surface. The glossy surface and the different structures that characterize the product enrich the series with evocative nuances, making it fitting for residential and commercial solutions. Available in 12 colors in 6 x 25 cm thin bricks. ceramicarodine.it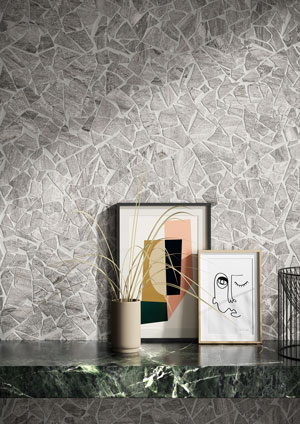 Ceramiche Coem introduces Sciliar, inspired from grey Italian marble known as Grigio de Gré, generally sold in a polished marble version. Coem has interpreted this marble with a sanded look to reveal its stone origin, and the crystalline dolomite structure in the depth of the marble. Sciliar comes in five colors and six sizes, ranging from 3"x12" to 30"x59" rectified,three outdoor rectified sizes, two decos, and two alternative structure choices for the stone surfaces – plissé and line. coem.it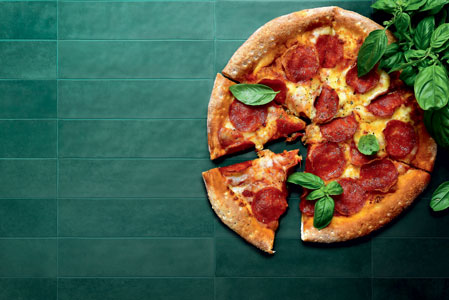 Cooperativa Ceramica D' Imola conceptualizes Aroma,a reflection on Italian taste expressed through design, food and art, unified by creativity. This double-fired collection in the Amore line in a 6×24 cm brick format has a clear Mediterranean influence. A wide and lively range of colors on a glossy surface with an irregular edge is specifically designed to create one of the typical characteristics of craft ceramics. Aroma satisfies a vast range of tastes, both for the different layouts that include horizontal, vertical, herringbone and staggered brickwork patterns and nine inspired colors. ccimola.it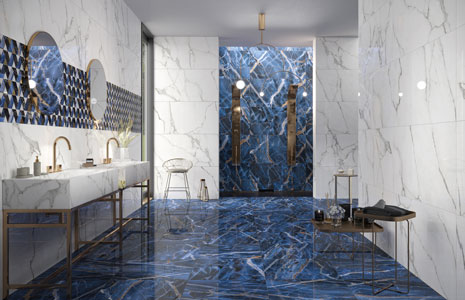 Naxos, part of the Finicibec Group, introduces Rhapsody, interpreting the world's most spectacular marbles in fine porcelain stoneware. Rhapsody's smooth surfaces echo the bright colors and wealth of detail of each type of marble, ranging from the most elegant classical pale stone, to the most arresting dark varieties, in nine tonalities of 7 mm thick tiles for floors and walls. Marble imagery combines with stylized floral elements, geometrical modules and metallic highlights on the 60×120 cm tiles to create new decorative possibilities especially for walls in residential and light duty commercial settings. Select colors are available in 60×60 cm sizes, all with rectified edges. Decors and special pieces complete the look. naxos-ceramica.it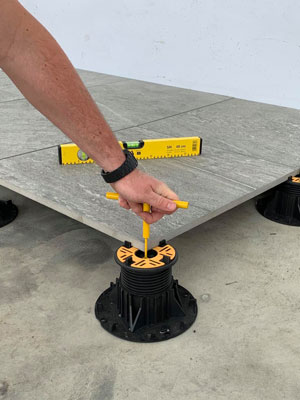 Impertek has devised a new pedestal system, called Balance Pro, which allows a variety of heights from 25 to 1025mm with a single range of 14 products. Extensions or a screw base allows this range of heights and also optimizes storage and logistics management in the warehouse. One unique feature of Balance Pro is the ability to adjust the height from above – even after installing the tile – with a special "Top Key"; the height can also be adjusted manually from the base using the lock ring. The head can self-level up to a slope of 5% while supporting a 1,000 kg weight. The tilting head can be locked due to a Fix Ring mechanism, and also has an anti-shock system that provides secure grip between support and tiles. This "All in One" system can be used with a range of flooring finish and sizes, and offers self-extinguishing properties in case of fire. impertek.it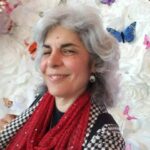 Editorial Director and Senior Writer for TileLetter and TileLetter ARTISAN
Lesley Goddin has been writing and journaling since her first diary at age 11. Her journey has taken her through a career in publishing and publicity, landing her the editor position of TileLetter and its special publications in 2006. Her goal is to educate, inspire, recognize and encourage those in the tile industry -- especially the tile and stone contractor. Other interests include the soft, purring marvels known as cats, labyrinth walking, drumming and percussion, and a range of spiritual, musical and artistic pursuits.