Tiling Town, the meeting place for the world of Italian and international tile installers which is celebrating its 10th edition this year, will be located in a more than 400 square meter space in Hall 32, close to the Piazza Costituzione entrance to the Bologna Exhibition Centre. On each of the five days of the 39th Cersaie, visitors to Tiling Town will have the chance to attend slab installation showcases given by expert tile layers.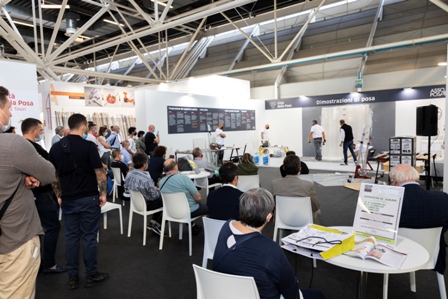 The technical seminars on slab installation aimed at architects and designers will be held in a permanent conference area, and will consist of two hours of classroom sessions and two hours of practical experience in the installation workshop. They will be held in the afternoons from Monday 26 to Thursday 29 September (and on the morning of Friday 30 September) and will earn professional training credits for participating architects, engineers and surveyors. 
Another interesting initiative is the Tiling Town Matinées, a series of tile installation events organized by Assoposa's technical partners (Fila, MAPEI and Raimondi) to be held at 10.00 a.m. daily from Monday to Friday.
A large space in "Tiling Town" will be occupied by the Italian ceramic tile layers' association Assoposa, which communicates constantly with tile installation professionals and acts as an info point for visitors, as well as promoting Tile Layer Certification in accordance with Standard UNI 11493-2 in cooperation with certification body Certi.S.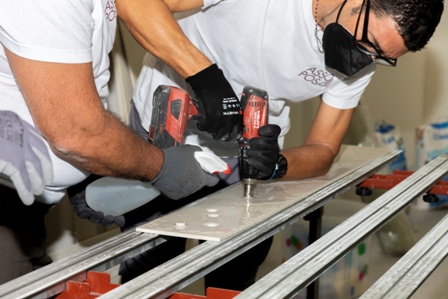 Assoposa will also be organizing three specific spaces. The first is the Academy devoted to extra-large slab installers and an exhibition of washbasins made from large slabs, as well as a work in progress illustrating the cladding of a complex volume with ceramic mosaic tiles. A second area will be devoted to outdoor spaces with demonstrations of raised and exterior floor installation. Assoposa in Rosa is a third area devoted to women working in the world of construction, especially in retail outlets.
Finally, the Casa Italia web radio specializing in the world of home and living will broadcast a live program direct from Tiling Town, hosted by Paolo Leccese and entitled "Bricks & Music." The program will discuss a variety of themes with its guests and will be scheduled for 9.30 a.m. onwards during the five days of Cersaie.