Floor Drain Provides Reliable Drainage in Floors Without a Slope

Unexpected water infiltration from leaks or flooding can cause extensive damage to
floors and spaces below. Installing a drain in areas at risk to water exposure ensures
that floors and moisture-sensitive building materials are well protected.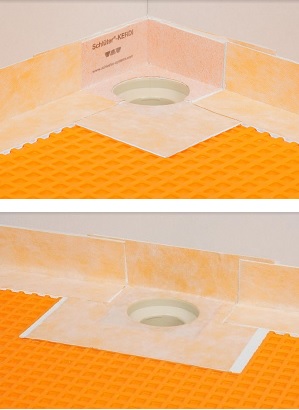 Schluter Systems has expanded its offering of drains to include the KERDI-DRAIN-F, a floor drain designed with a flat, narrow bonding flange to facilitate tight installations against walls, in corners, and in floors without a slope. Perfectly suited for wet rooms, bathroom floors, and other applications that require waterproofing and drainage, the KERDI-DRAIN-F is specifically designed for use in tiled floors in conjunction with all Schluter®-DITRA and Schluter®-DITRA-HEAT membranes. The integrated KERDI collar ensures a simple and secure connection to the surrounding membrane.
Compatible with all four-inch KERDI-DRAIN grates (except for the TILE grate), the
KERDI-DRAIN-F is available in three options: polypropylene with a two-inch NPT
outlet and included PVC and ABS couplings, stainless steel with a no-hub outlet, and
stainless steel with a threaded outlet. A vertical height adjustment collar, as well as a
construction cover to prevent debris from entering the drain prior to grate installation, are also included.
---
About Schluter ®-Systems
Schluter®-Systems products are specifically designed for the tile industry to ensure that installations maintain integrity and durability. The company's product line includes over 6,000 items, including tile trims, uncoupling membranes, waterproof
building panels, shower systems, and thin-set mortar. Schluter-Systems is renowned for its state-of-the-art technology with attention to detail for highly functional and visually appealing results. For more information, visit www.schluter.com.