---
Ten years ago, in 2010, we at TileLetter made the decision to shine a light on the role, leadership and influence of women in what is traditionally thought of as the male-dominated industry of tile installation and contracting. Thus the "Women in Tile" feature was born.
In our 10th anniversary year, we continue this tradition, profiling three prominent women, including NTCA's own illustrious Art Director Michelle Chapman – who in addition to wearing a slew of hats over the years – is celebrating her very own 20th anniversary with NTCA.
We continue championing women in this issue with our cover story, in which LATICRETE visits with Angie Halford Ré, who was originally included in TileLetter's WIT feature in 2017. Bart Bettiga talks with Heidi Martin of United Tile, learning about her perspective on a range of topics that the Pacific Northwest distributor must face, from strategic decisions or changes that needed to be made due to COVID-19, to the importance of involvement in industry affiliations and associations.
And our Member Spotlight focuses on Linette Brown of Able Tile in Knoxville, Tenn., exploring how a family-owned business has redefined its niche in the market over the years.
The Tile Setter Craftsperson of the Year Awards have been announced – and you can read more about the Commercial Winner, Ferid Hasic of Grazzini Brothers & Company in Eagan, Minn., and the Residential Winner, Leonardo Reynaga, of Visalia Ceramic Tile in Visalia, Calif.
Joseph Mattice of On The Level in Greenville, S.C., reprises his take on technical issues in the industry by exploring the difference between solely installing tile and building a tile assembly designed to perform and last for the long haul.
Finally, Dean R. Adams, Associate/Project Manager, CCSMTT, CTLGroup, a consulting engineering and materials science firm that provides engineering, testing and scientific services in a range of markets, pens an article on the importance of accurate record keeping.
Next year (oh, and we all ARE longing for next year, aren't we?), look for our Women in Tile feature in the March issue. We're relocating this story to coincide with Women in Construction Week, which takes place March 7 – 13, 2021, by the National Association of Women in Construction.
Until then, let's appreciate the value every member of the industry brings to it, and support each other to elevate the trade and its excellence and artistry. And since this year is the 100th anniversary of the ratification of the 19th Amendment that opened the door for women to have the vote – and we are coming up on the election next month – let me take this opportunity to urge women and men alike to exercise your rights to VOTE in November!
God bless,
Lesley
[email protected]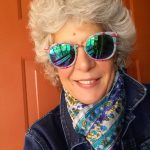 Editor for TileLetter, and TileLetter ARTISAN publications.
Lesley Goddin has been writing and journaling since her first diary at age 11, and drawing and sketching since she could hold a pencil. Her penchant for observation led to her becoming a paid professional as a trade journalist, publicist and is editor for TileLetter. She has also written for Guideposts, Walls, Windows and Floors, Floor Covering Weekly, and Low Carb Energy.