(New York, NY – April 19, 2023) Each year, Confindustria Ceramica (the Association of Italian Ceramics) bestows an exemplary North American tile distributor with the prestigious North American Distributor Award. The winner represents a company that not only has a rich history and sells a wide selection of Italian ceramic products, but also demonstrates key knowledge of their trade and holds a desire to spread awareness around the exceptional qualities of Italian-made products.
This year, Ceramics of Italy is pleased to announce New Jersey-based and family-run company, Wayne Tile Imports, as the 2023 recipient of this highly-coveted award. Ceramics of Italy today presented the award at Coverings – the largest international tile and stone exhibition in North America – to the company's Marketing Director, Kyle Bushoven, during a special celebration at the Ceramics of Italy booth (#1520).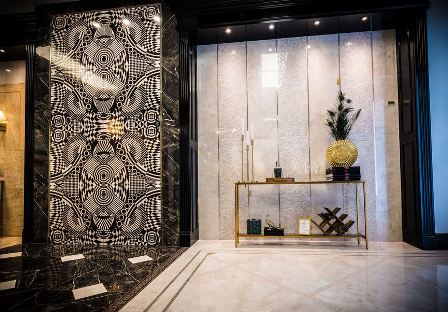 After careful deliberation from a distinguished supervisory committee, Confindustria Ceramica selected Wayne Tile Imports as this year's winner. Many factors and criteria were considered, but the company's superior service to clientele, close relationships with Italian manufacturers and representatives, high ranking in the industry, and inclination towards sourcing the latest trendsetting, innovative, and sustainable products from Ceramics of Italy members, ultimately resulted in Wayne Tile Imports becoming this year's recipient.
Since its founding in 1955 by Bob Westra, Wayne Tile Imports has established itself as a thriving family-owned business and competitive leader in the distribution of top-of-the-line ceramic tile products in North America. A frequent attendee of Coverings and Cersaie, Wayne Tile Imports prides itself on providing its clients and customers with a carefully curated selection of high-quality, sustainable, and beautiful ceramic and porcelain tile products. With five showrooms distributing tiles from over 30 Italian manufacturers, ceramic tiles accounted for 80% of Wayne Tile Imports' overall turnover sales in 2022.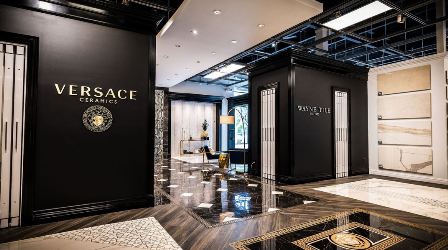 Wayne Tile Imports carries the following Ceramics of Italy brands: Armonie Ceramiche, Blustyle, Campogalliano, Castelvetro, Ceramica Sant' Agostino, Ceramiche Coem, Ceramica Del Conca, Edimax Astor, Emilgroup, Energieker, FAP Ceramiche, Fincibec Group, Ceramica Fioranese, Florim, Gardenia Orchidea, Isla Tiles, Keradom, La Fabbrica, La Fenice, Marca Corona, Ceramiche Piemme, Ceramica Rondine, Serenissima, Settecento, Sichenia, Tuscania, Tonalite, Versace Ceramics, and Vallelunga & Co.