WASHINGTON, June 1—The construction industry registered 449,000 job openings in April, according to an Associated Builders and Contractors analysis of data from the U.S. Bureau of Labor Statistics' Job Opening and Labor Turnover Survey. The JOLTS survey defines a job opening as any unfilled position for which an employer is actively recruiting. Industry job openings increased by 23,000 last month and are up 120,000 from the same time last year.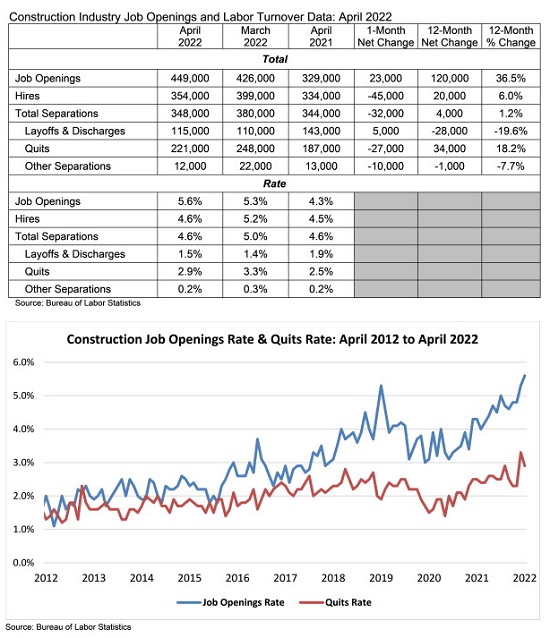 As an indication of a marketplace that still favors employees as opposed to employers, construction workers quit their jobs at a faster rate than they were laid off or discharged in April. The quits rate of 2.9% was meaningfully above the layoff/discharge rate of 1.5%. April represented the 14th consecutive month during which quits outpaced or equaled layoffs and discharges.
"The desperate search for skilled construction workers persists," said ABC Chief Economist Anirban Basu. "The number of available, unfilled construction jobs continues to expand. Remarkably, this is occurring despite a lack of strong construction spending growth, which suggests that construction productivity is not expanding. What is expanding is compensation costs, as employers compete aggressively with one another to secure sufficient levels of human capital.
"Today's report also suggests that wage pressures will continue to help stoke economywide inflation," said Basu. "That increases the chances that the Federal Reserve will continue to pursue a path of tightening monetary policy. Accordingly, contractors will face both rising delivery costs and cost of capital. Despite that, many contractors remain upbeat, according to ABC's Construction Confidence Index, indicating that they are operating at capacity and expect to do so for the rest of the year."
---
Visit abc.org/economics for the Construction Backlog Indicator and Construction Confidence Index, plus analysis of spending, employment, GDP and the Producer Price Index.
Associated Builders and Contractors is a national construction industry trade association established in 1950 that represents more than 21,000 members. Founded on the merit shop philosophy, ABC and its 69 chapters help members develop people, win work and deliver that work safely, ethically and profitably for the betterment of the communities in which ABC and its members work. Visit us at abc.org.