WASHINGTON, June 1—National nonresidential construction spending was down 0.4% in April, according to an Associated Builders and Contractors analysis of data published today by the U.S. Census Bureau. On a seasonally adjusted annualized basis, nonresidential spending totaled $844.4 billion for the month. Despite the monthly setback, nonresidential construction spending is up 6.6% from a year ago.
Spending was down on a monthly basis in 12 of the 16 nonresidential subcategories. Private nonresidential spending was down 0.2%, while public nonresidential construction spending was down 0.7% in April. Spending in the residential category retained momentum in April, rising 0.9% for the month and 18.2% since April 2021.
"Despite upbeat contractor sentiment, nonresidential construction spending has been sliding during recent months," said ABC Chief Economist Anirban Basu. "The situation is even worse given that construction spending is measured in nominal terms, and therefore does not account for rapidly rising materials prices and compensation costs that have, according to ABC's Construction Confidence Index, put downward pressure on profit margins.
"In spite of the overall decline in nonresidential construction spending, there are reasons to remain upbeat," said Basu. "A number of segments hammered by the pandemic showed signs of life in April, with spending in both the lodging and amusement/recreation categories increasing on a monthly basis. Construction related to manufacturing also continues to rise as suppliers desperately strive to keep up with demand and reshoring momentum persists."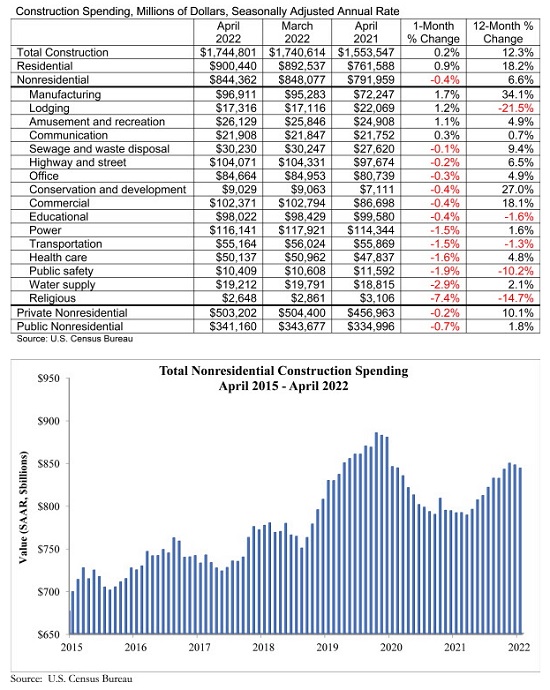 ---
Visit abc.org/economics for the Construction Backlog Indicator and Construction Confidence Index, plus analysis of spending, employment, GDP and the Producer Price Index.
Associated Builders and Contractors is a national construction industry trade association established in 1950 that represents more than 21,000 members. Founded on the merit shop philosophy, ABC and its 69 chapters help members develop people, win work and deliver that work safely, ethically and profitably for the betterment of the communities in which ABC and its members work. Visit us at abc.org.