The third weekend in May, I had a novel experience, one grounded in the history and legacy of ceramic tile making in the United States, and one that incorporated how that legacy is being practiced today by nearly 30 contemporary tile makers and supported by the tile industry.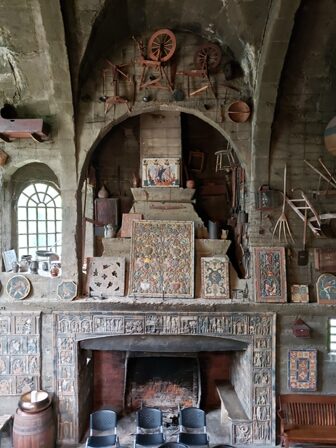 I'm talking, of course, about TileFest 22, held May 21-22 at The TileWorks of Bucks County. This festival, set in motion by The Tile Heritage Foundation (THF) in 1998, has been held each year except for 2020 and 2021, due to the pandemic. This year was a joyful, sultry gathering (it reached 97 degrees in Doylestown, Pa., that weekend) of tile makers, tile collectors, tile lovers, tile installers, suppliers and industry supporters.
The Moravian Pottery and Tile Works was re-imagined last year as a non-profit called The TileWorks of Bucks County under the direction of Katia McGuirk, and her team: Jesse Pham, Production and Site Manager; Juliana Lange, Arts and Education Director; and Vance Koehler, Mercer Historian. It is a living history museum, built as a pottery by Henry Chapman Mercer in 1912, that today celebrates his contribution to the American Arts & Crafts Movement and is a working handmade tile factory.
Touring the TileFest
For TileFest 22, this team, together with other workers and volunteers, offered a range of activities: tours through The TileWorks, building with miniature bricks, stamping clay to make tiles, glazing bisque fired stars to honor fallen heroes and their families through the Travis Manion Foundation, and tented exhibit space to protect from the elements. Isaiah Zagar, the pioneer visionary artist who created Philadelphia's Magic Gardens, used Mercer Tile and his own signature mirrors and shards in a demonstration of the "Sandbox Technique" of tile setting, that hearkened back to Mercer's own setting techniques. Artist George Rodriguez was on hand on Saturday to meet and greet visitors and talk about his ceramic creations.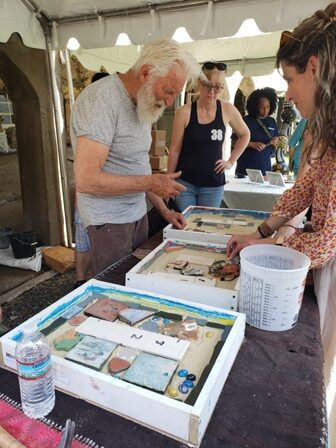 "As this was our inaugural TileFest, we feel it was a success," said McGuirk. "Over the two days, we had over 1,000 people visit. We look forward — and the public looks forward to — seeing some of the same tile artisans every year who make the trek. The collectors always look forward to seeing new designs from their favorite makers. Though some of the regulars were not able to make it this year, we are giving them plenty of notice that TileFest is May 20 and 21st, 2023!"
In addition to local tile makers and those who hailed from New York, New Jersey, Florida, Michigan, Tennessee, and Massachusetts – and Scott Carothers, who made a visit from the Ceramic Tile Education Foundation in South Carolina — TileFest was supported by Tile Heritage Foundation (THF), ARDEX Americas, Merola Tile Distributors of America, Penn Community Bank and Bucks County.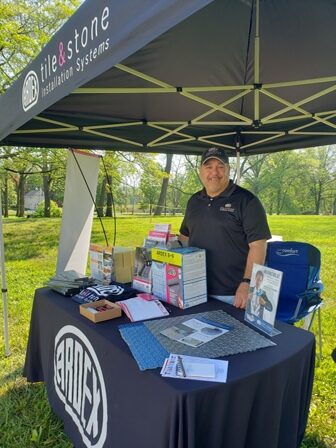 ARDEX Philadelphia area rep Marc Imbesi said that this was ARDEX's first time at the TileFest. ARDEX established a working relationship with McGuirk starting at Coverings 2021, and led the company to help sponsor the event this year. "You don't grow unless you get outside your comfort zone," Imbesi said. "This is a little different for us. We typically work with the commercial and residential contractors, but these different types of tiles that are being offered here today is something that we are intrigued about."
Sheila Menzies, co-founder of THF, commented, "Katia is remarkable and she has a great staff and connection to the community. It all worked… It was a pleasure and delight to meet up with and engage with so many of THF 'tile friends'… how we have missed them!" She noted that the activities for children and families noted above were a "big plus" as were the tiles for sale gifted to THF from artisans that generated funds equal to past events. At the same time a 35th Anniversary online fundraiser brought in at an almost equal amount of revenue that the traditional THF auction would have generated. THF co-hosted a joyful dinner reception the first night of the festival as well.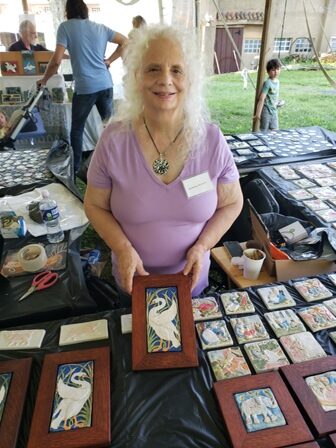 THF co-founder Joseph Taylor added," Since the early '90s when American decorative tiles were being recognized nationally as a legitimate art form, it's been important for these artists and artisans to get together with others of like minds and skills. The annual Tile Heritage symposiums beginning in '91 served this purpose for close to 15 years. Complementing our events (and eventually replacing them) were the tile festivals in Doylestown, Detroit at Pewabic, Minneapolis presented by the Handmade Tile Association and in Seattle by Artisan Tile Northwest (the latter two organizations having now disbanded). Even Coverings picked up on the idea with its Artisan Alley and the Art Tile Village.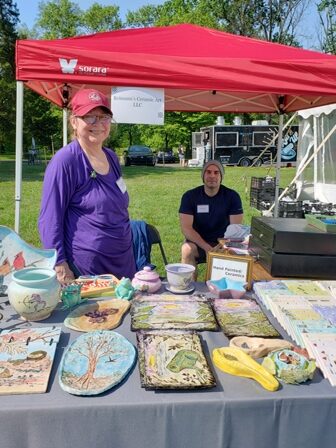 "Times have now changed as tastes have changed; art tiles are no longer an integral part of domestic tile installations," Taylor added. "Artists and artisans still involved in making art tiles use their websites, Etsy and social media to sell their work. The point is the people are still out there: art tiles have not disappeared. Events like TileFest remain important as a venue for artist and artisans to gather, having their dedication and energies renewed by others. In my view this is the key to the importance of these events. After all, tile art IS art; it has been and will continue to be."
Tile Geeks make the pilgrimage to TileFest
Also making an appearance at the event was a small but mighty contingent of the Facebook online group,The Tile Geeks, who came to gather and also install Mercer reproduction tile on two concrete planters that would be auctioned off to benefit The TileWorks. Jim Garbe, Joe Lenner, Eric Tretrault, John Roberts, Metin Gungor, Mike Mastrangelo, and Dan Kramer (who flew his own private plane from Buxton, N.C. to the Doylestown airport) all converged on the scene.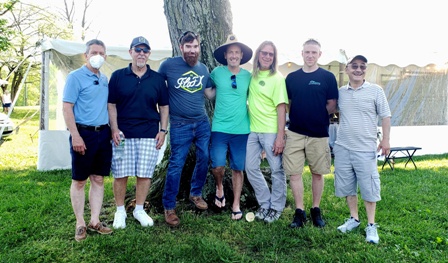 Garbe connected with the Moravian Pottery and TileWorks a couple of decades ago when he salvaged a collection of Moravian murals from a fraternity house that was being gutted, then cleaned, repaired and installed them in display cases in their new house a few years later.
"This experience really opened my eyes to aspects of the tile world that one does not encounter regularly," Garbe said. "The fact that the TileWorks is still here and making tiles in the same way today is an opportunity for anyone that attends the festival to get a tactile sense of the amount of work that is involved in the manufacturing process. Also, the artists there and the work that they have on display and for sale are both amazing and humbling to see.
"Installing handmade tile requires some tasks like mixing tiles or working from multiple boxes like with natural stone to achieve a good random blend of the materials," he added. "Also, using control lines or a grid for a section and then allowing the grout joints some ebb and flow to fit the area. Step back and take a look from further away. The OCD that serves you well on most days needs to be given a few days off. It is a different state of mind that is hard to explain, but once experienced easily understood."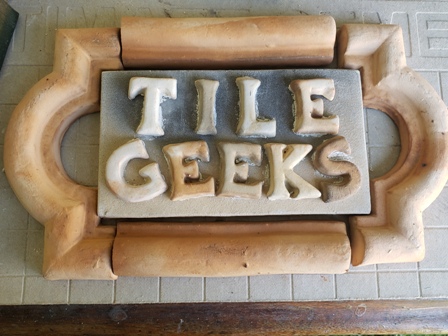 "From an installer standpoint the Tile Fest was a terrific opportunity for all different types of tilers to interact," said Tile Geek Dan Kramer of Dan Kramer Ceramic Tile, Buxton, N.C.
He continued, " For example, Eric Tetreault, who is nationally-known for his amazing skills with large panel work was under one tent, and exhibiting in the next tent was Sherri Warner Hunter (SWH Art Studio of Bell Buckle, Tenn.), an amazing mosaicist skilled in working with concrete and tiny tiles. There were young guys like John Roberts and long-timers like Metin Gungor and Jim Garbe. It was a great eclectic mix."
Kramer observed that "Everybody was warm and welcoming. No egos. Metin assisted a newbie who had never stuck a tile in her life, working next to people with many decades of practice in the trade — such good camaraderie. Additionally, the facilities at Moravian Pottery & Tile Works (now TileWorks of Bucks County) were impressive to a first-timer like myself. From the bags of clay in the basement to the hand painting room, it was an absolute joy to see this place and the people that make it work."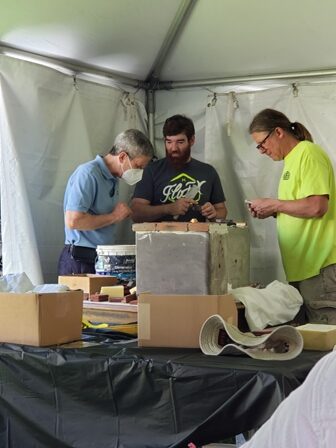 Tile Geek and NTCA Member Metin Gungor of Dekor Construction LLC in Bordentown, N.J., said that seeing the tiles at the TileFest hearkened back to when he was in school and made handmade tiles, a playful, meditative process that produced a feeling of satisfaction. "Perhaps the randomness, like cookies when they comes out of oven, each piece hand shaped — different makers put their heart and labor in each piece…Once a year, we are like children in a candy store, a playground! This is a great opportunity for us Geeks to meet — not being fed more of the products from manufacturers — but just enjoy tile, art of tile, history of tile and talk some more of tile."
Meeting the makers
Tile makers ranged from veteran exhibitors to those who were making their debut. Kathy Casper of Think Good Tiles, Mt. Laurel, N.J., has been attending TileFest for over 10 years and was excited to be back after the pandemic hiatus. "I love the tilemakers," she said. "I love the art. I love the shared energy for a loved art form and just being with people. "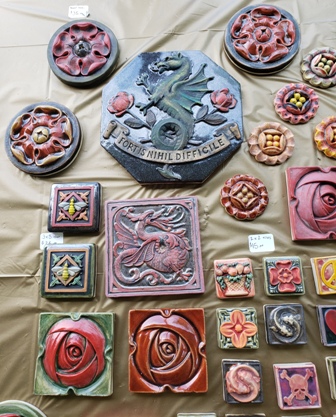 Mark Dreisbach of Three Brooks Pottery & Tile Works, Pine Grove, Pa., was exhibiting for the first time. "I was an apprentice at the TileWorks in 2019, and I was very interested in doing TileFest 2020, but it didn't happen," he said. "I was so excited when I saw the information about doing TileFest 22. It's a great opportunity to exhibit with artists in the industry."
In his day job, artist Pete Maltese, of Maltese's Pieces, Silverdale, Pa., works for Renaissance Ceramic Tile and Marble, owned by Arley Wholesale. But his passion project for the last 10 years is making mosaics out of stone. "I just like to work with my hands… I lose all sense of time; there is a satisfaction of having my hands on stone," he said. This is Maltese's third year at the festival.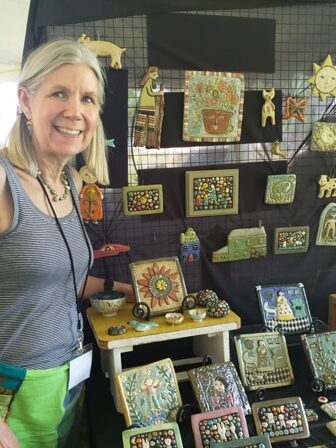 Artisan Theresa Mustafa of Booton, N.J. , customizes her tiles for easy installation in bathroom niches. "I had the idea to use mesh mounted mosaics as an offering for my customers who want a unique accent in their bathroom," she said. "Having worked in a tile store, I helped many people pick out unique mosaics. I had the idea if I used my creations and cut them to specific sizes of the already pre-formed niches on the market, such as LATICRETE, SCHLUTER, then mesh- mounted the mosaics, and made them easy to install, the contractor doesn't have to worry about it, they fit…That way a customer can pick something that is really unique and easy to install, take it to the tile store and pick out a field tile to go with it, and then they'll have a unique piece of artwork in their bathroom. "
Fonthill Castle: Mercer's home
Only a few minutes' walk from The TileWorks is Fonthill Castle – Mercer's home and showplace for his tiles – which he converted in 1908 from a humble farmhouse to a sprawling reinforced concrete structure on 60 acres of land. With electric lights, a phone, and even an elevator from Otis, it is a significant building, bursting with not only handmade tiles from the nearby TileWorks, but also filled with tiles from Persia, Italy and Spain – and cuneiform tablets from ancient Babylon. Mercer's home is an example of very early poured concrete – all mixed by hand — reflecting Medieval, Gothic, and Byzantine architectural styles, and a not-to-be-missed part of the Mercer/TileWorks experience.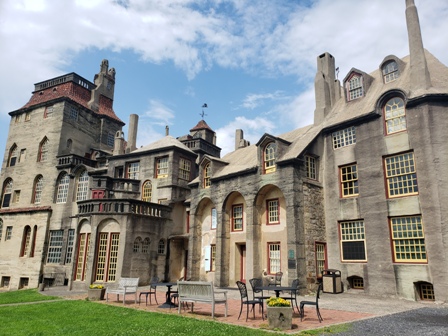 Conclusion
In conclusion, McGuirk noted, "Our commitment to 'Honor the Past to Inspire the Future' is at the core of all we do, and it's done in the experimental and innovative spirit of our founder Henry Mercer. We have made our site much more accessible to the community and added lots of educational programming and opportunities for creative collaborators to work in this historic site. We feel we are making Henry happy. We are busy behind the scenes re-tooling our tour experiences and activating our exhibition spaces." This includes workshops, bluegrass events, a second Legacy Artist – Mandy Baker of Whispering Hills Studio — who has been influenced by Mercer's work, and more."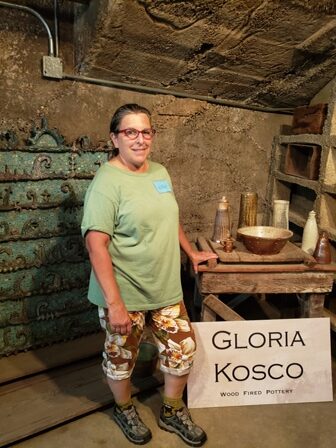 Tile Geek Garbe summed it up: "The festival is a unique and wonderful event, good for your soul. Anyone reading this should consider making the pilgrimage. You should show up if you are able to. See some old friends, and make some new ones. Buy a piece of art, or a piece of tile, a piece of history. Have a piece of cake."