Leaders from Chicago's architecture and design community celebrated the opening of Cosentino's first-ever reinvented showroom experience in North America, with Silestone brand ambassador Cindy Crawford as the guest of honor
On Thursday, September 9, in the heart of Chicago's Design District, Cosentino, the Spanish global leader in the production and distribution of innovative surfaces for architecture and design, hosted leaders from Chicago's architecture and design community for the grand opening of its new Cosentino City Center.
The first of its kind in North America and one of only seven in the world, the $1.3 million 4,600 square-foot Chicago City Center boldly bucks the traditional showroom model — offering a more holistic, streamlined and inspiring experience for industry professionals and consumers alike.
The event's guests enjoyed an intimate conversation and audience Q&A with supermodel and Silestone brand ambassador Cindy Crawford, who discussed what she loves most about her hometown of Chicago, the intersection of the worlds of fashion, design and culinary, and much more. To help celebrate her homecoming, Chicago-based Michelin Star Chef Carlos Gaytán of Tzuco, one of Chicago's hottest restaurants, delighted the fashion icon and attendees with a lively cooking demonstration. Immediately following was a toast from Eduardo Cosentino, CEO of Cosentino North America and EVP of Global Sales for Cosentino Group, and a ribbon cutting ceremony to commemorate the grand opening.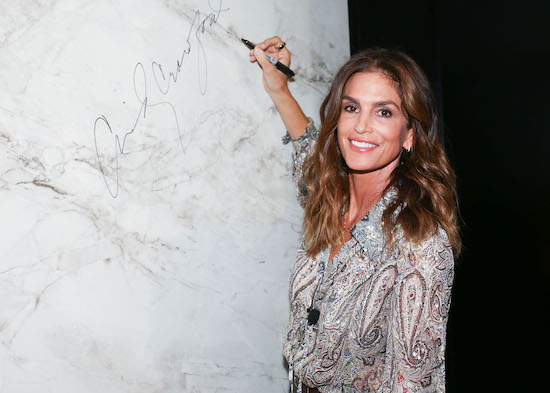 "I love working with companies that are changemakers, and it's so important that we protect our planet," said Crawford. "For me, sustainability means being more intentional and selecting pieces that will stand the test of time. You'll never regret investing in a classic trench coat or high quality black pumps — that same sentiment translates to designing your home with durable, stylish materials that will beautifully endure, like Silestone."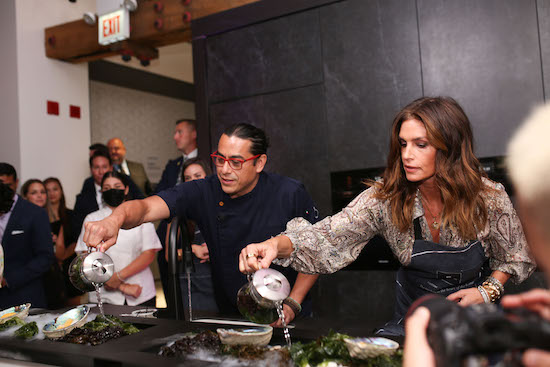 Festivities continued into the evening as guests explored the revamped high-tech Cosentino City Center experience. Its luminary: The Atelier, or design workshop, where guests have access to Cosentino's full product offering and an expansive selection of globally and locally sourced textiles, tile, cabinetry samples and plumbing fixtures. Guests also got hands-on with  an augmented reality digital experience, where guests can fully design a kitchen or bath space;  as well as the to-scale full-slab digital displays, providing visitors high-definition views of veining, color and detail.
"Expanding our new City Center experience to North America is such a pivotal moment for the Cosentino brand," says Cosentino. "Our new Cosentino Chicago City Center will ensure a greater immersion in the city itself, as well as a deeper connection to the industry professionals from across the region who visit its design district. We're truly honored to have celebrated with those who joined us tonight and look forward to the great collaboration that  lies ahead."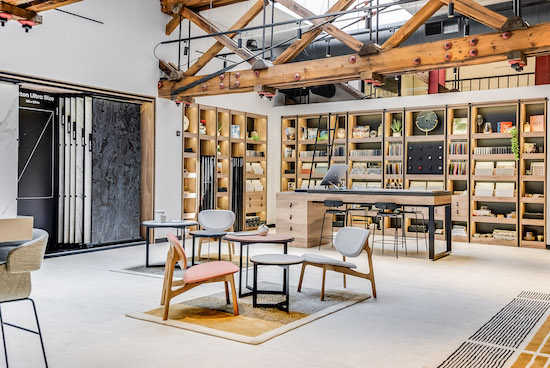 Notable guests in attendance included Eduardo Cosentino, EVP of Global Sales and CEO of Cosentino North America; Brandon Calvo, Chief Operations Officer for Cosentino North America; Patty Dominguez, Vice President Architect and Design Sales for Cosentino North America; Elizabeth Ramos, Cosentino North America Director of Marketing; and Judith Jabra, General Manager Cosentino Chicago.
The Chicago Cosentino City Center is located at 217 West Illinois Street, Chicago, IL 60654, and is open Monday through Friday from 9 am – 5 pm.Appointments can be scheduled by calling (312) 649-4045.