CORAL GABLES, FL (February 18, 2021) – Cosentino, the world leader in quartz, natural stone, and recycled surface production, reveals stunning product colorways, innovative applications and exclusive technology at the first-ever virtual 2021 Kitchen & Bath Industry Show (KBIS) from February 9-12, 2021.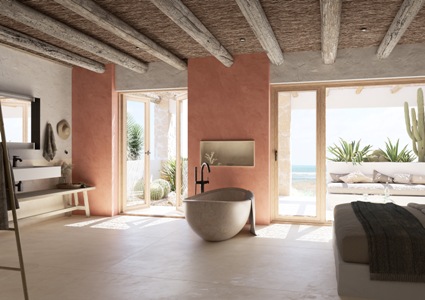 "At Cosentino, our goal is and always has been to embrace periods of adversity as opportunities for innovation and creativity," says Eduardo Cosentino, EVP of Global Sales and CEO of Cosentino North America. "We adapted to quickly changing circumstances, and channeled them into new advancements that will transform how people think of the Cosentino brand, and propel our industry-leading sustainability to even greater heights. We're proud to say that today, our production processes run on 99 percent recycled water and 100 percent renewable energy, as well as reused raw materials."
2021 COLOR INTRODUCTIONS
Dekton® Craftizen Collection -Launching May 2021
Now more than ever, design plays a pivotal role in channeling the serenity people crave in the spaces where they live, work, learn and play. Enter the Dekton Craftizen Collection — inspired by Venetian stucco and rooted in minimalism and versatility. This first large-format stucco material of its kind boasts industry-leading durability in five diverse hues with a rich, deep texture.

From Left to Right:
Nacre features a natural tan hue with a silky finish inspired by the movement of lights and shadows.
Micron features an elegant and understated dark gray that conveys a comforting serenity.
Albarium, a powdery white hue resembling marble dust, features a fine and elegant texture.
Umber features a timeless red hue bringing personality into any space.
Argentium takes color hues from the moon with its silvery tones and resembles traditional lime stucco.
Silestone® Sunlit Days Collection – Launching April 2021
This immersive and sensory journey through light and color is inspired by the bright, exotic hues of the Mediterranean — designed to appeal to a young and international aesthetic:

From Left to Right:
Cala Blue emerges from the sea as a dark blue that boasts a strong yet serene personality.
Cincel Grey is a passionate, deep gray with a subtle brightness– offering a comforting texture and familiar ambiance.
Faro White, inspired by wind and the ocean's salt, features a delicate, textured cream color.
Posidonia Green features a subdued, unique green hue influenced by the hidden and unexplored sea floor.
Uva Red is a bold, bright red hue inspired by the nuances and flavor of Mediterranean wine.

Following its celebrated launch in 2020, the The Silestone® Loft Series now makes its KBIS debut. Rooted in the industrial, the five colorways capture the essence of neighborhoods celebrated for their raw, purely urban beauty. From Left to Right: Camden, Poblenou, Seaport, Nolita, and Corktown. View full release here.
SENSA® Protected Natural Stone Collection
Six hues join the SENSA Premium collection, which offers protected granite and quartzite surfaces, providing a wider choice of striking designs.
Argenti Grey boasts white horizontal veining across a striking dark surface.
Blue Jeans evokes the deepest of nature featuring tints of grey, tan and cream hues.
Nilo captures a dark grey background over a striking faded grey veins.
Siberia features a white background speckled with small black pints, evocative of white Siberian snow.
Vancouver is a beautiful quartzite from Brazil with detailed pink and gray veining.
Via Lattea (below) features a black background accompanied by small and soft white veins.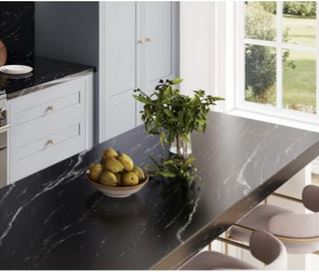 NEW APPLICATIONS
"In 2020 we looked beyond the surface — literally and figuratively — to evolve from our traditional offering to comprehensive design solutions for architects, designers, builders and remodelers," says Massimo Ballucchi, Executive Marketing Director – Americas, Cosentino. "New pre-cut slabs, washbasins and shower trays not only offer a stunning, cohesive aesthetic, but make the design and installation process easier than ever before."

(Applications from left to right: Dekton® Optimma Shower Slab Collection, Dekton® Gocce Shower Tray Collection, and Silestone® Evita Washbasin Collection)
Dekton® Optimma Shower and Bath Cladding Collection
For faster and easier installation of shower and alcove bath wall cladding, Cosentino introduces Dekton Optimma. Crafted from ultra-thin and lightweight 4mm Dekton Slim, the pre-cut and easy-to-maneuver slabs eliminate the need for fabrication and reduce material waste. Available in various colors, including Dekton Rem, Dekton Aeris and Dekton Kelya.
Dekton® Gocce Shower Tray Collection
An exciting addition to the Cosentino portfolio: The Dekton Gocce Shower Tray Collection. Manufactured from Dekton Grip+ for safety and slip-resistance underfoot, its 19 different hues allow complete coordination with wall cladding, floors and countertops for a cohesive look.
Silestone® Evita Washbasin Collection
The Silestone® Evita Washbasin Collection provides visual unity and seamless integration with the surrounding countertop, eliminating joints for easy cleaning and offering the perfect solution to the most demanding projects. Available in three sizes, the collection is offered in White Zeus, Statuario and Desert Silver and a range of custom countertop sizes.
NEW TECHNOLOGY INTRODUCTIONS
Silestone® HybriQ+
Among the notable new features of the Silestone Loft Series and Silestone Sunlit Days Collection: the debut of the innovative and exclusive HybriQ+ technology — a new production process and major leap in the evolution of the Silestone brand that combines reused raw materials, along with 99 percent recycled water and 100 percent renewable energy. HybriQ+ technology also allows for the significant reduction of crystalline silica in the Silestone® surfaces. Instead, a hybrid formula made up of mineral and reused raw materials, such as recycled glass, is used. This new composition provides the material with a modern aesthetic and design features, while maintaining the beauty and quality of Silestone, as well as its 25-year warranty. Additionally, this new generation of Silestone is designed with sustainability and respect for the environment in mind — a tremendous milestone made possible by more than three years of intense work by Cosentino Group's Innovation and Product and Environment teams. View additional information here.