WASHINGTON, Feb. 17— Construction input prices increased 2.5% in January 2021 compared to the previous month, according to an Associated Builders and Contractors analysis of U.S. Bureau of Labor Statistics' Producer Price Index data released today. Nonresidential construction input prices rose 2.1% for the month.

Construction input prices rose 4.8% from a year ago. Nonresidential construction input prices experienced a 4.2% increase over that span. Softwood lumber prices are up 73% on a year-over-year basis and iron and steel prices are up 15.6%. Natural gas prices have climbed 30% over the past year, while crude petroleum prices have declined 10.5%.

"Contractors beware: the inflation story is real," said ABC Chief Economist Anirban Basu. "They say the cure for low prices is low prices. Early in the COVID-19 pandemic, several key commodity prices declined substantially, causing a diminished incentive for suppliers to invest in capacity augmentation. The result is that as demand increases, scarcity builds, and those low prices disappear. Eventually, suppliers respond by investing more aggressively in capacity given the pursuit of higher sales amid higher prices, which eventually results in the pendulum swinging back toward lower prices.

"But this time is a bit different," said Basu. "Because coronavirus vaccine distribution is accelerating, the expectation is that worldwide demand for steel, aluminum, oil and other productive inputs will surge later this year. The result could be substantial upward pressure on construction input prices. Some of these dynamics became apparent during the second half of last year but will likely become even more obvious as the global economy recovers in earnest. ABC's Construction Confidence Index supports this proposition; more than 55% of contractors expect their sales to increase over the next six months.

"Contractors must be mindful of potential rapid input price inflation as they enter into new contractual obligations," said Basu. "Given the softness in demand in a number of key nonresidential construction segments, the temptation may be to bear the risk of future price increases in exchange for increasing the likelihood of securing new work. That strategy may work out, but estimators, attorneys, executives and others should be aware that the accompanying risks of such approaches are elevated."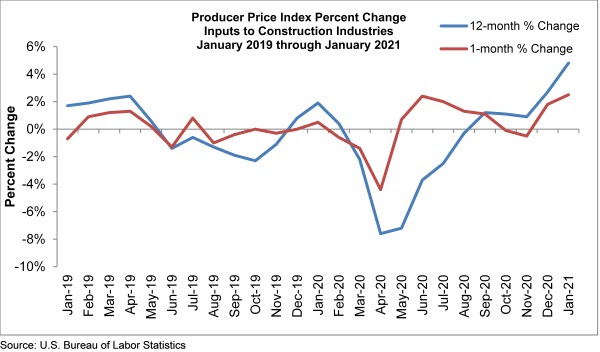 Visit abc.org/economics for the Construction Backlog Indicator and Construction Confidence Index, plus analysis of spending, employment, GDP and the Producer Price Index.
Associated Builders and Contractors is a national construction industry trade association established in 1950 that represents more than 21,000 members. Founded on the merit shop philosophy, ABC and its 69 chapters help members develop people, win work and deliver that work safely, ethically and profitably for the betterment of the communities in which ABC and its members work. Visit us at abc.org.