Cotto d'Este USA's  three new collections exquisitely represent the company's passion for beauty, art, and culture.
Pietra d'Iseo —- Pietra d'Iseo is inspired by the typical Lombard stone, the Ceppo di Grè, used to build the palaces, villas, and monuments that grace the historical spaces of the city of Milan. The surface of this stone, with its irregular and dappled design in tone on tone grey, adds unique character and refinement to any environment. The variety of sizes can be used to adorn a broad range of surfaces, counters, walls, and floors.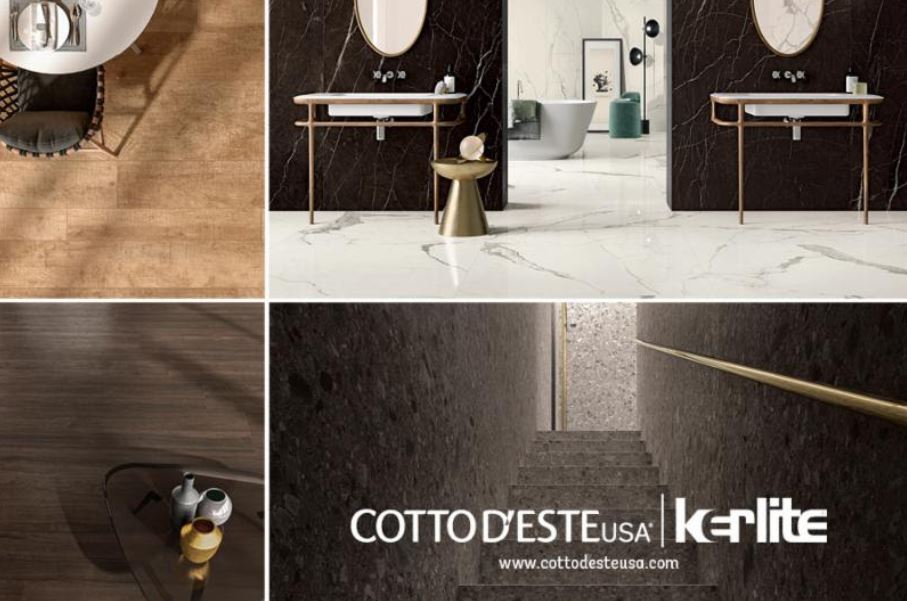 Vanity —- Kerlite Vanity captures the beauty of the most elegant, minimalist forms of marble in a collection of lightweight, yet durable, oversized 6.5mm porcelain slabs. The flawless patterning, exquisite veining, and soft shading take inspiration from the stones used in the most inspiring examples of classical antiquity. Like an Italian Renaissance master, Cotto d'Este has searched for the finest marbles and surfaces, making the large thin slabs into timeless artistic expressions.
Woodland—- Kerlite Woodland captures the atmosphere of discovery experienced on a fascinating journey to unspoiled landscapes and faraway places. It explores the nature of wood and the living beauty of the material in the grain, surface, and colors of exclusive varieties of oak and teak to create a range in two superb finishes. The effects of the visuals on the SOFT finish are quiet and refined, while the visuals on the WILD finish are more dramatic and intense. Elegance and naturalness find their balance in the superb aesthetic qualities which are intensified by the generous sizes.