March 13, 2023 – ARLINGTON, Va. – Coverings (coverings.com), the largest international tile and stone exhibition and conference in North America, has released a sneak peek of new tile and stone products that will be showcased at Coverings 2023, taking place April 18-21, 2023, at the Orange County Convention Center, in Orlando, Florida.

Coverings' three primary pavilions and sponsors of the show, Ceramics of Italy, Tile Council of North America (TCNA) and Tile of Spain, will feature a robust showcase of the newest and most innovative tile and stone Showgoers of any tile and stone market segment
will be able to source products from these and many other pavilions and displays throughout the duration of this year's show.

Attendees at Coverings 2023 will have opportunities to see, touch and experience a wide range of new and trend-setting product introductions while engaging with more than 1,000 global exhibits representing 40 countries.

"After more than 30 years, Coverings continues to be the preeminent event for the global
ceramic tile and natural stone industry as well as the pinnacle for product innovations and
trends," said Jennifer Hoff, president of Taffy Event Strategies, the show management company for Coverings. "As the number one marketplace for tile, stone, tools, equipment, and machinery, thousands of tile and stone industry decision-makers will be able to connect with and source products from more than 1,000 international exhibitors so they can stay on the cutting edge of the industry."

The following is a small preview of the newest tile and stone products Coverings 2023
exhibitors will be featuring:

Astrum Porcelain Tiles, by Ceramiche Supergres, is a porcelain stoneware tile collection
inspired by one of the most widely used materials in architecture: travertine. Astrum offers a reinterpretation of durable, compact natural stone with a modern taste that is sensitive to the needs of contemporary design. Coverings exhibit booth #2125.

Glass Mosaic has been added to VIDREPUR's Nature Collection. This new product is made
from recycled glass mosaic and is suitable for wet, indoor-outdoor areas, providing innovative solutions for pool, bath, spa, and kitchen design projects. Coverings exhibit booth #5130.
Habana, a new collection from CEVICA S.L., is produced in 8" x 8" porcelain tiles that are
suitable for walls and floors with anti-slip properties. Habana comes in a variety of colors and geometric patterns that manage to transform any space with a very personal touch. Coverings exhibit booth #5525.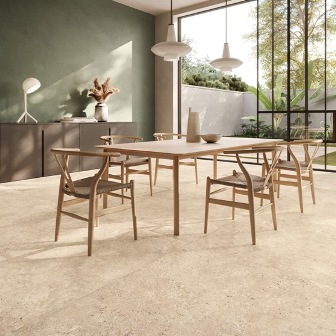 Kenzo Dec 08, by BESTILE, offers elegance and versatility with eight different wall decors in combination with white and black matte finishes and a variety of sizes in chevron and hexagonal shapes. Coverings exhibit booth #5408.

Matisse Moonstone is a new addition to Anthology Tile's Artistic Impressions collection. This collection was inspired by old-world traditional hand painting yet created by an inkjet process.These beautiful tiles are made in soft hues with perfectly on-trend colors and a unique satin finish. Coverings exhibit booth #3200.

Millennium™ Porcelain, by Wonder Porcelain, combines the appearance of Byzantine
mosaics with the trendy look of Terrazzo. The series features a chic style with a lappato finish and is offered in white and dark grey colors with cool grey tones throughout each. Coverings exhibit booth #2612.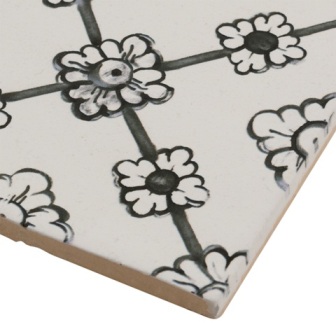 Pastelli, a new collection from Appiani, features small format stoneware tiles designed for
unique, intricate mosaic designs for outdoor walls and floors. The stone-effect tiles are available in select colors and small mosaic sizes to present endless design possibilities for both indoor and outdoor settings. Coverings exhibit booth #1037.

Pigmenti, introduced by Lea Ceramiche, is a collection rich in formats and decorative
inspiration. Pigmenti provides 12 contemporary nuances at the service of a high-tech soul. Its ultra-thin slabs present a ceramic skin that can even be curved, making it capable of covering not only internal and external walls but also furnishings and architectural volumes. Coverings exhibit booth #1225.

Pluriball, part of the Diesel Living collection from Iris US, is inspired by bubble wrap, bringing a striking, eclectic dimension to tiling with an irresistible appeal. The sophisticated, contemporary spirit of Pluriball is embodied to perfection in a variety of shades and a texture that channels a bold, vibrant style. Coverings exhibit booth #2619.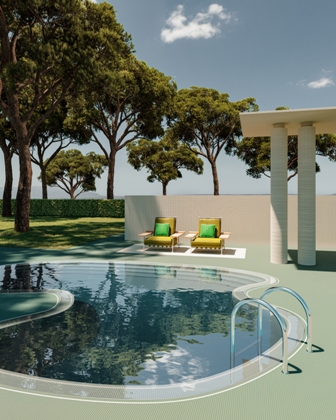 Rebels, a new collection by WOW Design (WOW USA Inc.) offers a freshness that adds value and identity to any design space. The collection delivers diversity, with various cool-note colors and contrasts in gloss and matte finishes. Coverings exhibit booth #4855.

Revival, the latest collection from EMILGROUP's Provenza brand, honors the essence of
natural material while expressing the beauty of authenticity and uniqueness. Revival is
Provenza brand's reinvention of oak wood with a contemporary form. Coverings exhibit booth 2021.
Rok Candy, by AlysEdwards Tile & Stone, is an organic collection of artistically designed terra cotta wall tile that nurtures and supports any design. It is hand pressed into molds forming hills and valleys; the clay is fired, hand glazed and fired again creating a sugar crystal effect. Coverings exhibit booth #4223.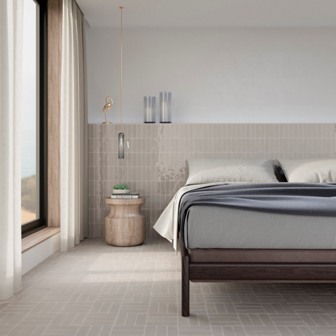 Roma is the latest collection from Tagina S.P.A., made from some of the richest and most
precious materials of the Romans. This series beautifully showcases a multiplicity of genres and styles that merge into unique and original designs while creatively alluding to the distinctive features of the historic and luxurious materials which inspired it. Coverings exhibit booth #1201.

Small, a new collection from La Fabbrica, translates the look of watercolor hues and brush
strokes to ceramic surfaces. The white-body wall tiles have a shiny glaze with chromatic
variations inspired by the majolica tradition, giving the collection a hand-crafted aesthetic.
Coverings exhibit booth #1840.

SOLID+, by UNDEFASA, includes a range of technical, mass-colored porcelain tiles plus flakes, with high-performance features. The collection's advanced physical, mechanical and chemical properties are achieved through a shaping technology developed to provide a higher density and increased longevity to the tile's body. Coverings exhibit booth #4623.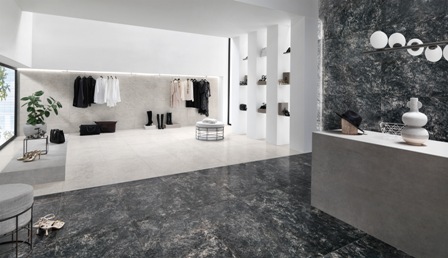 Songbird, from Florida Tile Inc., exhibits the look of handcrafted tiles inspired by a joyful,
soaring journey through nature. Subtle undulations in the surface are reminiscent of rippling water, drawing your eye and creating a sense of calm. Coverings exhibit booth #3620.

Tycoon – Wave Mosaic, by MILE®stone, combines sophisticated surfaces with precious
mosaics, creating eye-catching appeal due to its luxuriously rich details. This natural stone-
based collection raises the value of interior design to new levels of style and opulence.
Coverings exhibit booth #3212.

Vulcano, the new collection by AZTECA PRODUCTS & SERVICES, S.L.U., is a composition
inspired by the movements of incandescent lava. It is powerfully expressive and is produced by hand to achieve the desired effects. The most intriguing part of the Vulcano Collection is the"gloss-matte" and "double gloss" contrast techniques. Coverings exhibit booth #4818.