March 13, 2023 – ARLINGTON, Va. – In addition to the amazing assortment of tile and stone products that will greet attendees at Coverings (coverings.com), taking place April 18-21, 2023 at the Orange County Convention Center in Orlando, Fla., visitors will be greeted with a wealth of of installation materials, tools and technology
products, presented by Coverings' sponsors of the show: Ceramics of Italy, Tile Council of
North America (TCNA) and Tile of Spain.
A preview sampling of new installation materials, tools and technology products slated
for Coverings 2023 includes the following:

GRABO® OTTOVAC – The Electric 8″ Suction Cup, from Russo Trading Co., is a new
portable electric vacuum 8″ cup that engages to the surface with the simple push of a button.Coverings exhibit booth #3322.
MEGA Plus Manual Tile Cutter, by Cortag Tools USA, delivers the best and most enhanced features for the ultimate tile cutter with a cutting capacity of up to 71″. Coverings exhibit booth 2640.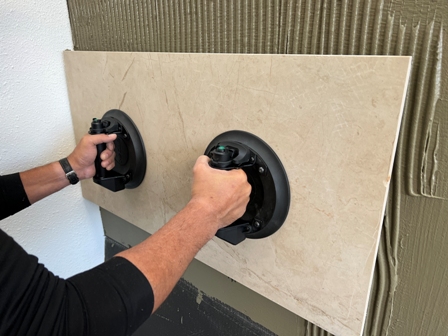 PERMACOLOR® Select & PERMACOLOR® Grout, the new-and-improved formulas by
LATICRETE, deliver increased strength and enhanced stain resistance while being easy to
spread and clean, making installations faster and less labor-intensive. Coverings exhibit booth 3334.
Porcelain Driveway Systems, from Cercan Tile Inc., offers a proven system for installing (dry laying) 2cm (¾") porcelain tiles on driveways. Coverings exhibit booth #3016.

PROVA BOARD® PLUS, from PROVA Tile Installation Products by M-D PRO, is now available in 1/8″ thickness among other densities. This lightweight, high-density, quick- and easy-to-install tile backer board is the perfect build-up for listellos and mosaics. It can also be used as an adapter or spacer. Coverings exhibit booth #2903.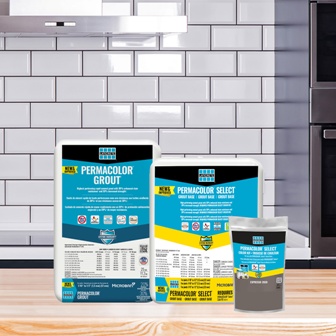 Schluter®-KERDI-DRAIN-F is a new drain offering from Schluter-Systems that has been
specifically designed for floors without a slope. The KERDI-DRAIN-F features a flat, narrow
bonding flange with an integrated KERDI collar. Coverings exhibit booth #2925.

USG Durock™ Brand Waterproof Foam Board is USG Corp.'s new lightweight, waterproof and easy-to-cut tile backer, composed of a waterproof extruded polystyrene foam core that's covered with a fiberglass mesh and a cementitious coated finish for maximum adhesion of any tile, stone or mosaic finish. Coverings exhibit booth #3031.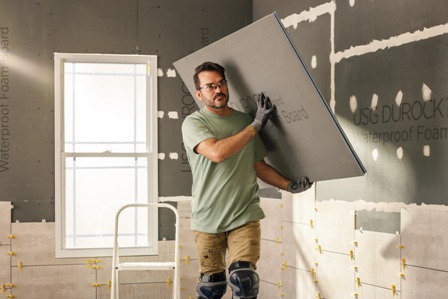 These and thousands of other products can be seen in-person next month at Coverings 2023, April 18-21, at the Orange County Convention Center, in Orlando, Florida.
To view all Coverings 2023 exhibitors prior to the show, visit the detailed online exhibitor list and show floor map. For more information and to register for Coverings 2023 at no cost, visit coverings.com.