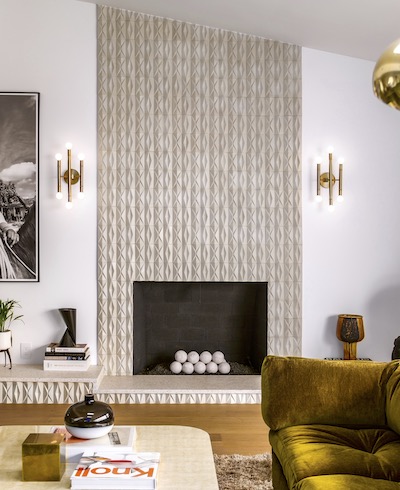 For LA-based real estate revivalist Rebecca Raskind, there's more to remodeling houses than merely driving up the sales price. It's about breathing new life, vibrancy, and character into homes that have otherwise been neglected. Revitalizing these homes isn't just Raskind's specialty, it's also her passion. And for each project, she seeks out collaborators who share that passion as well as her love for custom, curated, and one-of-a-kind design features – including, of course, tile.
"Over the nearly 10 years I've been reviving custom homes, I've done a lot of collaborating," explains Raskind, who owns and runs her own design, development, and consulting firm called Renouveau Hom. "I work with people who can see my vision, and who can figure out a way to realize this vision no matter what the challenge is. In my collaborations, we create and solve as we go."
Which is exactly the approach she took when reviving a mid-century home in a gated Los Feliz community. In undertaking a complete remodel of the floor plan for this 2,700 sq. ft., three-bedroom/three-bathroom house, Raskind knew she wanted something extra special for the home's bathroom and expansive fireplace. She immediately thought of ARTO tile.
"I had used ARTO's products for other projects, so I knew the organic, textured quality of their tile would be perfect for these two installations," she recalled. "ARTO tiles are hand-crafted and each one is unique, so they have the highly custom feel I'm looking for. Plus, their designs are just really cool."
"When Rebecca reached out to ARTO for product to use in the Los Feliz House, we got excited," says Armen Alajian, who – along with his brother Vod – co-owns and operates ARTO, the company their father started 57 years ago. "Rebecca does amazing work, so creative and inventive, and we appreciate being part of her process."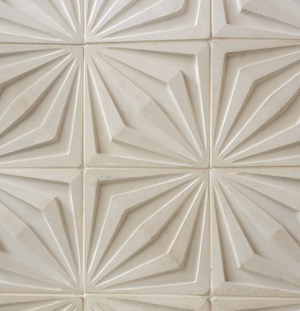 Compass Star: the star of the shower
For the Los Feliz House's primary bathroom, Raskind selected ARTO's Compass Star tile in off-white Early Gray color for the shower and wall bordering a drop-down tub with an atrium. A concrete 3D wall cladding, Compass Star features a distinctive raised star pattern that creates a striking surface when used in a large application.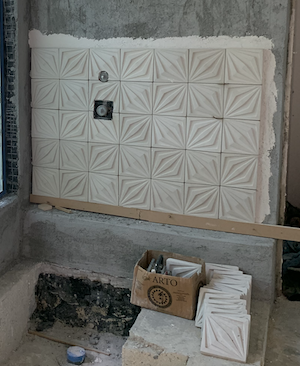 "We had used Compass Star before for a fireplace, but never for a shower," explained Raskind. "So it was an unusual choice that really turned into a 'wow' moment, maybe even one of my favorite moments of any house I've worked on."
"We love it when designers like Rebecca find new and unexpected ways to incorporate ARTO products," added Alajian. "Especially when they turn out as fantastic as the Los Feliz House shower did."
The unusual choice of tile for this application did present some challenges for the contractor and installer, Santos Espinal – owner of Iconx Design/Build.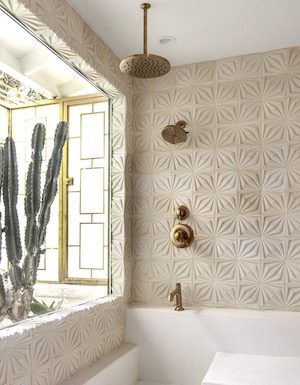 "While installing Compass Star, we realized that the thickness wasn't enough to allow us to place the shower fixtures flush with the tile," Espinal explained. "We were left with a bit of the trim sticking out, which would let water leak into the tile."
Raskind has worked with Espinal on a number of home revivals, so she had every confidence that he'd come up with a solution. And he did not disappoint.
"We marked the tiles, then ground them to make the trim flush to avoid any water infiltration," Espinal said. "That's the beauty of using ARTO's concrete products. It enabled us to grind it down but still have it look beautiful. You wouldn't be able to do that with a prefabricated mass-produced tile."
Another challenging aspect of the installation was getting the pattern in all the Compass Star tiles to line up perfectly, especially in the atrium. With upwards of 75 sq. ft. of tile for the bathroom alone, that was no easy feat. But Espinal managed to accomplish this as well.
Fireplace with matching bench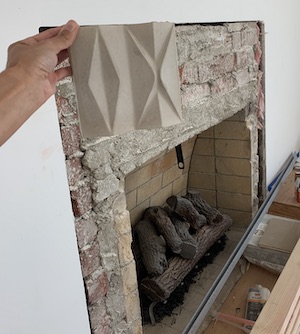 For the fireplace in the main living space, Raskind and Espinal went with ARTO's Compton tile in Bone, a similar off-white color as the Compass Star tile.
"The house originally had this massive, full-wall stone fireplace that was dark and just dominated the room," recalled Raskind. "We wanted to make it lighter and brighter, so we took down the old fireplace and framed a new one. It was still ceiling-to-floor, but had a much smaller footprint. This allowed us to open up the space to a full indoor/outdoor plan."
Another concrete 3D wall cladding, the Compton tile features juxtaposed patterns resembling an "x" and its inversion. Installed in a vertical orientation along the fireplace's back wall, the tile creates a stunning, multi-dimensional, and tactile statement.
In remodeling the fireplace, Raskind and Espinal originally planned to use terrazzo tile for the face riser of a floating-bench feature, but didn't have enough of the terrazzo on hand.
"This was another creative challenge we encountered on the project, and like usual, we solved it on the go," explained Espinal. "We had ordered 55 sq.ft. of the tile for the fireplace and had some left over. So we decided to use the Compton tile from the back wall all the way through the front-facing riser for the entire bench, creating a link back to the wall. It ended up looking better than our original idea."
When collaboration comes easy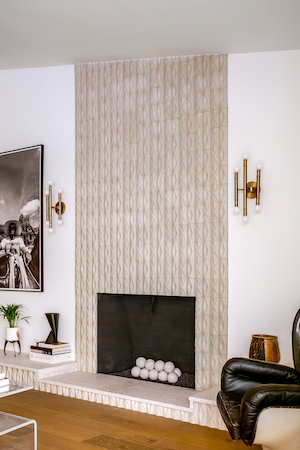 Throughout the process, Raskind found ARTO easy to work with – as usual. "They delivered the product to spec, color, and quantity, sticking to our timeline," she said. "I give them a 10 out of 10."
For Alajian's part, he always enjoys collaborating with Raskind on her unique projects. "The results speak for themselves," he said. "She has such a keen eye and a creative vision. She sees what no one else does, and then turns it into a reality. She certainly makes our tiles look amazing!"
Both the shower and fireplace installations became viral hits on social media. "We still get a ton of reactions on those photos to this day," Raskind says. The home was sold quickly, and everyone who toured the house – including the eventual buyers – commented on the tile selection and installation.
"That kind of attention to detail, from the hand-crafting of the tile to its application and placement really do make an impact," said Raskind. "ARTO adds something special to any space."
To view more photos of ARTO installations in the Los Feliz House, visit https://bit.ly/3yL7JZO. See more of Raskind's projects and work on Instagram at @renouveau_hom. And learn more about ARTO at https://www.arto.com.