During The International Surfaces Event (TISE), held in Las Vegas at the end of January, NTCA held its Ambassador reception to honor and thank its many volunteers that support the efforts of the National Tile Contractors Association (NTCA) and its mission to bring standards-based training to contractors and installers across the country.
NTCA Ambassadors help NTCA trainers with establishing workshops and regional trainings in their region, attend these educational events, and assist with the trainings. They also help educate local contractors and communities in standards-based installation, and spread the word about the education and certification available through NTCA and the Ceramic Tile Education Foundation (CTEF).
At TISE, two "Ambassadors of the Year" were recognized for outstanding service to NTCA. John Mourelatos of Mourelatos Tile Pro in Tucson, Ariz., was on hand to receive the Contractor Ambassador of the Year. Terry Hall of ARDEX was named Affiliate Ambassador of the Year. However, due to airline delays, Hall was not able to receive his award at TISE.
But at a recent NTCA Workshop at Modesto, Calif., NTCA Trainer Randy Fleming arranged for Hall to receive his award in person. Keith Barnett, one of NTCA's newest Trainers was leading the workshop and made the presentation to Hall.
"This really means a lot to me because Terry is one of my really great friends in the industry," Barnett said.
Hall commented, "I couldn't be [at TISE] with all my peers and everyone in the industry, and accept it there. Randy was nice enough to gather it up for me, since he is a local guy, and lives just down the road here."
Hall spoke a little about his journey in the industry and the benefits of what NTCA and industry programs have to offer. He praised Barnett for getting his Certified Tile Installer (CTI) credential through the CTEF.
"That's just another thing he can put in his pocket to sell himself to the customer," Hall said. "That's what NTCA, CTI, ACT — all the acronyms – that's advanced education for you guys to improve what you do."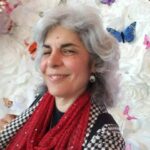 Editorial Director and Senior Writer for TileLetter and TileLetter ARTISAN
Lesley Goddin has been writing and journaling since her first diary at age 11. Her journey has taken her through a career in publishing and publicity, landing her the editor position of TileLetter and its special publications in 2006. Her goal is to educate, inspire, recognize and encourage those in the tile industry -- especially the tile and stone contractor. Other interests include the soft, purring marvels known as cats, labyrinth walking, drumming and percussion, and a range of spiritual, musical and artistic pursuits.