Coverings will offer an opportunity to tap into the power of mindfulness to evoke inner peace at work or in your personal life. 
When we began this Workplace Wellness feature in TileLetter, the intent was to support wholeness in all aspects of business life. And as anyone who is human knows, sometimes it's hard to separate what happens at work from personal life, while our personal lives can also impact our focus and efficiency at work. So we've homed in on topics that touch on physical challenges that humans at work face including back and knee issues, to mental health and challenges with – and triumphs over – addiction. When we are grounded and balanced, everything runs smoother – at home, at play and at work.
The team at Coverings has recognized the value of cultivating work-life balance and accessing mindfulness to enhance all facets of life. Let's face it, if 2014 Superbowl champs Seattle Seahawks can utilize meditation as part of their training to calm their minds and reach their highest potential, maybe there is something to it after all?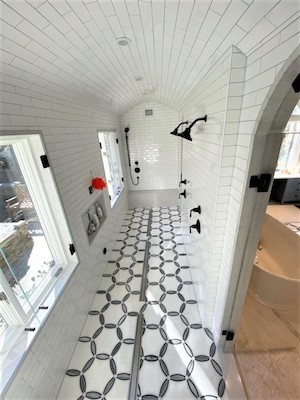 To that end, Gianna Vallefuoco, Co-Owner of Vallefuoco Contractors LLC in Rockville, Md., – who shared her wisdom on mindfulness in the very first Workplace Wellness story – has developed a series of six 30-45 minute sessions in the Coverings Wellness Lounge to focus on mindfulness.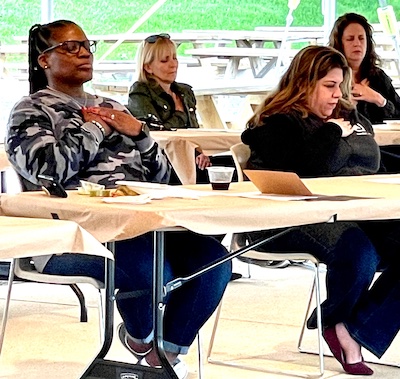 Vallefuoco is uniquely equipped to address this topic. Starting with her training in Florence as a figurative oil painting artist, she went on to obtain an undergrad degree in psychology that benefits her clients as she guides them to create intentional spaces in their homes. In 2014, she incorporated her mindfulness practice into her work and started teaching it in the construction industry and local community, broadening her reach to a diverse client base and holding mindfulness and creativity workshops and retreats, where she gently weaves art, neuroscience, and psychology principles into her programs. She's taken her passion a step further and is currently completing her two-year practicum as an MMTCP trained mindfulness teacher through the Awareness Training Institute and Greater Good Science Center at UC Berkeley, with Tara Brach and Jack Kornfield. She is also a certified 200 RYT Yoga Teacher. She carries years of experience in compassionate leadership in the construction industry, and through mindfulness-based coursework with SIYLI, Beyond Om, and Thrive Yoga. And she is ready to bring this wisdom to the Wellness Lounge and attendees at Coverings.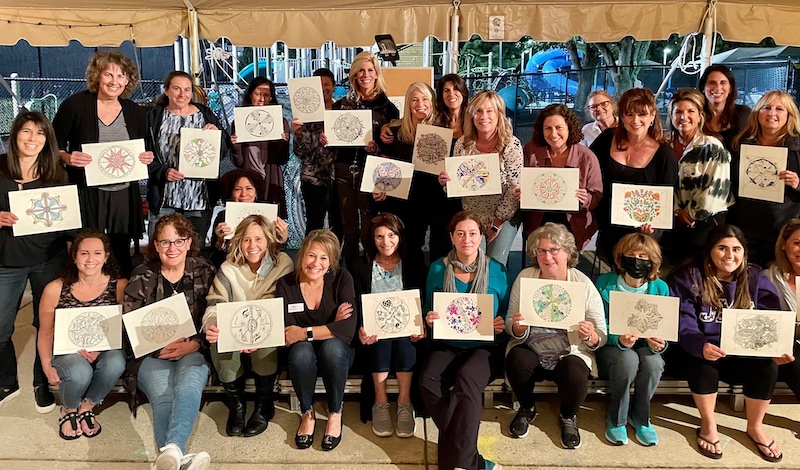 NTCA Executive Director Bart Bettiga observed, "Working in the construction industry entails dealing with disruptions, delays, discrepancies in communication and so much more. Stress is a part of everyday life in the field and in the office in our industry. What makes this even more challenging is the perception that one has to tough it out and never admit to feeling stressed or being impacted by it. Fortunately, many people in our industry are now changing this mindset. Gianna Vallefuoco is one of these people, and NTCA was proud to introduce her to Coverings Management in order to offer some real world strategies in dealing with stress in our industry."
Welcome to the Wellness Lounge
What is the Coverings Wellness Lounge? Alena Capra, Owner of Alena Capra Designs, certified master kitchen and bath designer, and Coverings Spokesperson explained: "As always, The Coverings Lounge at Coverings 2023 will be a hub of excitement, fun, networking, and a place where the four key Coverings tenets of Health & Wellness, Sustainability, Outdoor Spaces, and Timeless Luxury can truly shine. We're excited to work with Gianna to bring the Health & Wellness tenet to life through a series of mini mindfulness classes that can help tile and stone professionals thrive in today's busy and often chaotic world. Gianna's background as a tile contractor will help her connect with the individuals that attend her trainings, as she can provide practical and real-world advice and solutions."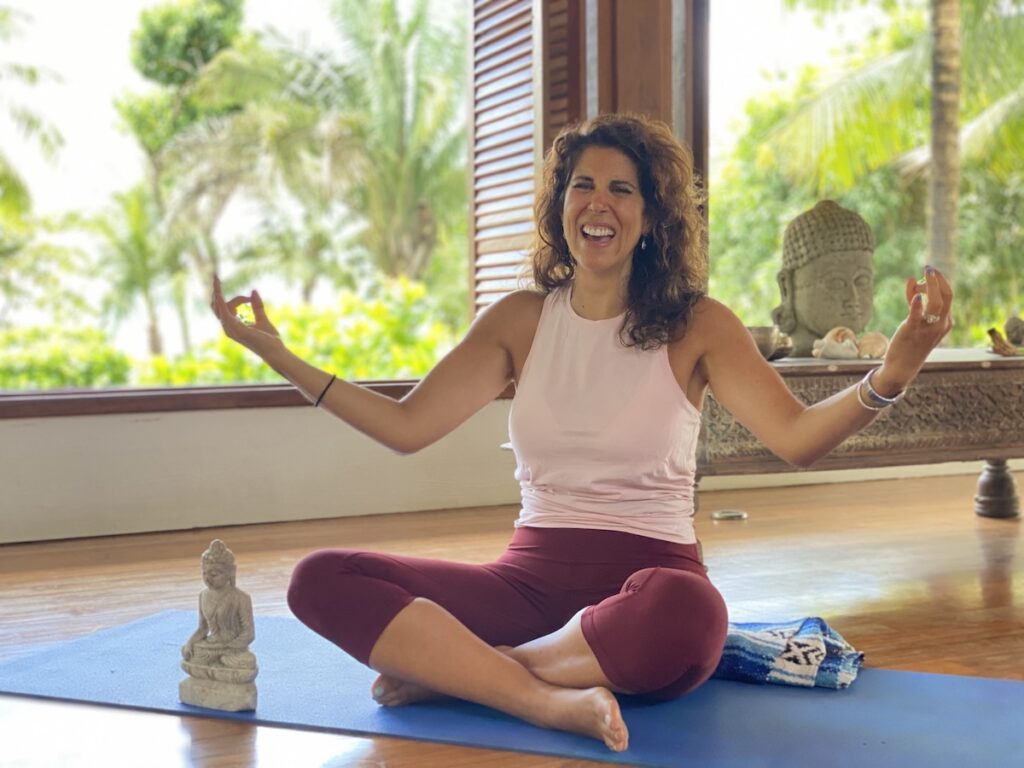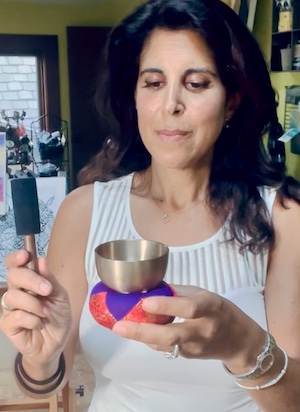 Vallefuoco shared her vision for the classes: "Using principles from psychology, neuroscience, and mindfulness, we will offer a basic skillset for navigating life's daily and deep challenges, whether at work in the tile industry or in all aspects of your life and relationships. You'll learn the basics of breathwork, meditation, and mindful perspective as an approach to common human challenges like stress, fear, shame, and unworthiness. These mini classes share how to approach human struggles with acceptance and empowerment, and move toward resilience. Learn how mindfulness can help us love more deeply, work more skillfully, and thrive instead of merely surviving."
At this writing in early November, these are the modules under consideration:
Intro to Mindfulness: Brain fitness to thrive instead of merely survive 
The Power of Breath: Basic breathwork to reset the mind & body
Intuitive Eating & Body Compassion: The power of self compassion and intuition in nourishing our bodies, minds, and spirits (may involve chocolate!)
Failure as Fuel: Using growth mindset to harness our inner grit
Pain, Grief, & Acceptance: Navigating difficult and painful experiences to minimize suffering 
Meditation for non-meditators: Mindfulness of thoughts and emotions. 
"I know that tile, stone, and design industry professionals are always trying to do more with less," Capra said. "Less time, less money, less help, and less bandwidth. Gianna's mindfulness trainings at Coverings 2023 will help attendees better navigate the challenges life and work throws at us through simple breathwork, meditation, intuitive eating, and more. I can't wait to join a class or two at Coverings!"
As Coverings draws near, visit coverings.com to check the Wellness Lounge schedule, and be sure to add these classes to your agenda to enrich all aspects of your being.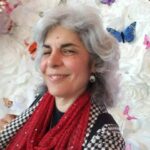 Editorial Director and Senior Writer for TileLetter and TileLetter ARTISAN
Lesley Goddin has been writing and journaling since her first diary at age 11. Her journey has taken her through a career in publishing and publicity, landing her the editor position of TileLetter and its special publications in 2006. Her goal is to educate, inspire, recognize and encourage those in the tile industry -- especially the tile and stone contractor. Other interests include the soft, purring marvels known as cats, labyrinth walking, drumming and percussion, and a range of spiritual, musical and artistic pursuits.