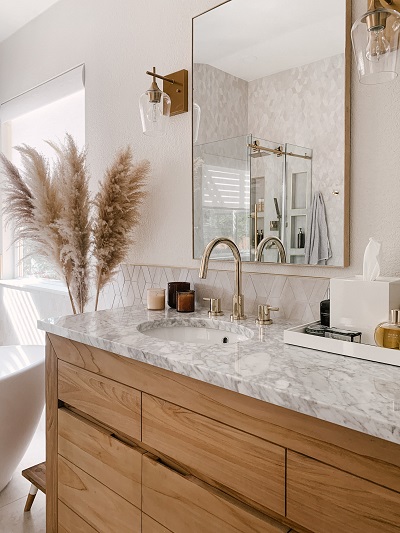 Despite the uncertain economic climate, home remodel projects remain on the forefront of consumer minds. According to a home renovation survey conducted by Houzz in October 2022, "the vast majority of U.S. homeowners are moving forward with their home improvement projects even in the face of industry and economic headwinds." And what rooms are they renovating? Homeowners' top projects kicking off 2023 are in the bathroom and kitchen.
Easily the most utilized spaces of a home, the bathroom and kitchen take the greatest brunt of the inevitable wear and tear that comes with everyday foot traffic, splashes and spills. In these moisture-prone areas, a water-resistant, durable surface material that offers lasting style is a must. Due to its inherent resistance to the damaging effects of moisture absorption, designers, builders and consumers keep coming back to porcelain time and time again. Whether installing new floors, a backsplash or a statement wall, porcelain tiles the ideal choice for creative a waterproof space.
Water resistant porcelain tile seals the deal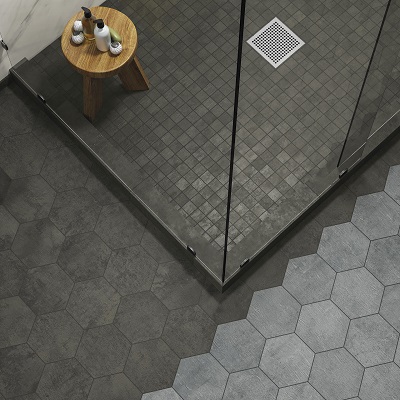 Porcelain tiles are pressed and fired at higher temperatures than other clay-based materials, meaning they're exceptionally dense and much less porous, making them a perfect flooring material for wet areas. Unlike natural stone, which is more prone to water infiltration in the joints, porcelain tiles are impervious to water. According to the Tile Council of North America, porcelain tile has a water absorption rate of less than 0.5 percent as measured by the ASTM C373 test method. Consequently, tiles are less subject to the damaging effects caused by moisture – whether from muddy shoes, laundry overflows, kitchen spills, or more. Further, porcelain cannot be damaged by humidity, nor will the tiles detach if immersed in any type of liquid. When installed correctly, porcelain tile surfaces are normally grouted with a rigid, inflexible filler, which helps prevent moisture from leaking underneath the tile matrix and causing damage. For wet areas like showers, however, waterproof membranes underneath the tile assure a safe and water-resistant installation for years to come.
Whether it's teens traipsing in from the snow, an energetic toddler in the bathtub, or everyday splashes and spills, consumers want flooring and walls that are resistant to expensive, water-related damage. They can rest assured knowing that the moisture-mitigating properties of porcelain tile will protect their kitchen and bathroom spaces from those inescapable water accidents. This combined with the design versatility and long-lasting style of porcelain tile, makes it a dream for both installer and consumer.
Creating durable spaces that mitigate moisture
When it comes to the resilience of porcelain tile, one of its chief qualities is its durability. As a clay-based, kiln-fired, dense material, porcelain is less subject to scratching, staining, chipping, and the damaging effects caused by water infiltration.
Further, moving beyond just interior spaces, porcelain tile is a UV-resistant material, which allows the tiles to weather the effects from rain, sun, or air pollutants, keeping them looking new over time. The strength of the glazes and colors used in porcelain tiles means they do not fade or change color; their color is permanently stabilized. Designers and contractors can use these properties to their advantage for outdoor patios, pool decks, or outdoor kitchens. There are few materials that combine this level of durability and water-resistance with visual appeal and lasting style.
Whether the focus of the project is inside or outside, designers can choose porcelain tile and encourage consumers not to worry about having to replace or refinish their backsplash or flooring in a few years' time.
Low maintenance is the name of the waterproofing game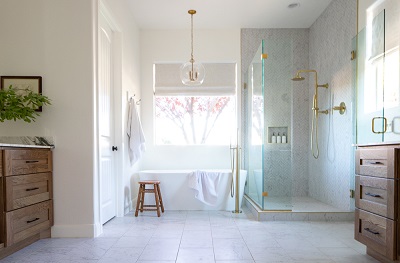 Regardless of application, the moisture-mitigating properties of porcelain tile provide an extremely low maintenance option, appealing to homeowners and designers alike. With a zero-toxicity makeup, porcelain tiles contain no toxic organic substances such as volatile organic compounds (VOCs), plastics, or formaldehyde. This combined with their ultra-dense properties and very low level of absorption, make porcelain tiles impermeable to any type of liquid, and thus naturally inhospitable to microbes. No bacteria, mold, or mildew can ever seep into the tile matrix and cause damage.
This goes for even the more moisture-prone areas like a bathroom shower or backsplash above a kitchen sink where scum tends to build up. On other materials, grime can settle on the surface and cause issues, but thanks to porcelain tile's water-resistant nature and dense surface, mold is entirely unable to grow. Coffee, wine, or cooking oil, not to mention soaps or lotions in the bathroom can be cleaned up with a simple wipe down from any common household cleaning product. No surface treatment or hearty detergent needed!
Blending beauty and function to create waterproof spaces: porcelain tile checks both boxes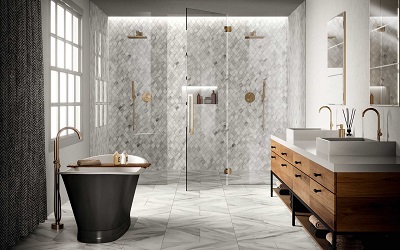 Function and visual aesthetic should go hand in hand, and with porcelain tile, they do. Creating a visually appealing space that also is safe from the destructive effects of moisture and water damage has never been easier. When it comes to any physical or moisture-related stresses, porcelain tile clearly reigns supreme. Its extremely low water absorption rate and unmatched durability make it a winning combo and should be at the top of the list for any design or renovation project.
For more information on porcelain tile, visit Atlas Concorde USA, a leading ceramic and porcelain tile brand that blends American craftsmanship with Italian design.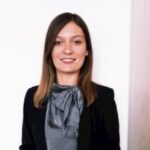 Mariafelicia Ciccone brings years of experience in engineering, product development, marketing, and trend and technology research to her role as a Product Marketing Manager at Atlas Concorde USA. In this position, she manages the development and success of Atlas Concorde USA's range of porcelain tile collections that blend American craftsmanship with Italian design.