CROSSVILLE, Tennessee – Crossville Inc., D&B Tile Distributors, and ID & Design International recently partnered to design and create a stunning runway dress constructed of Crossville tile for the annual IIDA South Florida Design Mix. The garment received the Best Use of Challenging Material Award at the event.
"With so much talent between ID & Design International and D&B, it's not surprising they did such an amazing job using our porcelain tile and glass mosaics. It's really exciting to have landed a coveted award at the event," said Robert Sutnick, Senior Architectural Representative for Crossville.
Proceeds from IIDA South Florida's Design Mix go to support funding for interior design student awards and legislation advocacy efforts.
For more information on the Crossville products used for this event, visit crossvilleinc.com.
Find photos of the garment and event here: http://bit.ly/cvilledesignmix18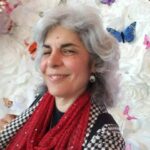 Editorial Director and Senior Writer for TileLetter and TileLetter ARTISAN
Lesley Goddin has been writing and journaling since her first diary at age 11. Her journey has taken her through a career in publishing and publicity, landing her the editor position of TileLetter and its special publications in 2006. Her goal is to educate, inspire, recognize and encourage those in the tile industry -- especially the tile and stone contractor. Other interests include the soft, purring marvels known as cats, labyrinth walking, drumming and percussion, and a range of spiritual, musical and artistic pursuits.