Company Identified as One of Eight National Brands
CROSSVILLE, Tennessee – Crossville Inc. recently was recognized as an Eco-Leader by Green Builder Media. Crossville's commitment to sustainability is the standard-bearer for the domestic tile industry, and this recognition further solidifies the brand's reputation as an environmental leader not only in the tile industry but also as a national manufacturer.
Crossville was recognized as one of eight national companies. The publication based its selections on the Platform for Accelerating the Circular Economy's DISRUPT directives, which include:
* Design for the future
* Incorporate digital technology
* Sustain and preserve what's already there
* Rethink the business model
* Use waste as a resource
* Prioritize regenerative resources
* Team up to create joint value
Environmental impact continues to be an important issue at Crossville. When the company began 30 years ago as a tile manufacturer, the focus on sustainability efforts was because we wanted to do the right thing for the environment.
"Crossville's commitment to sustainability is the standard-bearer for the domestic tile industry. We continue to be focused on leading the industry in sustainable initiatives for making porcelain tile as green as possible by ensuring material health and following high standards for responsible resourcing and conservation, as well as using recycled content in production," said Lindsey Waldrep, VP of Marketing.
To learn more about Crossville's eco-leader efforts, the company provides complete sustainability documentation for products and processes on its website so that designers can specify Crossville with confidence.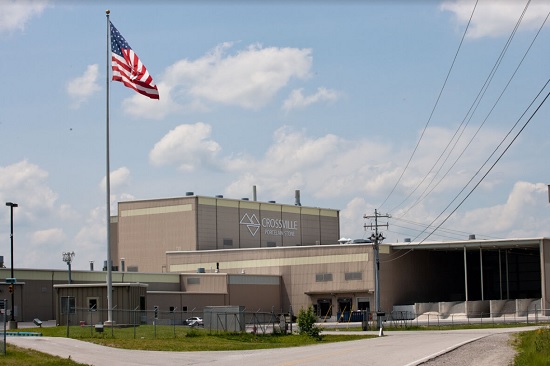 ---
About Crossville Inc.
Founded in 1986, Crossville Inc. is a U.S.-owned and operated manufacturer of award-winning tile collections for residential and contract applications. Its headquarters and manufacturing facilities are located in Crossville, Tennessee. Crossville, Inc. is a wholly owned subsidiary of Curran Group, a privately held holding company renowned for its core values of family, respect, partnership, integrity, and improvement.
An industry innovator, Crossville is the first U.S. tile manufacturer to achieve the following:

– production of large format tile on site,
– manufacturing of tile with certified recycled content,
– development the Tile Take-Back® Program for recycling fired porcelain tile,
– attaining of certification for waste recycling programs,
– earning of TCNA's Green Squared certification for all of its U.S.-produced tile lines,
– distribution of a complete line of large format porcelain tile panels, and
– designation as a net consumer of waste in the domestic tile industry.
For more information on Crossville, visit crossvilleinc.com.