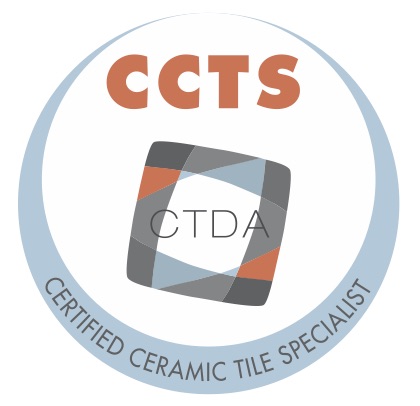 Coverings is the greatest tile and stone show in the western hemisphere. CTDA is the only organization in the western hemisphere connecting, educating and strengthening tile and stone distributors. Don't miss the CTDA highlights at Coverings this year at booth #3219 with information on CTDA member benefits including:
New cost-savings member benefits,

 

CTDA's social media program on Facebook Twitter and LinkedIn,

 

The Certified Ceramic Tile Salesperson (CCTS) Program,

 

A TSP 2019 giveaway – and of course CTDA will be registering attendees for TSP!

 
Also, during Coverings, CTDA will conduct a CCTS Certification Exam, sponsor a CTDA Happy Hour on the show floor and present the CTDA Supplier of the Year award.
Certified Ceramic Tile
Salesperson exam
On Tuesday, April 9, 2019, potential Certified Ceramic Tile Salespersons will be taking the examination to become certified. Through the CCTS program, ceramic tile sales professionals can gain prestige, professional recognition, expanded knowledge and increased customer satisfaction. It's the first and only certification program specifically designed by and for ceramic tile salespeople! For additional information or for an application, visit the CTDA site, contact CTDA staff at 630-545-9415, or email [email protected]. 
Tuesday happy hour and
Supplier of the Year award
Stop by Booth #3219 on Tuesday evening for happy hour. Enjoy a special drink from CTDA as it announces CTDA's 2019 Supplier of the Year. CTDA and its distributor members value the importance of supplier relationships. Annually, CTDA distributor members recognize the supplier who provides the most value to its distributor members and the ceramic tile and stone industry by awarding them with the CTDA Supplier of the Year Award. The winner is selected based on the results of a survey completed by CTDA's distributor members. Members rate up to three suppliers each on the following criteria: leadership, marketing, training, technology, communication, policies, and product shipment and support. Past recipients include industry leading companies such as Florida Tile, Crossville, LATICRETE and MAPEI.
Member benefits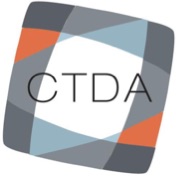 During the show stop by CTDA's Booth #3219 to learn about member benefits and if you aren't already a member, fill out an application. Applications are also accepted online.
Card Connect: CTDA members receive access to Card Connect, a credit card processing company whose services are available to CTDA members at deeply discounted prices. Companies have seen savings of 10% to more than 50% on credit card processing fees when switching to Card Connect.
Insperity: Human resources and benefits solutions are available to CTDA members through Insperity. Products and services include payroll, time and attendance, recruiting services, retirement services, financial services, performance management and more. 
PartnerShip: CTDA members save money on every inbound, outbound, small and large shipment with PartnerShip. Experience excellent savings and enjoy a complete managed solution for shipping less-than-load and full-load shipments. 
MyPlanITraveler.com: CTDA members can receive major travel savings through complimentary access to MyPlanITraveler, a travel membership site that provides wholesale pricing on hotel stays, vacation resorts, car rentals, cruises and travel activities. 
Northwestern Mutual provides insurance and wealth management to individuals and businesses. Through CTDA's partnership with Northwestern Mutual, you have access to Northwestern business professionals who can provide you and your company with a FREE business evaluation. 
CTDA membership has many additional benefits including access to educational webinars, discounted online education through University of Ceramic Tile and Stone (UofCTS), Tile Training in a Box, networking through Total Solutions Plus, committee involvement or small groups. More information at https://www.ctdahome.org/content/membership/benefits.asp or https://bit.ly/2Sdjbuc.
Total Solutions Plus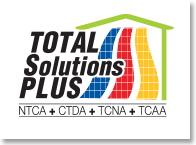 Come register for Total Solutions Plus 2019 at CTDA's Booth #3219. Over 650 attendees took part in the networking, educational sessions and keynote speakers that Total Solutions Plus 2018 offered and another recording breaking year in 2019 is expected. The purpose of Total Solutions Plus is to annually bring the ceramic tile industry together to network and learn from each other. 
Please plan to attend the 2019 Total Solutions Plus, October 26-29 at the Gaylord Opryland Resort Hotel & Convention Center in Nashville, Tenn. Experience thrilling keynote sessions, engaging breakout sessions, receptions and tours to enhance networking experiences with your peers and business partners in the tile industry.
Social media
Follow CTDA on social media: 
LinkedIn: https://www.linkedin.com/groups/1937152 as Ceramic Tile Distributors Association.

 

Twitter: https://twitter.com/theCTDA as @theCTDA

 

Facebook: https://www.facebook.com/Ceramic-Tile-Distributors-Association-CTDA-268340616510423/ as Ceramic Tile Distributors Association (CTDA).