SANTA FE SPRINGS, Calif. – January 28, 2022 – Custom® Building Products, North
America's leader in flooring preparation products and tile and stone installation systemsfor residential and commercial projects, will highlight its VersaBond® line of mortar, it's recently redesigned website and online learning curriculum for construction professionals at The International Surfaces Event in Las Vegas, February 1 – 3.

CUSTOM's rich history of innovation and commitment to quality is exemplified by the VersaBond line of mortars. These industry-leading, best-selling mortars have
expanded to include every type of mortar for all types of tile and stone installation. At
Surfaces, the Custom team will also be previewing two new additions to the VersaBond family – VersaBond LITE, professional mortar designed for large and heavy tiles and VersaBond LFT RS, professional rapid setting mortar for large format tile, scheduled to launch in spring 2022.

Because today's construction professional is constantly using their phone as a
gateway to the internet, to learn about, specify, and install the right products for any
size project, CUSTOM recently launched an entirely new internet experience designed
by construction pros for construction pros. Sample improvements attendees can
experience at the show include, more intuitive site navigation; fast, responsive service using live chat; enhanced product knowledge; and an easy to use material calculator.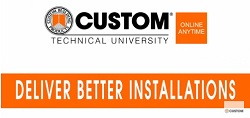 Visitors to the Custom booth will also be able see Custom Technical University (CTU), Custom's online platform featuring more than 25 short, content rich learning modules. The content is focused on ANSI standards and TCNA installation methods,
specification and application best practices, and understanding of jobsite and service
conditions.
"Surfaces attendees will get an advance look at new VersaBond products, along
with demonstrations of our new, easier to use website and experience our online
learning, Custom Technical University," said Reeve Haldeman, vice president of
marketing, Custom Building Products. "The common factor in all that we are
showcasing is that the improvements and enhancements are a result of our ongoing
collaboration with contractors, architects and distributors."
To learn more about VersaBond, CTU and Custom Building Products, be sure to
stop by booth 3823 at Surfaces.
---
About Custom® Building Products
Custom Building Products is North America's leader in flooring preparation products and tile and stone installation systems for residential and commercial projects. The
company's product brands, including a comprehensive line of surface preparation
products like WonderBoard® Lite backerboards and RedGard® waterproofing and
crack prevention membrane, thin-set, lightweight and large format tile mortars,
professional grouts like Fusion Pro™, Prism®, CEG ™ and Polyblend® as well as TileLab® and Aqua Mix® maintenance products and SuperiorBilt® tools are considered among the most popular and most trusted by industry professionals. Complete and qualifying installation systems are backed by CUSTOM's industry leading lifetime system warranty. Custom Building Products continually raises standards for the flooring, tile, and stone industry through its commitment to provide performance-driven installation systems and support.

For more information on CUSTOM's quality tile, stone, and flooring installation products and comprehensive resources including product and warranty information, installation specifications and technical support, please visit www.custombuildingproducts.com or call (800) 272-8786.