As trends heat up in the beginning of 2020, we take a look at what's selling in different regions of the country.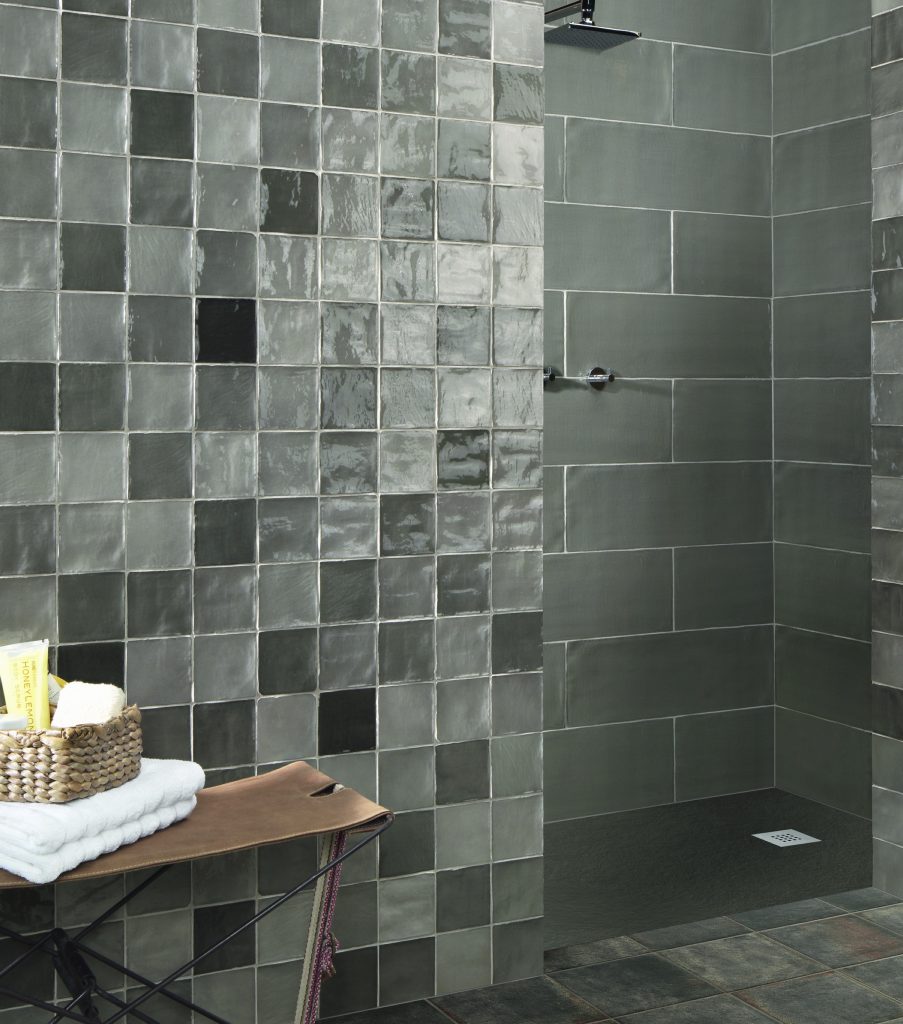 NE/SE/MW: Arley Wholesale
We start with Arley Wholesale, headquartered in Scranton, Pa., with a broad territory that covers northeast states of Maine, New Hampshire, Vermont, Massachusetts, Rhode Island, Connecticut, New York, New Jersey, Pennsylvania, Delaware, Maryland; Midwest states of, Michigan, Indiana, Ohio; and southeast states of West Virginia, Kentucky, Tennessee, Virginia, North Carolina, South Carolina, Alabama, Georgia and Florida.
Scott Levy, president of Arley, said that beige and color both are becoming more important in the market, with customers cherry picking from product lines to create more "eclectic and unique installations than in years past. Marble is still popular but stone looks that use digital technology and glazes to heighten authentic looks are really the main direction now. And though traditional formats are the big sellers, larger formats are gaining importance."
When it comes to installation products and contractor habits, Levy observed that "installers are migrating to the better products." Premixed grouts simplify and expedite installation by eliminating issues that come with mixing with water such as component ratio and temperature. "They also allow an installer to do larger areas with a guarantee of color matching," he said. "The larger format tiles necessitate using better mortars and installers have responded. The slight cost upgrade is negated by the quality and speed of the job with no callbacks."
Midwest/Flyover States: Virginia Tile
With a slight overlap with Arley's territory, Virginia Tile distributes to Illinois, Michigan, Indiana, Ohio, Iowa, Missouri, Nebraska, Kansas, Minnesota, Oklahoma, and Wisconsin. Sean Cilona, Virginia Tile's new Director – Products & Suppliers – gives us insight into what is selling in this part of the country.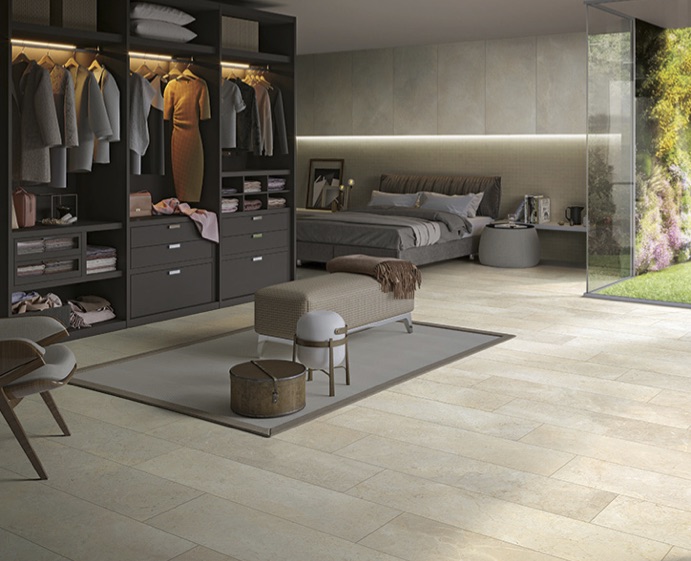 He's observed that acceptance for ceramic tile application in areas outside of kitchens and baths is starting to slowly emerge in the flyover states.
Glossy and matte wall tiles are turning heads, in elongated formats, larger-sized subway tile like 8" x 20" and larger square wall tile. Formats other than planks are breathing new life into wood looks, and conversely rectangle looks in non-wood designs are gaining favor. Travertine and traditional wood looks are gaining ground, as are larger square and rectangle formats.
Cilona says natural stone is fading, since better technology is bringing even more realism to manufactured slabs, and cost and care create concerns. Commodity wood in smaller formats is waning, and 12" x 24" sizes – long a favored format – are going the way of the 12" x 12" as bigger formats gain prominence.
Florida and Caribbean: D&B Tile Distributors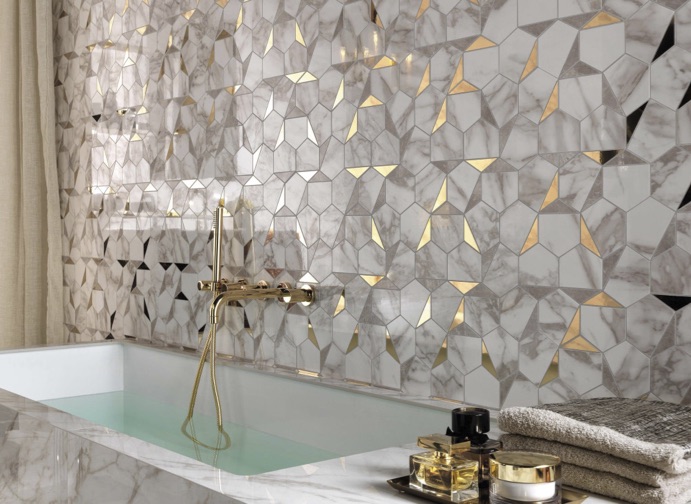 With respect to the south Florida market, D&B Tile Distributors CEO Harold Yarborough said expanded formats larger than 24" x 48" are percolating, beating out sales of the traditional 24" x 24" tiles – even for bathrooms. And hex formats are giving customers something different without it being outlandish or overwhelming. In terms of shapes, "Different types of mosaics with new innovative shapes in glass or ceramic," are getting attention.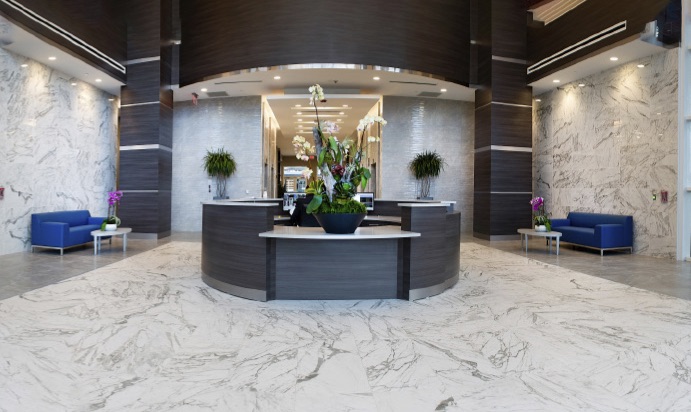 Yarborough said the porcelain Calacatta look is sweeping the country in all formats, and is very strong in Florida.
Wood is being used in innovative ways in Yarborough's market, such as "wood-look porcelain being used on exterior vertical surfaces for high-end residential and commercial buildings," he said. But although the wood-look is still popular overall, sales are flat, he reported. Larger sizes of wood planks and formats that take wood beyond the traditional are keeping the look alive. Overall, though, tile is king in Florida.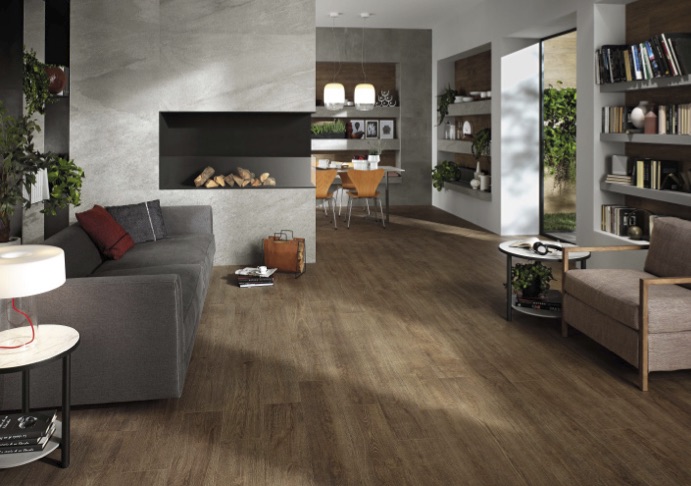 "Our customer base will run tile throughout the house and into the bedrooms and the living space outside," he said.
In terms of setting materials, Yarborough said, "Due to the large format tiles, we are selling the LHT type mortars." Ready-to-use grouts, which D&B values and has been selling since they hit the market years ago, are still a struggle with less-openminded tile setters.
Also up and coming in D&B's market are "manufacturers promoting the waterproof shower systems that improve the overall shower experience to the builder or consumer," he said. "The issue is getting municipalities to approve these systems. This system will continue to grow."
CA: Westside Tile and Stone
Mathew Weiner of Westside Tile and Stone, Canoga Park, Calif., described the conditions on the West Coast, with a booming Los Angeles housing market. "The tile industry continues to evolve to accommodate everyone's taste," he said. Many home owners are spending more time in their homes and want to create an oasis in their bathroom and a kitchen that will make their friends and neighbors drool. With the increasingly abundant tile options available in the marketplace, sustainable goods are becoming more sought out along with unique materials that will differentiate one installation from the next."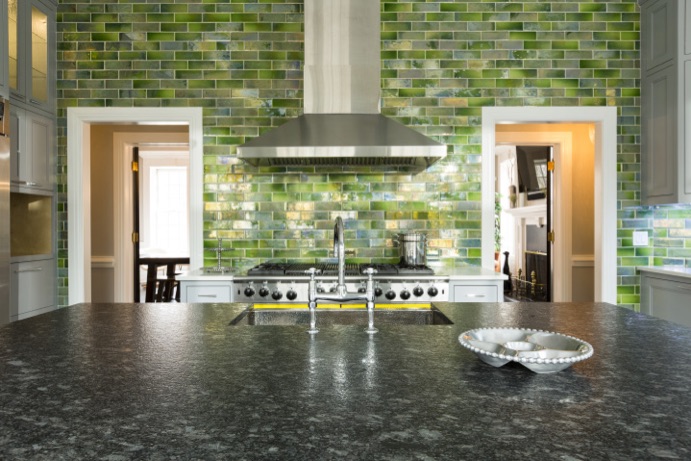 Though ceramic tiles, Carrara marble or white marble porcelain slabs reign supreme, Weiner is "happy to see bold colors and patterns starting to pop up." New construction and remodeled homes vie for ceramic tile in a wide array of colors and patterns installed in traditional and contemporary layouts including chevron, herringbone or staggered brick.
In the LA region, Carrara marble is a unique, timeless blend of colors and tones that is as "popular as ever in a variety of sizes, finishes and mosaics that allow it to be used in all sorts of residential applications," Weiner said. It's used in kitchens and bathrooms to bring a beautiful blend of cool and warm tones that blend and bridge styles together.
The popularity of Carrara marble has also spawned a vast array of porcelain look alikes made even more authentic and by varied digital-print technology. "Just like the wood-looking tiles, these marble-looking tiles allow for easy maintenance without having to worry about staining or discoloration that can occur with real marble," he said.
Speaking of porcelain, Weiner said "porcelain slabs have taken the market by storm," especially for homeowners who choose to remodel their homes with large porcelain slabs that create stunning effects in showers. "The advantage of porcelain slabs is not only the jaw-dropping effect of having large pieces of seamless tile in your shower, but also the cost advantage versus purchasing real marble slabs," he said, also citing how durable they are and easy they are to clean. "With the higher demand of porcelain slabs taking over the market, we're seeing a multitude of marble-looking as well as onyx-looking slabs in the marketplace that fit every style and need for the market."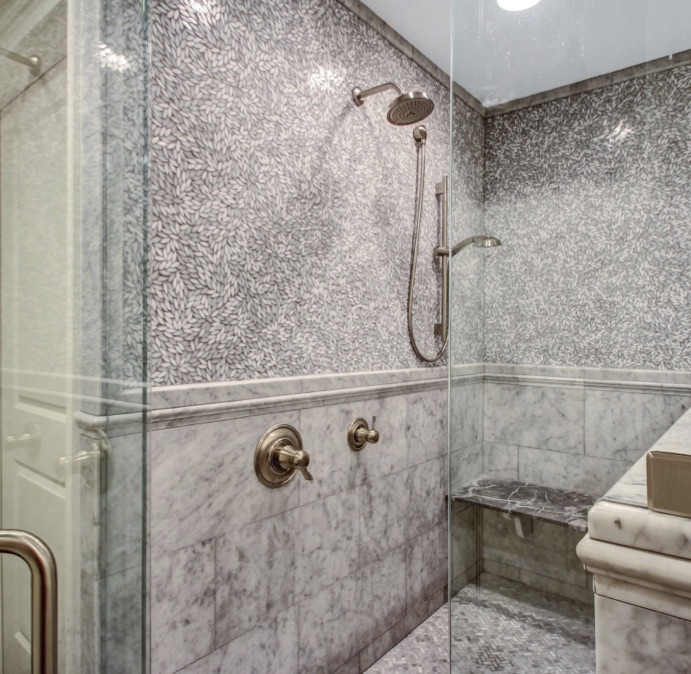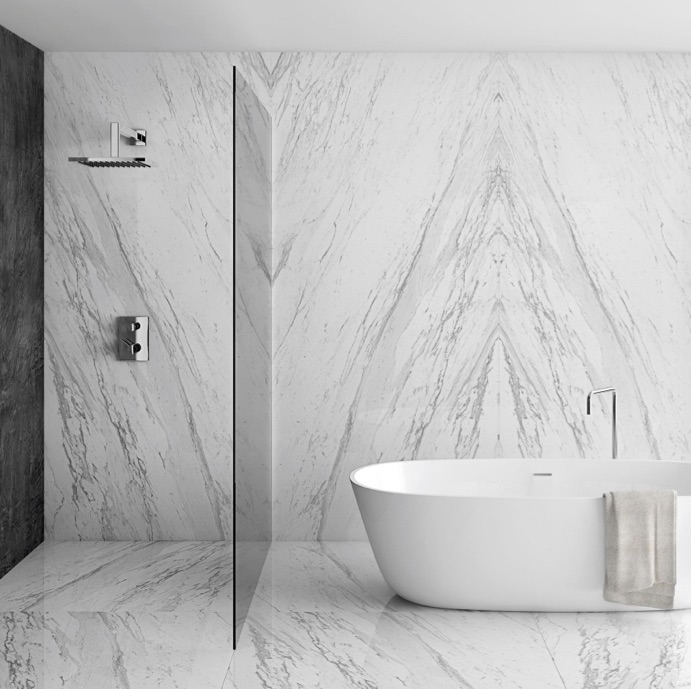 The impact of LVT
The tile industry is feeling the impact of luxury vinyl tile (LVT) development – but just how much is it really influencing sales?
In much of the country, LVT IS affecting sales, with Cilona saying the wood plank business is experiencing the most negative effect. But distributors are getting creative on fighting this competition.
Arley's Levy said, "We are promoting the Why Tile campaign and working with our customers to show why tile is a better and long-term more economical option than LVT."
D&B's Yarborough admitted that LVT is encroaching on commercial and residential sales, saying "It is here to stay until customers understand the limitations of it. It is a cheap flooring solution like carpet…a short-term solution to tile."
On the West Coast, LVT isn't having a tremendous impact, said Westside's Weiner. For some of Westside's LVT-leaning customers, the distributor is "able to show them the true benefits of tile versus that product."
The lack of durability is an issue, he added. "Most of the areas that have installed LVT after awhile have lots of scratches, and tremendous wear, frankly leading to having to be replaced much faster than if tile was installed. The most important aspect is for us to educate our clients on what is needed for their application and not necessarily a price factor."
Mara Heras, Vice President of Marketing for Emser, chimed in, adding that LVT "has created confusion around 'waterproof.' End users and consumers need to understand that although the product itself is waterproof that does not mean the installation is waterproof."
There's reason to continue to have confidence in ceramic and porcelain tile. "We continue to drive home the message of quality and longevity and applications that LVT cannot perform in," Cilona said. "As we see this rush of commercial business being driven to lower cost products like LVT, I believe that in a few years, the failure of those products to stand up to the demands of the applications will drive those customers back to ceramic tile. I think that products like LVT do have a value and position in the market, but I believe that in an effort to grow in an environment of cost savings, they have been oversold."