Jackie Lilly, CTC LEED Green Associate and Sr. Sales Program Administrator at Custom Building Products, is retiring August 13th, lafter 29 years of service.
Lilly is one of Custom's original employees, from when it was family-owned and operated.
"Everyone loves Jackie," said Chip O'Rear, CSI, CCPR, CTC, CCSMTT, LEED AP Commercial Architectural Services Representative for CUSTOM.
"She has always been the best of the best, totally professional and hands down, the most efficient and reliable member on our staff. She has just moved closer to her grandchildren where they become the new beneficiary of her attention and dedication. Lucky kids. We will all miss her and wish her the very best in life and a happy retirement."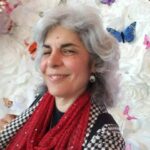 Editorial Director and Senior Writer for TileLetter and TileLetter ARTISAN
Lesley Goddin has been writing and journaling since her first diary at age 11. Her journey has taken her through a career in publishing and publicity, landing her the editor position of TileLetter and its special publications in 2006. Her goal is to educate, inspire, recognize and encourage those in the tile industry -- especially the tile and stone contractor. Other interests include the soft, purring marvels known as cats, labyrinth walking, drumming and percussion, and a range of spiritual, musical and artistic pursuits.