Jackie Lilly, CTC LEED Green Associate and Sr. Sales Program Administrator at Custom Building Products, is retiring August 13th, lafter 29 years of service.
Lilly is one of Custom's original employees, from when it was family-owned and operated.
"Everyone loves Jackie," said Chip O'Rear, CSI, CCPR, CTC, CCSMTT, LEED AP Commercial Architectural Services Representative for CUSTOM.
"She has always been the best of the best, totally professional and hands down, the most efficient and reliable member on our staff. She has just moved closer to her grandchildren where they become the new beneficiary of her attention and dedication. Lucky kids. We will all miss her and wish her the very best in life and a happy retirement."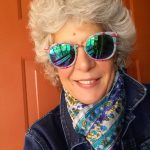 Editor for TileLetter, and TileLetter ARTISAN publications.
Lesley Goddin has been writing and journaling since her first diary at age 11, and drawing and sketching since she could hold a pencil. Her penchant for observation led to her becoming a paid professional as a trade journalist, publicist and is editor for TileLetter. She has also written for Guideposts, Walls, Windows and Floors, Floor Covering Weekly, and Low Carb Energy.