Dallas, TX – February 14, 2020 – With the continued popularity of porcelain slabs in design, Daltile is extending its Panoramic Porcelain Surfaces extra-large porcelain slab line with new additions to the Elemental Selection. The two new 10.5' x 5'3" porcelain slab offerings – Calacatta Topaz and Jasper Grey – are beautiful marble designs that will elevate the ambiance of virtually any space. These additions to Panoramic further expand Daltile's extra-large format porcelain slab program, providing even more outstanding design options for designers and homeowners.  The new products will official launch in April. 
"Nothing speaks sophistication and luxury like the look of marble," said Paij Thorn-Brooks, Vice President of Marketing for Dal-Tile Corporation, parent company of the Daltile brand.  "The appeal of marble is timeless and one of this year's hottest interior design trends.  At Daltile, we make it easy to bring the beautiful visual of marble into a home or commercial space with the added performance features of porcelain — through our Panoramic Porcelain Surfaces line of 10.5' x 5'3" porcelain slabs.  Our two new gorgeous marble designs join ten existing marble Panoramic visuals as well as the entire Daltile Panoramic Porcelain Surfaces line to offer 'the style of natural stone with the performance of porcelain tile'."
NEW Calacatta Topaz
Panoramic's Calacatta Topaz satisfies several of this year's hottest design trends. As mentioned, marble is still extremely popular. The foundation of Calacatta Topaz' stunning marble visual taps into the desire for sophisticated white marble, and then infuses the design with a with a striking vein pattern that features on-trend gold veining.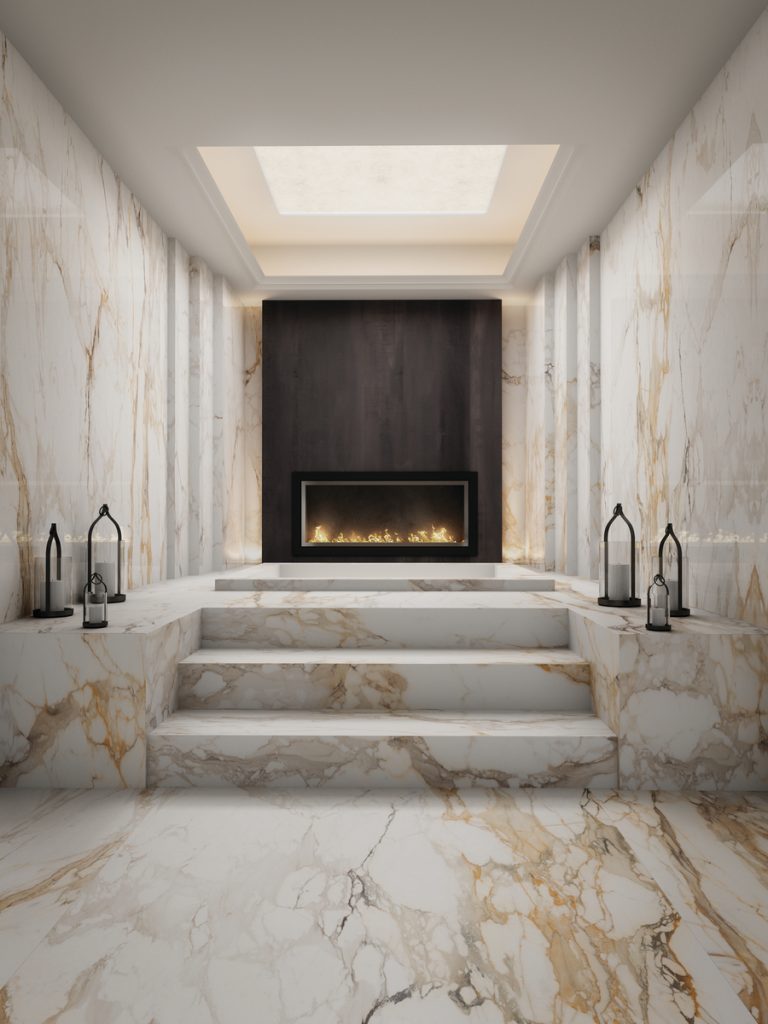 NEW Jasper Grey
Panoramic's Jasper Grey also nods to several of this year's hottest trends. Jasper Grey elegantly marries the timeless appeal of marble with the current popularity of the color black. The majesty of Jasper Grey's black marble design also satisfies designers' and consumers' current leaning toward bolder and more dramatic visuals.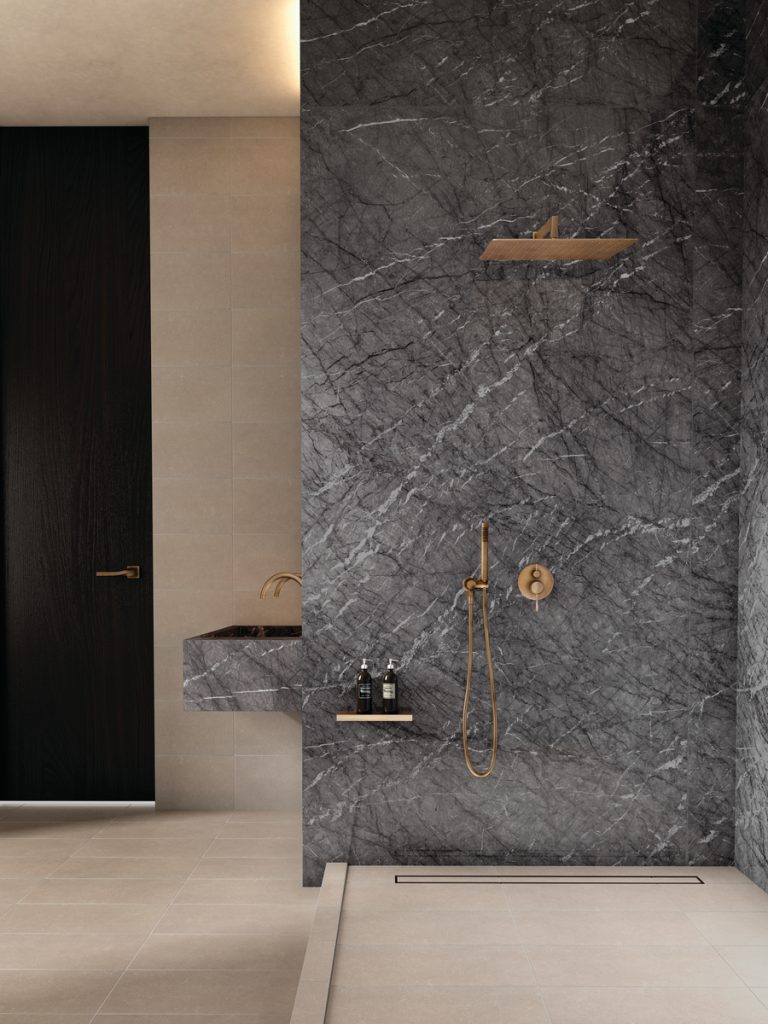 Endless Design Possibilities
The Panoramic Porcelain Surfaces line provides "endless design possibilities". Panoramic is great for both indoor or outdoor installations. It can be used on a multitude of surfaces including floors, walls, countertops, fireplaces, vanities, backsplashes, shower walls, tub surrounds, and even as exterior flooring and cladding. With Panoramic Porcelain Surfaces, designers and homeowners can create looks ranging from awe-inspiring and larger-than-life to a completely uniform design that seamlessly fits into a variety of aesthetics. Panoramic also adds powerful design impact through the wrap-around-luxury of a floor-to-wall-to-countertop continuum or book-matched for a stunning feature wall. Panoramic nicely serves two of the most prominent trends in interior design — creating style and luxury through seamless, continuous design and the prominence of large, open floorplans in new home construction.
Luxury At An Attainable Price
Panoramic is a great solution for designs that require a high-end look, but are limited by budget or performance constraints. Panoramic easily brings the scale and style of natural stone slabs to projects where stone might be cost or installation prohibitive. Thanks to Daltile's proprietary printing technologies, designs are so realistic that it's hard to tell the difference between Panoramic and natural stone. Because Panoramic is made of authentic porcelain, each product is heat, stain, scratch, and chemical resistant as well as durable and easy to maintain.
"FlexFit Size Solutions" Program
Additionally, the new Panoramic Porcelain Surfaces products are part of Daltile's FlexFit™ Size Solutions program, a custom cut-to-size program designed to give additional flexibility and reduce installation time and cost. The FlexFit program offers the slabs pre-cut into seven smaller stocked sizes that reflect the most standard cut dimensions needed for both residential and commercial applications. The program also offers the option to order a custom cut to any size, in addition to the extra-large format size already offered.
Additional Information
For additional information on the new products, Calacatta Topaz and Jasper Grey, as well as the rest of the Elemental Selection Series and the full Panoramic Porcelain Surfaces portfolio, visit daltile.com.