Dallas, TX – April 26, 2022 – Daltile, the industry leading brand of tile and countertops, is currently highlighting its new Daltile STARE program, new Daltile Trend Report, and exciting new products in the brand's booth #4312 at HD Expo in Las Vegas.
Daltile's STARE Program
Daltile's STARE program is billed by the brand as "Tile so stunning, you can't take your eyes off of it!"  A dynamic assortment of special order tile, STARE features vibrant colors, trendy mosaics, chic modern neutrals, and extra-large size offerings that really take the style of a space up a notch.  STARE is a program developed to offer commercial customers the height of fashion.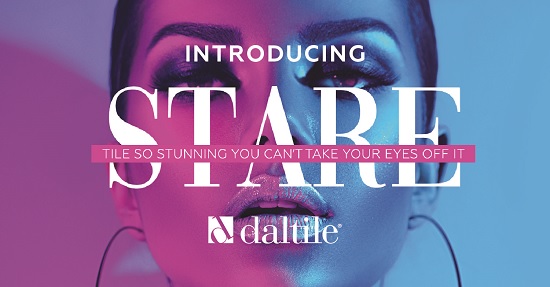 Daltile's Trend Report
Always focused on style and design, Daltile recently released its first official Trend Report this year.  Within the report, Daltile shares seven key 2022 interior design trends, their inspiration and how each plays out in Daltile's product assortment.  Trend mood boards and the actual tiles that fit within each trend are on display in the brand's HD Expo booth. 
Products In Booth
The following exciting new Daltile products are also on display in the brand's HD Expo booth.
Scripter Collection
The Scripter collection of glazed porcelain tiles features StepWise Technology.  StepWise provides 50% more slip-resistance than traditional tiles, making this product perfect for indoor and outdoor use.  Inspired by Northern European limestone, four timeless designs are offered in soft, taupe-based neutrals and in today's most popular formats:  24×24, 12×24, and an 8" hexagon.  The 8″ hexagon tiles can be used alone or combined with any of the four solid colors for a unique design touch.
Scripter images
STARE Eclettica
Color regains its status as the key feature of design interiors with Eclettica, a collection of ceramic wall tile with a vibrant chromatic energy. Eight solid colors inspired by the fashion world's most original, innovative trends, with an assortment made even more special by a wealth of 3D structures, large 48 x 48 sizes, and bright mosaics.
STARE Ecleticca Images
Starcastle Collection
Fantasy comes to life with the luxurious shimmer of Starcastle. This dreamy mosaic line dazzles with white and grey pearlescent movement in chevron and diamond scale shapes. A clean yet mesmerizing blend of matte and iridescent pieces combine to tease the eye with mixed finishes in five additional colors in triangle, leaf, elongated hexagon and mini hexagon shapes. Immerse yourself in a captivating reverie with Starcastle.
Starcastle Images
Rigid Clay Collection
Rigid Clay introduces impressive structural patterns in a 12×24 rectified wall tile giving organic depth to your design. Let natural imperfections transform your space with the subtlety of plateau wall tile or the etched patterns of layer, ridge and stream wall tile. This glazed ceramic wall tile and mosaic are offered in four, desert-inspired colors in four primal structures that draw you nearer to natural origins. A coordinating 1×3 off-set mosaic is available in all colors. Rigid Clay also features proprietary Microban® Technology eliminating 99% of bacteria on the tile surface.  This protection is built into the tile, so it will not wash off or wear away, offering a lifetime of built in antimicrobial product protection 24 hours a day, 7 days a week.
Rigid Clay Images
Perpetuo Collection
Daltile's Perpetuo collection delivers the beauty of luxurious marble visuals in durable porcelain tile that stands up to everyday life.  Perpetuo features elegant marble designs in five timeless colors.  Included in the collection are 8-inch hexagon decorative accents that impress, including a stunning black and white duo.   
Perpetuo Images
Pietra Divina Collection
A natural stone collection, new Pietra Divina features three marbles with a color palette that includes white with grey veining, white with warm gold movement, and a black with delicate white accents.  Offered in 4×12 and 12×24 tile sizes, a full selection of mosaics, and a 6×12 bamboo structure mosaic.
Pietra Divina Images
Emergent Collection
Emergent features a weathered metallic look in four attractive metallic color tones including aluminum, pewter, titanium, and iron.  These distressed hues are available in contemporary large format tile sizes of 12×24, 24×24 and 24×48.  A lappato finish gives the tiles a semi-gloss appearance enhancing the authenticity of the metallic visual.  An on-trend cube mosaic is available in all colors, lending dimension and added intrigue to a space. 
Emergent Images
Aesthetic Collection
Create striking dimension in a space with Daltile's Aesthetic ceramic tile collection.  With patterns ranging from organic natural visuals to structured geometric textures, this large format 12×36 wall tile is designed to flow seamlessly from tile to tile.  Available in a simple yet rich and elegant white.
Aesthetic Images
Sapphire Status
Sapphire Status is a stunning blue marble design in 10'6" x 5'3" extra-large porcelain slabs.  The deep sapphire blue and black marble background is accented by prominent white and gold veining, adding rich design, elegance, and stylish intrigue to a space.  As with all of Daltile's Panoramic Porcelain surfaces, Sapphire Status offers the visual and style of natural stone, with the durability, cleanability, and attractive price point of porcelain.
Sapphire Status Images
Onyx Galaxy
Also part of Daltile's Panoramic Porcelain Surfaces line, Onyx Galaxy features porcelain that provides the stunning visual of a black background accented by white and bronze veining in 10'6" x 5'3" extra-large porcelain slabs.
Revalia Remix Collection
Play with the whimsical shapes and colors offered in Revalia Remix. This ceramic mosaic and wall tile collection is full of geometric shapes and eclectic colors. From fan mosaics to kaleidoscope mosaics, Revalia Remix will add structural dimension to any design.
Revalia Remix Images
For more information about Daltile, please visit daltile.com.
---
About Daltile
Daltile is the industry-leading brand of ceramic, porcelain, glass, metal, and stone tile as well as mosaics, extra-large slabs, countertops, exteriors, and roofing tile.  Daltile products are distributed through over 250 company-owned sales service centers, stone slab yards, and design studios that service a robust network of trade customers.  Daltile products are also sold through independent flooring retailers.  Dedicated to innovative product development and distinguished style, Daltile provides a rich palette of quality products created to inspire residential and commercial designs. For more information, visit daltile.com and follow Daltile on Instagram, Pinterest, LinkedInFacebook, Twitter and YouTube.