There was a powerful energy afoot at Coverings in Las Vegas earlier this month. Yes, people were thrilled to be meeting in person again, and there were lots of new products and exciting industry development afoot.
But this excitement was generated by another source – the recognition and celebration of women in the industry.
Women's Networking Breakfast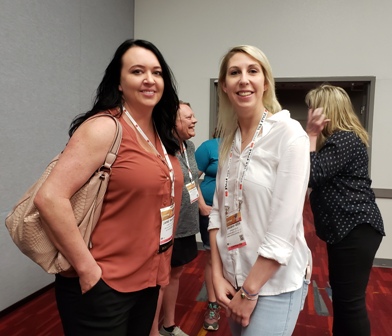 A trio of events created this surge in camaraderie and enthusiasm at the Las Vegas Convention Center, starting off with a women's networking breakfast on Wednesday, April 7. Sponsored by The National Tile Contractors Association (NTCA) and organized by NTCA Regional Director Elizabeth Philben Lambert of Lambert Tile & Stone together with NTCA Regional Director Jane Callewaert of Dragonfly Tile & Stone Works through the Tile Chix Facebook group and other sources, the breakfast brought together 40 women to network and share information about their role in the industry.
"As the tapestry of the tile industry evolves, women are increasingly assuming more roles, yet can at times feel isolated," said Callewaert. "The breakfast was organized to provide women with an informal opportunity to establish connections, learn and support each other. It was both motivating and enlightening to hear about the many different roles and the expertise of the women in our industry. What a wealth of experience! It was a welcoming gathering and the energy was positive and collaborative.
"Thanks to NTCA for sponsoring and to Elizabeth Lambert for her leadership in organizing," Callewaert added. "There's more to come as we discuss the opportunities to continue this valuable network for women in the tile world."
Women in Construction program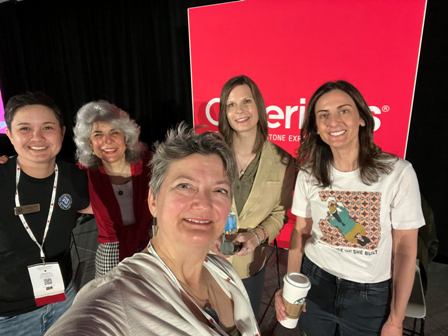 Another event took place Thursday morning. "Women's Work: Emerging Opportunities on the Jobsite and in the Workplace" — moderated by this writer — was offered as part of Coverings' Workforce & Profits track in the free educational program. Panelists Melissa Swan, co-owner of Tilevita LLC and NTCA's newest Trainer, Monica Gresser AIA, NCARB, LEED AP Principal Architect of Las Vegas' BRAZEN Architecture, Sarah Gregg, Marketing Manager of the Natural Stone Institute (NSI) and Mollie Elkman, Author of The House That She Built joined me on stage to discuss the rise and current status of women in the field of construction, the struggles we face, successes we've claimed and resources to support and encourage women.
Gregg discussed the impressive Women in Stone Mentorship Program instituted by NSI in 2014 that pairs women with mentors or offers peer-to-peer relationships as well as other activities. Swan is NTCA's first female trainer, traveling around the country to bring standards-based education to tile installers and those who want to learn more about the installation aspect of the tile industry – as well as running a business and being a firefighter. She spoke about the Certified Tile Installer (CTI) credentialing offered by the Ceramic Tile Education Foundation (CTEF) as an excellent starting point in women's tile setting careers. Gresser talked about her work with the AIA Justice, Equity, Diversity and Inclusion (JEDI) Committee and pointed out that one thing many women struggle with is being "bashful to promote themselves," which garnered murmurs of agreement from the crowd and other panelists.
Mollie Elkman, who owns Philadelphia-based GroupTwo, a marketing firm for builders, brought information about the book she wrote and colleague Georgia Castellano illustrated – The House That She Built. Based on a real house in Utah conceived, designed and built by an all-woman team, the book focuses on 18 different jobs needed to build a home that girls in grades kindergarten through 2nd grade can begin to explore. The book has spurred a movement that includes activity books, swag and a collaboration with the Girl Scouts in The House That She Built Girl Scout Patch Program where scouts at every level can earn patches that encourage girls and young women to explore different careers in construction and the skills that support those careers. The program is hosted by the Girl Scouts of California's Central Coast and sponsored by Weyerhauser.
The House That She Built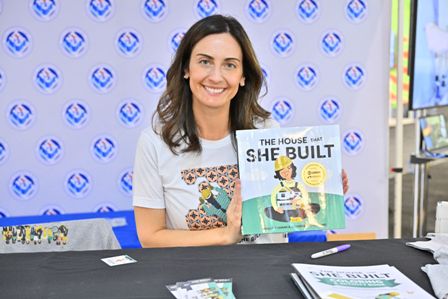 Later that day, Elkman participated in a number of events at Coverings, including an interview with tile contractor and influencer Shannon Violet on the Experience Stage, a podcast with Rick Church of the Ceramic Tile Distributor's Association and a book signing and giveaway at the NTCA booth. More The House That She Built swag was distributed during a Happy Hour Giveaway later that afternoon run by NTCA Assistant Executive Director Jim Olson.
"This was my first time attending Coverings and it was just awesome to be there in person," Elkman said. "I was thrilled that attendees were genuinely excited about The House That She Built as a workforce development initiative. It was priceless for me to see people's faces when they turned to "The Tiler" page in the book. We tried really hard to show the art and detail in tiling in a way that will connect with young learners and having people who are in the field everyday responding to the book and initiative is very rewarding." 
Both male and female members of the industry were excited about the book and the awareness it is raising for young girls. "I appreciate being part of an industry that has always supported me, but now it's exciting to see my 'tile family' reaching out to the younger generation, including my daughter," said NTCA Trainer and 2022 Coverings Rock Star Matt Welner.  He brought home a The House That She Built book, t-shirt and activity book for his 8-year old daughter Addy. "She's a smart kid who will have my support with whatever career path she chooses." Welner noted that the topics in the book spurred a dinnertime conversation with Addy about becoming an architect.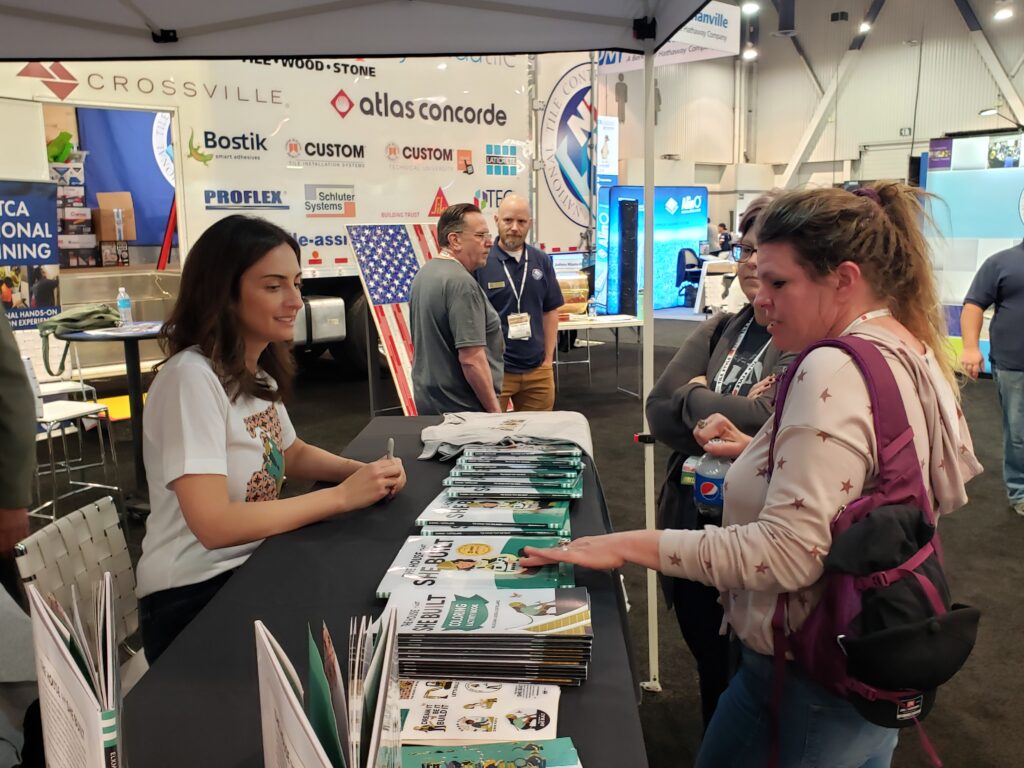 Tile artisan extraordinaire Angie Ré of Utah's Unique Mosaics shared the book with her 11- year old son so he can "know that everybody can be in construction and be in the trade," she said. "It's a way to normalize it for my young boy, that no matter who we are, we can achieve anything." She gave a t-shirt to her 17-year old daughter. "She wore it to school right away and loved the diversity on the shirt."
Ré noted that each of the three times she talked to Elkman at the show, she got chills because of how this movement is being shared with the Girl Scouts. "That's incredible! I'm excited!"
Scott Conwell, FAIA, FCSI Director of Industry Development International Masonry Institute said, "As a father of two daughters and a proponent for women and diversity in the building trades, I was thrilled to discover the book The House That She Built and to meet the author Mollie Elkman at the recent Coverings. It may be a children's book, but I don't know of any adult who can't learn from this wonderfully-concise and exquisitely-illustrated narrative of 18 women who contribute their specialized skills to the construction of a house. From architect to plumber to cement mason to tile setter, this book represents building trades in a positive, inspirational light, sending the message to young women that construction is an admirable and noble career choice."
Stay tuned to these groups, initiatives and events for more information to support that many different paths women take women's through tile industry.