Daltile's Chicago Design Studio was abuzz with food, fun, and new products during NeoCon 2021!
Dallas, TX – October 6, 2021 – Daltile's Chicago Design Studio welcomed architects, designers, and other customers to its annual "Parked At NeoCon" lunch event on Tuesday, October 5th. Held every year during the international NeoCon commercial design tradeshow, Daltile's luncheon showcased the brand's exciting new products and gave NeoCon attendees a nice, relaxing oasis from the miles-long tradeshow held just across the street in Chicago's Merchandise Mart. Daltile's Chicago Design Studio is part of the brand's vast network of design studios and design service centers catering to customers nationwide.
The Annual Event
"We had a wonderful time today!" said Daniel Behnke, Sales Manager for Daltile's Chicago Design Studio. "There is no other event like ours during NeoCon each year. Located directly across from the Chicago Merchandise Mart, our studio is an ideal escape from the grind of the tradeshow floor. Daltile's annual lunch event is a unique opportunity for innovative designers, architects, and other loyal customers to come together and explore emerging trends in flooring and surfaces in the relaxing, social atmosphere of our studio." 
"Like all of the showrooms in our nationwide network, Daltile's Chicago Design Studio showcases samples of our entire line, including our newly-launched products," said Hilary Frank, regional vice president of sales for Daltile. "It was really exciting to see the very positive reaction that the commercial design community had to our new products today."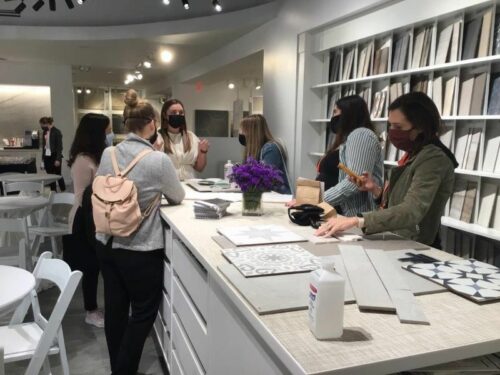 Hot New Products
"Daltile's Enlite, Perpetuo, Pietra Divina, Mesmerist, Aesthetic, and Sleigh Creek were several of our newest offerings that garnered quite a bit of interest during our 2021 event," added Frank.
NEW Enlite Collection
Soothe the soul and awaken the senses with tranquil design.  Daltile's new Enlite porcelain tile collection embraces the calming effect of natural stone visuals in five colors.  Enlite celebrates the belief that less is more with the simple offering of a new 15×30 floor tile and a random linear mosaic.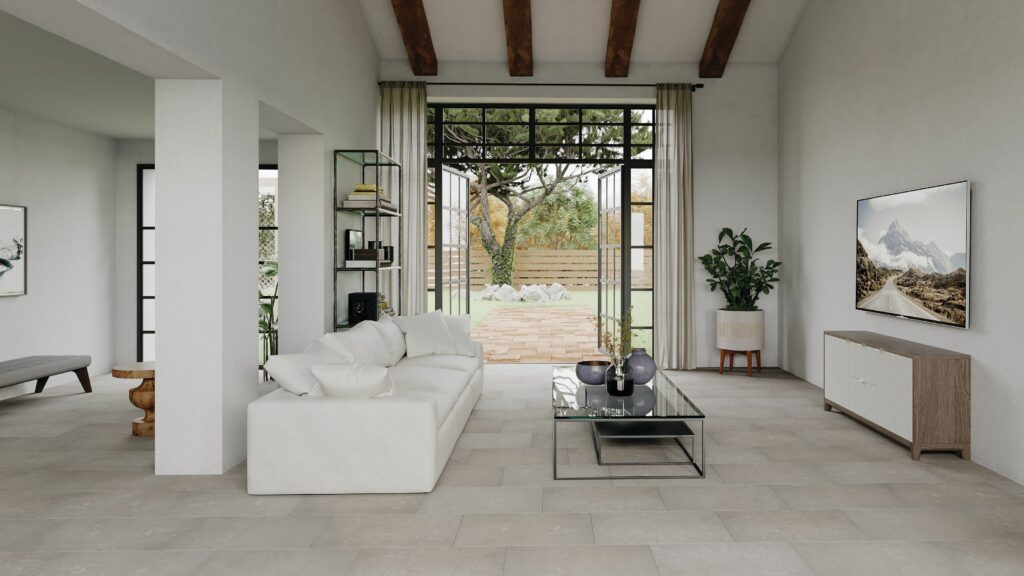 NEW Perpetuo Collection
Daltile's new Perpetuo collection delivers the beauty of luxurious marble visuals in durable porcelain tile that stands up to everyday life.  Perpetuo features elegant marble designs in five timeless colors.  Included in the collection are 8-inch hexagon decorative accents that impress, including a stunning black and white duo.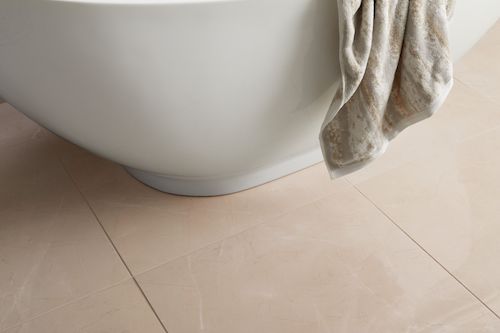 NEW Pietra Divina Collection
A natural stone collection, new Pietra Divina features three marbles with a color palette that includes white with grey veining, white with warm gold movement, and a black with delicate white accents.  Offered in 4×12 and 12×24 tile sizes, a full selection of mosaics, and a 6×12 bamboo structure mosaic.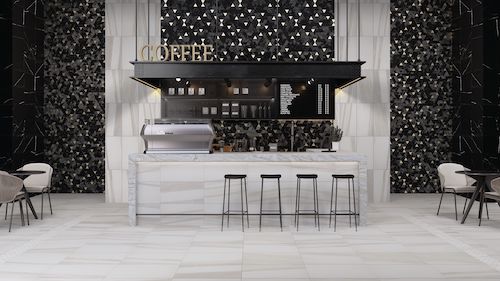 NEW Mesmerist Collection
Mesmerist captivates with six calming, neutral, aquatic colors that authentically replicate the look of handmade ceramic tile through uneven edges, undulating structure, and variation in color from piece-to-piece.  Also featured are rectangular and hexagonal wall tiles, including an arabesque mosaic that adds a shimmering touch to any space.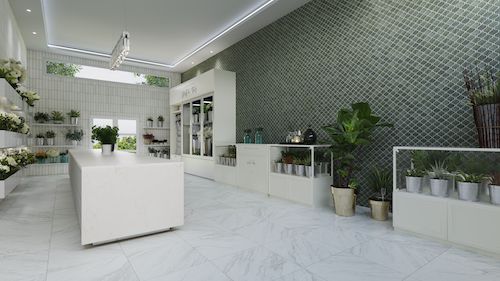 NEW Aesthetic Collection
Create striking dimension in a space with Daltile's new Aesthetic ceramic tile collection.  With patterns ranging from organic natural visuals to structured geometric textures, this large format 12×36 wall tile is designed to flow seamlessly from tile to tile.  Available in a simple yet rich and elegant white.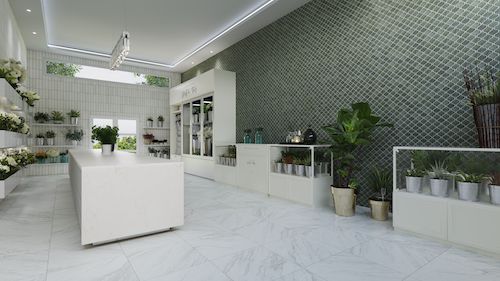 NEW Sleigh Creek Collection
Daltile's new Sleigh Creek collection of beautiful wood look porcelain tiles brings the comfort and timeless look of hardwood to any space.  Sleigh Creek offers 6 classic 6×36 plank tiles and coordinating 8" hexagon floor tiles, featuring the visuals and texture of wood graining, chatter marks, and natural knots for the ultimate in hardwood design.   
Daltile's Nationwide Network of Showrooms
The Daltile Chicago studio is one of the 35 Daltile Design Studios and 250+ Daltile Design Service Centers located across the United States.  Considered an integral part of the brand's success, these Daltile showrooms give interior designers, architects, and curious homeowners a chance to explore Daltile collections in-person.  Daltile design consultants are always on-hand to help architecture and design professionals as well as their clients select the best Daltile product for every project.  This Daltile design service is always complimentary.
For More Information
Visit daltile.com.
---
About Daltile
Daltile is the industry-leading brand of ceramic, porcelain, glass, metal, and stone tile as well as mosaics, extra-large slabs, countertops, exteriors, and roofing tile.  Daltile products are distributed through over 250 company-owned sales service centers, stone slab yards, and gallery design centers that service a robust network of trade customers.  Daltile products are also sold through independent flooring retailers.  Dedicated to innovative product development and distinguished style, Daltile provides a rich palette of quality products created to inspire residential and commercial designs.  For more information, visit daltile.com and follow Daltile on Instagram, Pinterest, LinkedInFacebook, Twitter and YouTube.