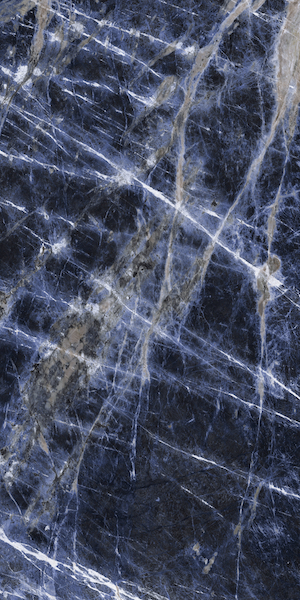 Dallas, TX – September 2, 2021 – Daltile is pleased to launch the newest addition in its chic Couture Collection. A part of Daltile's Panoramic Porcelain Surfaces extra-large slab program, the designer Couture line includes both special-order and stocked products that feature fierce style straight off the runway. With striking patterns and unlimited artistry, Daltile's Couture Collection features decorative, large-scale porcelain slabs that assert unique design. The newest product in this luxury line is Sapphire Status, a bold, deep, energizing blue design that is a fabulous way to add drama to a space, or access the popular design trend of connecting with nature.
"Daltile's designer Couture line features the world's most fashionable porcelain slabs," said Roy Viana, director of natural stone and slab for Dal-Tile Corporation.  "The latest addition to the line is Sapphire Status, a stunning blue marble design.  The deep sapphire blue and black marble background is accented by prominent white and gold veining in this 10'6" x 5'3" slab, adding rich design, elegance, and stylish intrigue to a space.  As with all of Daltile's Panoramic Porcelain surfaces, this new product offers the visual and style of natural stone, with the durability, cleanability, and attractive price point of porcelain."
"The blue of Panoramic's Sapphire Status is inspired by sodalite blue stones found in nature," added Viana.  "In the world of interior design, it is a widely-held premise that the colors used in a space can positively affect mood and feelings.  The rich blue featured in Sapphire Status can help bring calmness, emotional balance, peacefulness, and restoration to the mind, in addition to stunning style."
The full assortment of Daltile's Couture Collection includes 14 custom designs (32 different colors), with a variety of stunning graphic visuals:
Floral
Decorative
Dimensional/Geometric
Linear
Terrazzo
Metal
Motifs
For more information visit, Couture Special Order Designs and Couture Stocked Designs.
---
About Daltile
Daltile is the industry-leading brand of ceramic, porcelain, glass, metal, and stone tile as well as mosaics, extra-large slabs, countertops, exteriors, and roofing tile. Daltile products are distributed through over 250 company-owned sales service centers, stone slab yards, and gallery design centers that service a robust network of trade customers. Daltile products are also sold through independent flooring retailers. Dedicated to innovative product development and distinguished style, Daltile provides a rich palette of quality products created to inspire residential and commercial designs. For more information, visit daltile.com and follow Daltile on Instagram, Pinterest, LinkedIn Facebook, Twitter and YouTube.