Dallas, TX – January 23, 2023 – Daltile announces the upcoming launch of new tile collections during Spring 2023.
These new Daltile assortments offer a myriad of fashionable products with exceptional performance features — bringing today's hottest trends to life in a variety of colors, textures, sizes, shapes, patterns, and styles. Additionally, the brand is also adding line extensions to two of its current collections. This Spring 2023 Daltile launch offers consumers, architects, and designers stone looks, terrazzo looks, hand-crafted visuals, concrete designs, and stunning natural stone mosaics. Many of these new products also feature enhanced performance features — providing 2X more slip resistance than regular tile as well as protection that continuously eliminates 99% of the bacteria from the tile's surface. The new Daltile products are all durable enough stand up to everyday life while always looking beautiful.
"The variety and richness of this product launch is exciting!" said Laura Grilli, director of product design for Dal-Tile LLC. "We are offering so many different, on-trend designs, and even finishes that eliminate 99% of the bacteria on a tile's surface. Many products also provide 2X greater slip resistance enabling these products to be used indoors, outdoors, or flowing between. This new product launch is the perfect example of why Daltile products are sought-after 'design elements' for any space."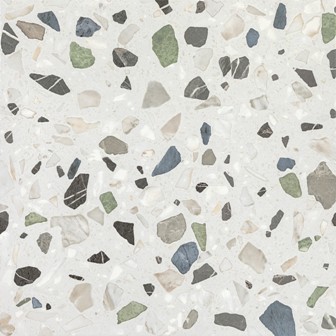 NEW Outlander Collection  (Terrazzo Look & 2X More Slip-Resistance)
Embark on an adventure like no other with our contemporary terrazzo look tile. Rooted in rich art history, Outlander is making its modern debut in an ultra-durable, ColorBody porcelain tile, available in today's most popular sizes and three stunning designs: Grande, Palazzo, and Medio. With the added benefit of StepWise technology that provides 2X more slip-resistance than regular tile, you can create a seamless design from the indoor to outdoor space.
NEW Miramo Collection  (Hand-Crafted Visual & Eliminates 99% Of Bacteria)
Inspired by the glistening colors of Moroccan tilework, Miramo offers a fresh take on handcrafted-inspired mosaic tile. Make a splash with six curated colors ranging from soft neutrals, vibrant blues to a deep-sea green. Offered in three popular mosaic shapes: picket mosaic, fan mosaic and the modern 1 x 6 mosaic, plus a coordinating jolly to complete the look. Miramo's glazed ceramic tiles are protected with DEFEND, powered by Microban®, eliminating 99% of the bacteria on the tile's surface, 24 hours a day, 7 days a week.
NEW Bryne Collection (Stone Look)
Inspired by the Cardoso Stone of Tuscany, escape to Italy with the wave-like movement of Bryne. Tiny crystal speckles in the soft veining create a subtle shimmer in this stone look porcelain tile. Accompany the alluring gray hues with a fluted structure for the wall to add dimension and texture or take it back to basics with a classic matte finish on the floor tile. Complementary mosaics complete this series as a full design package.
NEW Pebble Oasis (Natural Stone)
Forge your own path with an exotic array of natural stone pebbles. Available in six different shapes and unique pebble blends, refine any space, both inside and out, into a relaxing sanctuary. Design with eye-catching patterns to create a space as unique as you are. Your oasis awaits.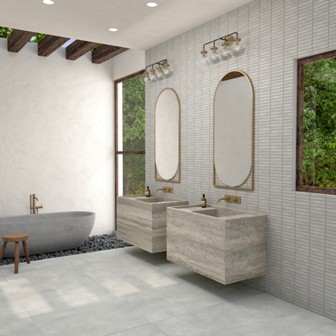 Keystones Line Extension (Criss Cross & Indoor To Outdoor)
The extensive assortment of Keystones just got better with the addition of Daltile's new Criss Cross structure.  Available in seven additional colors, these new textured ColorBody porcelain mosaic tiles are available in 2" hexagon and 2×2 square mosaics.  The high-DCOF can take your style from inside to outside for a complete design oasis. 
Volume 1.0 Line Extension (Concrete Look & 2X More Slip Resistance)
New nature-inspired colors offer a fresh take on Volume 1.0, a versatile concrete look glazed porcelain tile series. Customize any space with the rich palette of hues featuring proprietary StepWise technology, that provides 2X more slip resistance than regular tile, and the ability to use this product indoors, outdoors, or flowing between.
For more information about Daltile, please visit daltile.com.