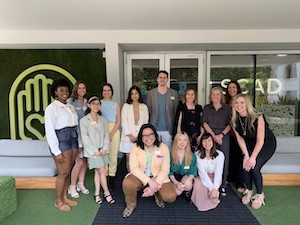 Dallas, TX – August 17, 2021 – Daltile is pleased to announce its involvement in a partnership program with students from The Savannah College of Art and Design (SCAD), widely-known as the #1 interior design school in the country. As part of the SCADpro program, Daltile recently worked with a team of students on a specialized research and development project. The goal of the collaboration was to give the brand insight into the nation's Gen Z graduates who will soon be joining the work force in architecture and design (A&D) firms as key players in the all-important sample libraries, and also to consider what a post-covid-world sample library presence should be.
"We were thrilled to partner with some of this country's most talented young creative minds to address these questions," said Whitney Welch, vice president of commercial sales for Dal-Tile Corporation. "This collaboration was intended to provide not only valuable research, but also development of the best solutions and tools with which to provide our A&D customers optimal service. The bottom-line of everything we do is to help our customers most effectively bring their design visions to life. Providing the right sampling tools to meet the needs of everyone along the design-making process in an A&D firm is of key benefit to our commercial customers."
"Specifically, as the new Gen Z graduates are entering A&D firms as interns and junior level designers, we want to know what types of products speak to them and how best serve their unique design needs," offered Welch. "As interns and junior level designers, many of these Gen Z'ers will be responsible for selecting and pulling the tile product options from the sample libraries to be considered for a firm's projects.  We want to make sure that we are presenting Daltile's products, product samples, and product information in a way that is most helpful for the Gen Z'ers and makes their time selecting tile in the firm's sample room as efficient as possible."  
"The other vein of research was geared to answering the question, 'What should Daltile's presence in an A&D sample library look like in this post-covid-era when 25% of firms have announced they are not going back to 100% in-office attendance moving forward, but allowing associates to work from home more'," added Welch. "A very large part of commercial specifications, 40%, comes from architectural libraries.  Working with the SCAD team, Daltile wanted to come up with a solution that would allow the specification sales manager to easily select their tile samples to conveniently take with them to the offsite client meetings or to their home office.  Again, the end goal is to help our commercial customers quickly, conveniently, and confidently make tile selections."
"Daltile has received the research on these topics from our student team along with a fantastic new sample tool solution for our customers," added Welch. "Currently, everything is moving along nicely in the development phase with the unveiling of this new sampling tool in the near future, and full launch taking place nationwide in 2022.  As a leader in the tile, stone, and countertop industry, Daltile is excited to bring yet another innovative first to the industry that will raise our customer service to an even higher level, benefitting our customers."  
---
About Daltile
Daltile is the industry-leading brand of ceramic, porcelain, glass, metal, and stone tile as well as mosaics, extra-large slabs, countertops, exteriors, and roofing tile.  Daltile products are distributed through over 250 company-owned sales service centers, stone slab yards, and gallery design centers that service a robust network of trade customers.  Daltile products are also sold through independent flooring retailers.  Dedicated to innovative product development and distinguished style, Daltile provides a rich palette of quality products created to inspire residential and commercial designs.  For more information, visit daltile.com and follow Daltile on Instagram, Pinterest, LinkedInFacebook, Twitter and YouTube.